IU Northwest to dedicate new Arts & Sciences building
IU Northwest will host a public opening and dedication of the campus' new Arts & Sciences building Aug. 25.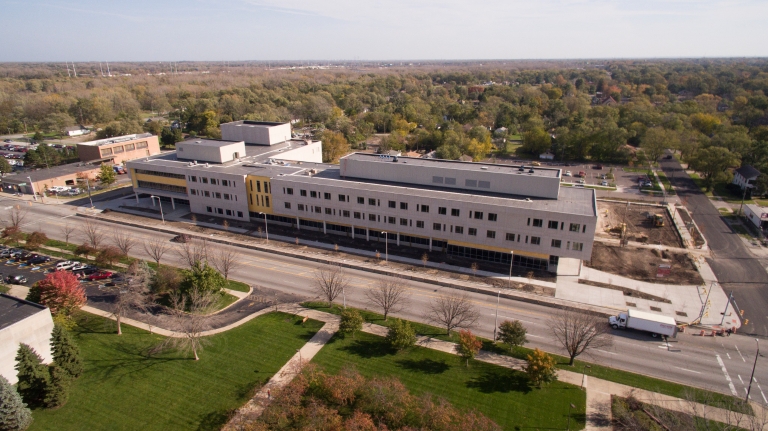 That evening, guests and community members will attend the very first performance – a complimentary concert by the Northwest Indiana Symphony Orchestra – in the building's new theater. The three-story building, 126,300-square-foot building is expected to open for classes in fall 2017.
IU Northwest will share space in the Arts & Sciences building with Ivy Tech Community College. Half of the $45 million building will house IU Northwest's fine and performing arts programs, as well as academic and administration space for the College of Arts and Sciences. Ivy Tech will occupy 30 percent of the building, including science programs and a "one-stop shop" for enrollment and admission services. The remainder of the building will include classrooms and informal study spaces for both campuses.
ICYMI: We're getting a new look!
Inside IU is getting a makeover. Our content will now be found on the News at IU website, news.iu.edu, launching Thursday, March 23.
We've always been part of the IU Newsroom, but our content has been published and shared via a separate website. Now, with the launch of the News at IU website, readers will be able to find all their university-related news in one place.
This won't affect our publication cycle. You'll still receive Inside IU in your email every other Wednesday, but our newsletter is getting a new look at well.
Have a question or story idea for Inside IU staff? Send us a note at iniu@iu.edu, and follow us on Twitter @InsideIU or find us on Facebook.
If you currently have an IU Newsroom feed on your site, contact IU Communications for the information you need.
Whelan to serve as chair-elect on association's board of directors
John Whelan, associate vice president and chief human resources officer at IU, has been selected to serve as chair-elect on the board of directors of the College and University Professional Association for Human Resources for the 2017-18 fiscal year. He will begin his term on July 1.
Whelan, a long-time member of the association, currently serves as an at-large member on the association's board of directors and in leadership roles on the Budget and Finance Committee, the Public Policy Committee, the Learning and Professional Development Committee and the Research Advisory Committee. He has also participated in numerous the College and University Professional Association for Human Resources conferences and symposiums.
Whelan's career in human resources spans 22 years. He has served IU for over two years and previously held HR leadership positions with Baylor University and the University of Notre Dame.
New Intelligent Systems Engineering department to offer summer camps
The Intelligent Systems Engineering program in the School of Informatics and Computing will offer a series of camps during summer 2017. High school or homeschooled students aged 15-18 are encouraged to apply. Contact the program for alternative age arrangements.
Intelligent Systems Engineering is a brand new program with degrees designed for what engineering is and will be, rather than what it was.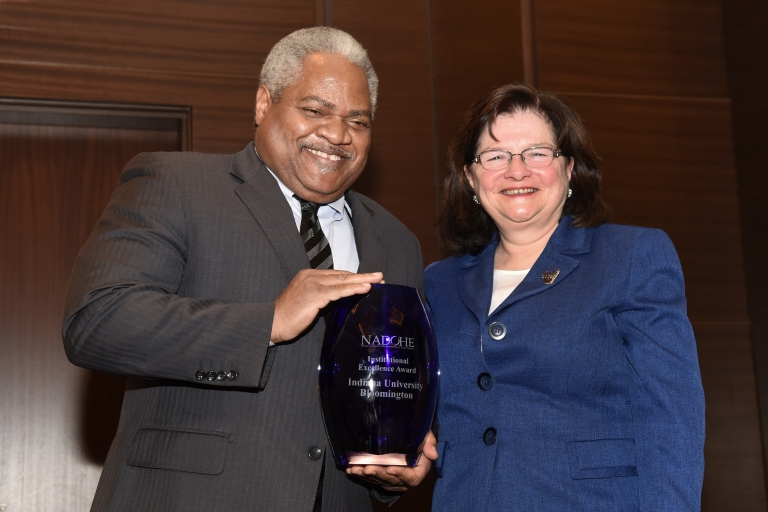 IU Bloomington honored for excellence in diversity
IU Bloomington was honored with a 2017 Institutional Excellence Award by the National Association of Diversity Officers in Higher Education.
The organization presents this award to recognize institutions of higher education that have "demonstrated measurable progress in promoting and sustaining innovative diversity efforts within their campus community."
This is the first time Indiana University is being honored with the Institutional Excellence Award. Martin McCrory, IU Bloomington's chief diversity officer and vice provost for educational diversity, and associate vice president for diversity, equity and multicultural affairs, recently accepted the award on behalf of the university at the group's annual conference in Washington, D.C.
U.S. News and World Report and QS World University rankings recognize IU programs
Graduate programs at Indiana University in library and information studies, business, education, the humanities, law, medicine, nursing and social sciences have been recognized by U.S. News and World Report in its annual rankings.
The School of Informatics and Computing at IU Bloomington is ranked ninth in U.S. News' listing of top library and information studies graduate programs. Two of its specialties also were ranked; digital librarianship is 10th, and information systems is 11th.
Four departments in the College of Arts and Sciences, also at IU Bloomington, are ranked by U.S. News in the top 20. IU's program in sociology is ranked 15th. Psychology is 17th; English and history are 20th. It also ranked IU's program in political science 29th and its economics program 39th.
Another ranking, the QS World University Rankings, reported that IU's Jacobs School of Music is a "top performer" worldwide. The Jacobs School ranks seventh among performing arts educational institutions worldwide and second nationally. Other than Julliard, all the other music programs ranked above Jacobs by QS Digital Solutions were based in Europe.
A recent news release  includes a complete list of rankings.
IU East's accounting program first to implement online ethics course
The IU East School of Business and Economics has partnered with the CPA Center of Excellence to offer a new online competency-based course. The course is being offered for the first time in higher education.
The course will be offered through the School of Business and Economics, which offers a Bachelor of Science in Business Administration degree program with a concentration in accounting. The ethics course will be part of the capstone course, Accounting Ethics and Professional Development. Students enrolled in the accounting program will take the course prior to graduation.
The online ethics course offers an interactive format that includes links to articles, case studies, video components, real-time discussion with other course participants, and other participatory features within each of its various modules.
IU Bloomington to offer master's degree in architecture
IU Bloomington will offer a new Master of Architecture degree program based in the campus's new School of Art and Design, beginning in the fall of 2018.
The program, approved in March by the Indiana Commission for Higher Education, will have its primary focus in Columbus, Indiana, an internationally recognized center for architecture, with courses also offered on the IU Bloomington campus. The American Institute of Architects rates Columbus as the sixth most architecturally significant city in the United States.
The degree will be developed in collaboration with the Columbus community, including the Columbus Architectural Archives and the Institute for Coalition Building of the Columbus Education Coalition. An initial class of about 20 students is expected. It builds on the IU Center for Art and Design Columbus, which opened in 2011 in downtown Columbus to provide upper-level courses in design.
Rating agencies reaffirm university's top bond ratings
S&P Global and Moody's Investors Service have reaffirmed Indiana University's top credit ratings, AAA and Aaa, respectively – the highest ratings available. IU is among only seven public universities in the nation to achieve these ratings.
S&P said the ratings reflect their view of IU's "extremely strong enterprise profile, characterized by solid demand with a broad geographic draw, large and stable enrollment profile in a multicampus system and excellent management of resources." Moody's said its ratings reflect IU's "strong student demand and research activities, favorable operating cash flow, healthy liquidity and moderate additional debt."
Time is running out to access Oncourse
Heads up: Oncourse is retired and read-only. After Aug. 31, 2017, Oncourse content and data will no longer be available. The Canvas Migration Tool will continue to be available until Aug. 31.
In compliance with university data retention policies, Oncourse gradebook data will be preserved for purposes of grade disputes through the end of August 2021.
For Oncourse project site owners, a number of appropriate alternative platforms offer collaborative tools and workspaces.
Accept IU Secure request
IU Secure, IU's wireless connection of choice on campus, is upgrading its certificate April 6. This means IU Secure will prompt staff and faculty to accept the Client Authentication certificate on all wireless devices on that date.
When asked if you would like to accept the certificate, you must say yes to stay connected to secure wireless on campus.
For more, see Connecting to IU Secure.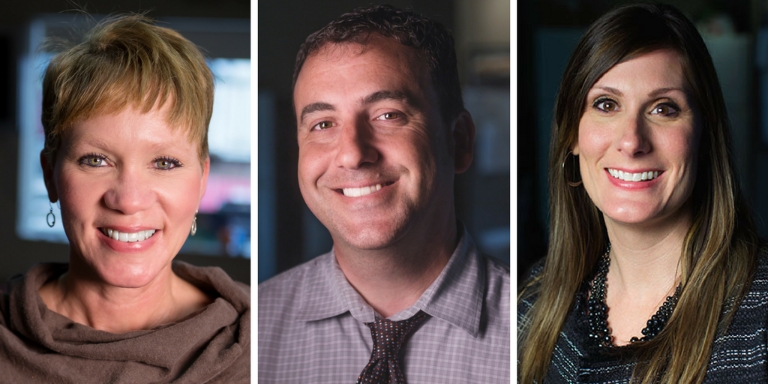 IU Communications leaders promoted
Margie Smith-Simmons has been appointed assistant vice president for strategic communications and university spokesperson after serving in this capacity the last several months on an interim basis. In this role, she will continue to oversee strategic communications program, including news and media relations, internal communications and social media, and act as IU's lead spokesperson on important issues concerning the institution.
Ryan Piurek has been named assistant vice president for public affairs and presidential communications after serving in this capacity the last several months on an interim basis. He will continue to lead public affairs initiatives in support of IU's major institutional priorities and manage a broad range of communications activities to advance the goals and objectives of the Office of the President.
In addition, Nicole Wilkins, who joined the IU Communications team last spring, has been promoted to director of strategic communications. In the director position, she will manage the team of news and media and internal communications specialists and help guide their daily effort to raise awareness of IU's mission and enhance the university's reputation.
Staff, faculty honored, promoted, hired
Read about recent IU staff and faculty honors, promotions, hires and grants, including:
Sarah Sarber has been named chief of staff for IU Kokomo, and began her new duties March 1. In her new role, she is the key advisor to Chancellor Susan Sciame-Giesecke, as well as executive leadership and oversees human resources. She also is affirmative action and chief diversity officer for the campus, leading implementation of diversity initiatives and promoting inclusion and equal opportunity employment. She replaces Gerry Stroman, who retired after more than 30 years at IU Kokomo.

Thomas Fisher has been named the new dean of the Vera Z. Dwyer College of Health Sciences at IU South Bend, and will begin his new duties July 1. Fisher has nearly 20 years of experience in higher education, most recently as professor and chair of occupational therapy at the IU School of Health and Rehabilitation Sciences at IUPUI since 2003. He replaces Mario Ortiz, who left IU South Bend last year to be dean of the Decker School of Nursing at Binghamton University in New York.

Tom Guevara has been named director of the IU Public Policy Institute, located at IUPUI, and will begin his duties April 3. Guevara, who earned his Master of Public Affairs with a focus on finance from SPEA, has spent the past six years as deputy assistant secretary at the U.S. Department of Commerce's Economic Development Administration.

Juletta Toliver has been named senior human resources director/director of financial services at IUPUI, and began her duties March 1. In her new role, she will be the lead for human resources operations on the IUPUI campus and act as the liaison between university human resources and school human resources contacts. She will continue her financial services responsibilities to direct the operations of payroll, accounts receivable, capital assets, banking services and surplus for the IUPUI campus as well.

Margaret Ferguson has been named senior associate vice chancellor for academic affairs at IUPUI, and began her duties March 1. Ferguson has held the interim role in this position since January 2016 while an IU systemwide search was conducted. She previously served as IU's assistant vice president for statewide academic relations.