The Moravec sisters have a lot in common, territory that comes with being quadruplets. 
Now, post undergrad, they've found themselves with another commonality: They all work for or are pursuing a second degree through IU.
Christina is a social media specialist for IU Communications; Katherine and Leah are students at the IU School of Medicine; and Tricia is a Ph.D. candidate in the Kelley School of Business on the Bloomington campus.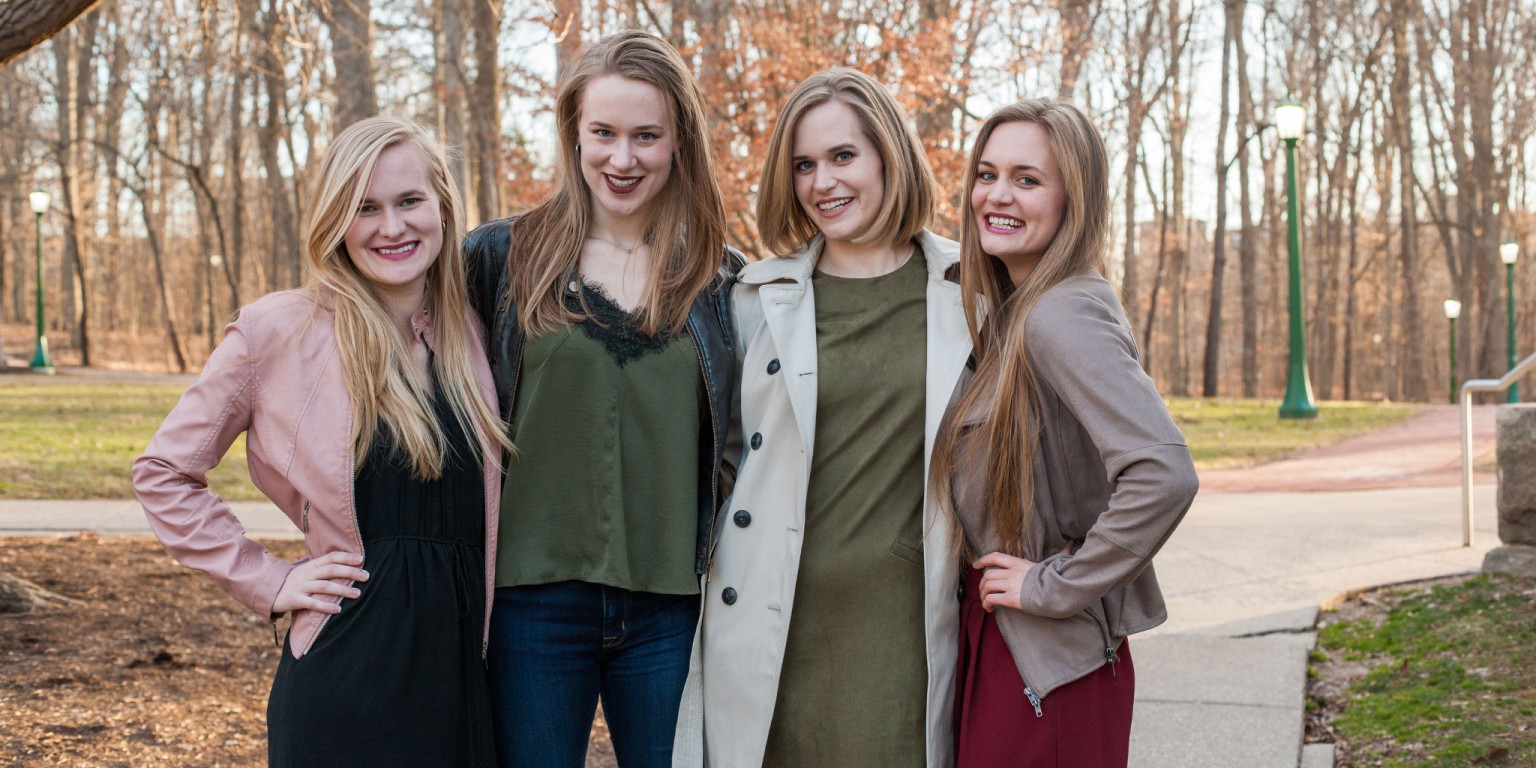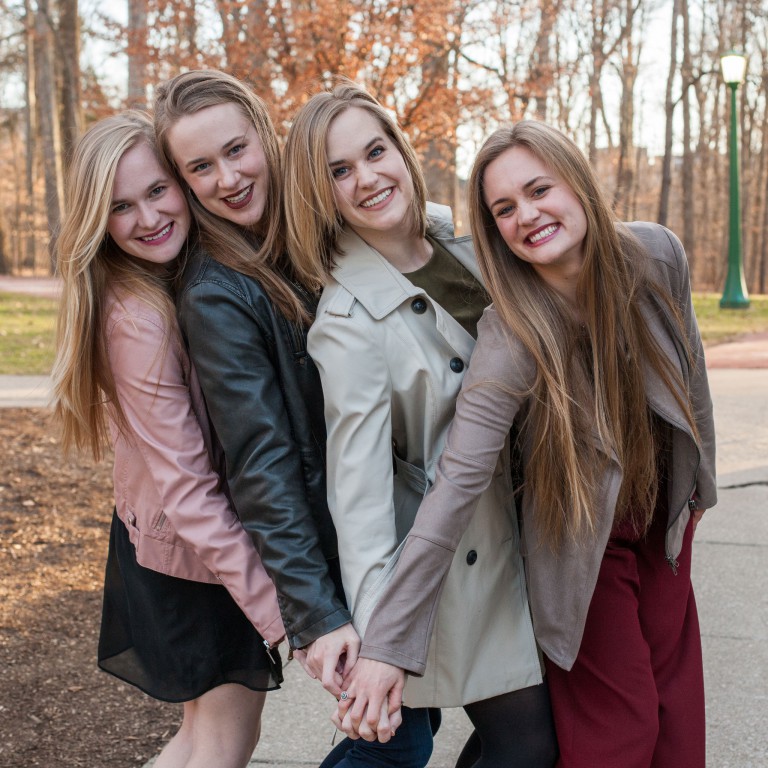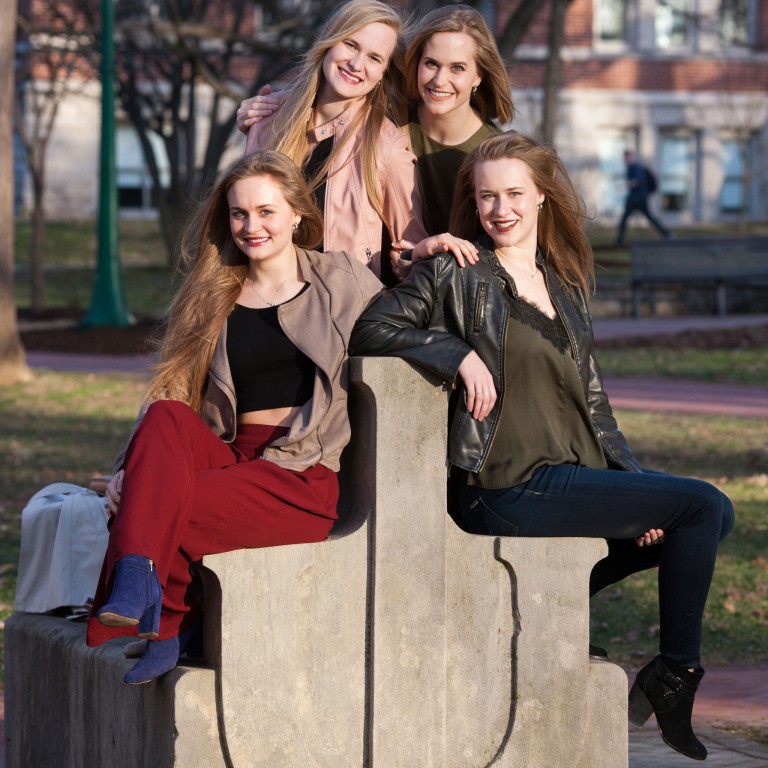 Photos by Chris Meyer, IU Communications
However, this isn't the first time Christina, Tricia and Leah have shared an IU connection; they each completed their undergraduate careers at IU Bloomington. All four of the Moravec sisters started their undergraduate careers at Rose-Hulman Institute of Technology; but Christina, Tricia and Leah transferred to IU to pursue other educational passions. Leah studied neuroscience; Tricia studied physics and astronomy; and Christina studied journalism.
After spending two years working in Phoenix, Arizona, post-grad, Christina said she was so happy to get her offer letter that read, "Welcome to the IU family," for the job that brought her back to her alma matter. While her sisters are students of the university, Christina gets to tell the stories of such students as a social media specialist for IU Communications. In her role, she is the human behind many of the university's social media accounts. With the ever-changing social media landscape, Christina enjoys the versatility in her everyday work.
"When we get the recipe just right, the amount of Hoosier pride we can inspire through social media is astounding – I'm talking millions of engaged fans, alumni and students," she said.
For Tricia, it was this Hoosier pride that made her want to continue her education at IU. During undergrad, many of her professors inspired her and fueled her passion for academia. A few research opportunities sparked her interest in business; after learning about the Master of Science in information systems through the Kelley School of Business, she knew this was the path for her. She spent time working as a consultant for a year after completing her master's degree, but Tricia soon realized academia was her true calling and is now working toward her Ph.D.
"I have wonderful mentors in the department, and IU has been instrumental in helping me on my path toward becoming a professor," she said.
Leah has been connected to the university since she was an undergrad. For two years post-grad, she worked as a research technician at the IU School of Medicine. Then she decided medical school was her calling.
"IU has been a home for me since undergraduate," she said. "It only seems fitting that IU would be the place where I would pursue my graduate degree as well."
As a first-year medical school student, she is on the Bloomington campus with about 36 other students in her class. Leah said the small, family-like feel is one of her favorite aspects of the program so far. And being in Bloomington allows her to room with Tricia and Christina.
"Sharing a university and a home away from home with my siblings has been more fun than I even imagined as a kid," Leah said. "Back then, we would dream about our houses right next to each other in our own little neighborhood. Everyone would tell us that it would never happen, so the time we have spent and continue to spend together in Bloomington is precious."
Having been in Leah's shoes before, Katherine is able to offer advice to her sister along the way. And, as the only one of the four to not attend IU for her undergrad degree, Katherine is happy to finally share the Hoosier title with her sisters.
"When I got in, I have to admit I was really happy to join my sisters as a Hoosier," Katherine said. "The engineering side of me really likes for us to match."
As a third-year medical student, Katherine is in Indianapolis, where she is spending most of her time in a clinical setting. She said she is enjoying practicing medicine and experiencing all of the opportunities IU has to offer, including working with children at Riley Hospital for Children at IU Health and treating patients from all around the state at the Sidney and Lois Eskenazi Hospital's trauma center.
While they all took various paths to their current positions at IU and spent time living apart, they are glad to share the university and their love for IU with one another at this stage in their lives.
"We all have career paths that will likely take us to different parts of the country, so I really appreciate my time with them now," Tricia said. "They have always been among my closest friends, and it's especially nice having them around when my courses are tough and I need a pick-me-up."