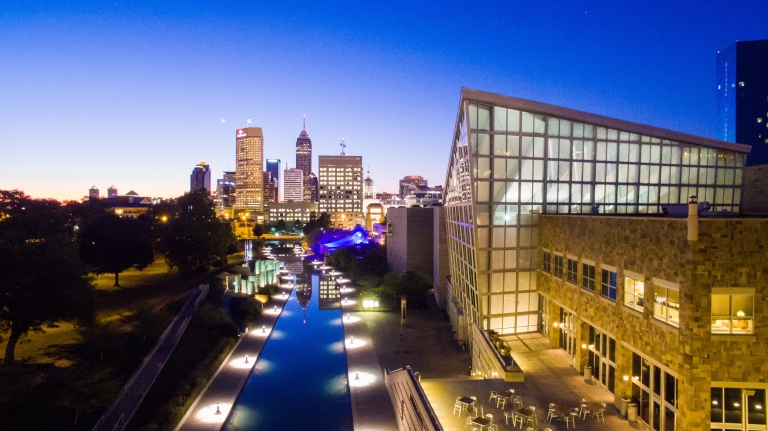 BLOOMINGTON, Ind. – Sluggish population growth continues to be the norm in many Indiana communities in 2016, according to population estimates released by the U.S. Census Bureau and analyzed by the Indiana Business Research Center at Indiana University's Kelley School of Business.
Fifty-three of the state's 92 counties lost population from 2015 to 2016, led by Lake County, which dropped by an estimated 1,800 residents last year. The next-largest declines were in Grant County and LaPorte County, which both lost roughly 750 residents.
Even among Indiana counties that are adding residents, many are growing more slowly than they have in the recent past. Hamilton County, for instance, led the state with an increase of 7,200 residents last year. This gain was more than twice as large as for any other county – Marion County was next with an addition of 3,170 residents – but it was still well below Hamilton County's average annual gain of roughly 9,180 residents per year from 2000 to 2010.
In all, nearly three out of every four counties in Indiana saw a level of population change in 2016 that was lower than its average annual change from 2000 to 2010.
Among the Indiana communities that have bucked this slowing trend, St. Joseph, LaGrange and Howard counties in Northern Indiana had the largest increase in population change in 2016 relative to their annual averages in the 2000s, followed by Boone and Johnson counties in the Indianapolis metro area.
Looking statewide, Indiana added 20,285 residents in 2016, a 0.3 percent uptick. This mark was a slight improvement over the addition of 17,535 residents in 2015, but it was Indiana's second-smallest annual increase since 1989 and was barely half as large as the state's average annual gain of 40,332 residents per year from 2000 to 2010.
"The causes of Indiana's sluggish growth of late have been both a strong decline in the natural increase of the population, which is a measure of the difference between the number of births and the number of deaths, and a significant slowdown in migration," said Matt Kinghorn, demographer at the Indiana Business Research Center.
"Driven partially by lower birth rates since the Great Recession, Indiana's natural increase in recent years has been about 30 percent lower than it was from 2000 to 2010," Kinghorn added. "The state has also seen a net out-migration of residents in each of the last two years."
Indiana ranked as the 29th fastest-growing state in 2016, with growth outpacing each of its neighboring states. Indiana was the nation's 17th most populous state in 2016 with more than 6.63 million residents.
Population change around the state
Indiana's five fastest-growing counties were all in the Indianapolis metro area. Hamilton County led the way with a 2.3 percent increase, followed by Boone County (2.0 percent), Hancock County (1.8 percent), Johnson County (1.8 percent) and Hendricks County (1.6 percent).
Tippecanoe County was the fastest-growing county outside the Indianapolis metro area with a 1.2 percent pace of growth in 2016. The rest of the state's top 10 counties were LaGrange (1.1 percent increase), Warrick (1.0 percent), Monroe (0.9 percent) and Clark (0.8 percent).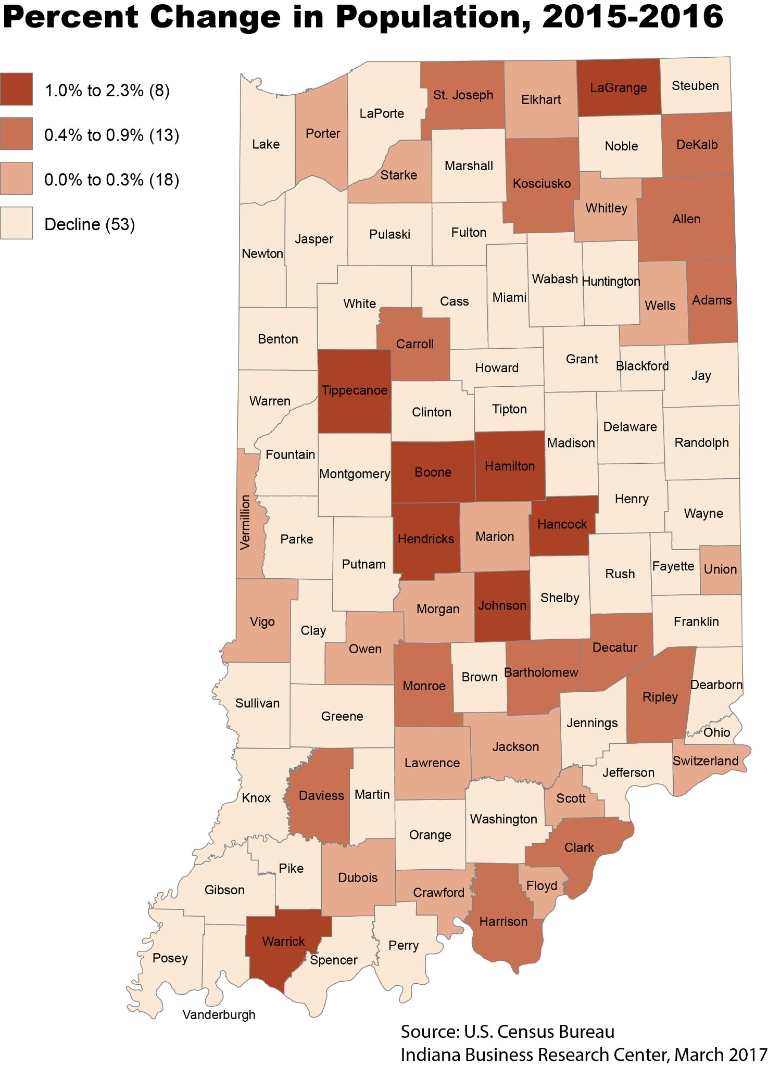 In terms of the largest numeric gains, Hamilton County posted the state's largest increase, adding 7,201 residents in 2016. Marion County was second, gaining 3,171 residents. For Marion County – which had seen a surge in population growth from 2009 to 2013 – the 2016 increase was its smallest one-year gain since 2005. Other top gainers include Johnson (2,644), Hendricks (2,551) and Allen (2,364) counties.
Of the 53 Indiana counties that lost population in 2016, Perry County had the greatest pace of decline at 1.8 percent. Pulaski (-1.6 percent), Warren (-1.4 percent), Blackford (-1.1 percent) and Grant (-1.1) counties also posted significant losses in population last year.
A net out-migration of residents was the primary driver of decline in nearly all of these communities, as 63 Indiana counties had more people move away last year than move in. Marion County led this trend with an estimated net outflow of 3,143 movers in 2016, while Lake (-2,567), Elkhart (-887) and LaPorte (-806) counties had the next-largest net out-migrations.
At the other end of the spectrum, Hamilton (4,646), Johnson (2,045), Hendricks (1,786) and Hancock (1,201) counties in the Indianapolis metro area had the largest net in-migration of residents in 2016. Other communities with strong net inflows of residents include Tippecanoe (1,186), Boone (890), Monroe (887) and Clark (623) counties.
Looking statewide, Indiana had an estimated net out-migration of 1,083 residents in 2016. This marks the second consecutive year – and the fourth time in the last seven years – that the state has had a net outflow of residents.
Indiana's largest counties and metropolitan areas
Indiana has six counties with populations greater than 200,000. Marion County is the state's largest with 941,229 residents, ranking it as the nation's 52nd most populous county in 2016 (out of 3,142 counties). Other large counties in the state include Lake (485,846), Allen (370,404), Hamilton (316,373), St. Joseph (269,141) and Elkhart (203,781).
Rounding out the 10 largest counties in the state are Tippecanoe (188,059), Vanderburgh (181,721), Porter (167,791) and Hendricks (160,610).
The 11-county Indianapolis-Carmel-Anderson metro area continues to drive population growth in the state. With an increase of nearly 17,688 residents last year, this region accounted for roughly 87 percent of Indiana's net growth in 2016. The Indy metro area, which just crossed the 2 million residents milestone in 2016, accounts for 30 percent of the state's total population. The Indy metro area ranks as the nation's 34th-largest metro area (out of 381 metros).
Compared to large metro area peers in neighboring states, the Indy area's growth rate of 0.9 percent in 2016 was lower than Columbus, Ohio (1.1 percent), but it outpaced Louisville (0.5 percent), Cincinnati (0.5 percent), Detroit (0.0 percent), Chicago (-0.2 percent) and Cleveland (-0.2 percent).
The three-county Fort Wayne area is the state's second-largest metro area with 431,802 residents. The Fort Wayne metro area posted a 0.6 percent increase in 2016, ranking as the 125th-largest metro area in the nation. Indiana's other large metro areas also grew last year, including South Bend-Mishawaka (0.3 percent), Evansville (0.1 percent), Lafayette-West Lafayette (1.1 percent) and Elkhart-Goshen (0.2 percent).
In all, 44 of Indiana's 92 counties belong to a metropolitan area. These counties combined account for 78 percent of Indiana's total population, and as a group grew at a 0.5 percent rate in 2016. The state's 48 counties that are not part of a metro area had a combined population loss of 3,908 residents last year – a 0.3 percent decline.
For more information about these estimates, visit the Population topic page at STATS Indiana. The Indiana Business Research Center is part of a national network of state data centers and acts as Indiana's official state representative to the Census Bureau on matters relating to the census and population estimates. It receives support from the Indiana Department of Workforce Development for this work, including for the websites Hoosiers by the Numbers and the award-winning STATS Indiana.