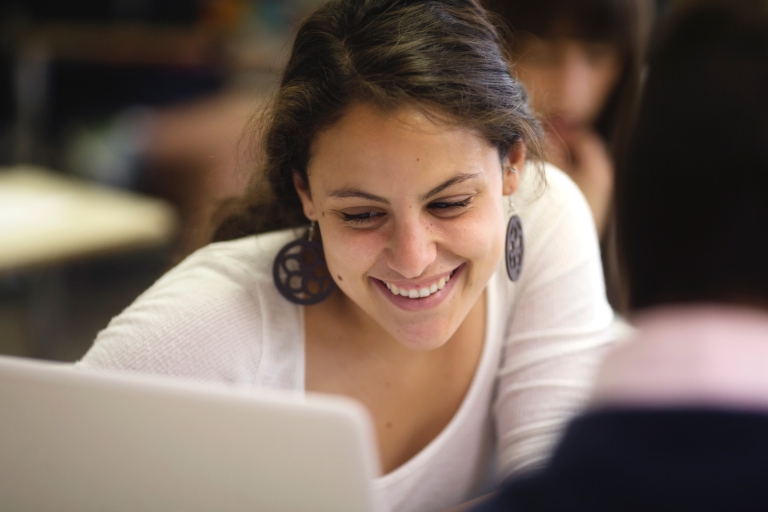 BLOOMINGTON, Ind. – Indiana University Online has launched two new bachelor's degree programs that will serve the needs of Hoosiers in a dynamically changing state economy: applied health science and informatics.
These online degrees, which will start in the fall 2017 semester, draw upon the faculty strengths and resources at several IU campuses.
Following IU Online's innovative approach, these degrees will enable students to be admitted to one IU campus but learn from faculty and network with students throughout the IU system. The campuses will collaborate to offer coursework to increase student flexibility and convenience and to increase degree completion.
The new four-year degrees expand IU's online offerings to more than 110 programs. IU has more than 27,000 students enrolled in more than 2,000 online courses, including more than 4,800 students in online degree and certificate programs.
John Applegate, IU executive vice president for university academic affairs, said the new degrees meet both the needs of students looking to advance their careers and the state of Indiana's demands for information technology and nonclinical health care specialists.
"We are excited to have these two degrees added to IU's online offerings. Both will play an integral part in helping Hoosiers continue their education and expand their skills in ways employers need," Applegate said. "In addition, we are leveraging our expertise across multiple IU campuses to increase convenience and decrease costs."
The Bachelor of Science in Applied Health Science has been designed to provide a convenient, high-quality option for Indiana health workers with prior college credit or an associate degree. Students will take courses in health care delivery and leadership, health communication, policy, and ethics. They will learn about the economics of health care and receive foundational knowledge in legal matters. It will provide students with basic, technical and applied aspects of health science and help students apply that knowledge to a variety of career opportunities.
The degree program, which is a collaboration among IU East, IU Kokomo, IU Northwest, IU South Bend and IU Southeast, encompasses 120 credit hours and is designed to enhance potential for career advancement in entry- and midlevel positions in health-related organizations. Two tracks will be offered: community health education and health administration.
The Bachelor of Science in Informatics is similarly designed for working students, including those with prior credits or an associate degree. Students will learn how information is collected, cultivated and organized digitally. They also will learn how to use informatics to solve complex problems involving privacy, security and education as they relate to large societal issues such as poverty, the environment and health care. IU East, IU Kokomo, IU Northwest, IU South Bend, IU Southeast and IUPUI will collaborate to deliver this degree.
The informatics degree, which is also 120 credit hours, will be a steppingstone to careers in web development, supply chain management, medical records, systems analysis, biotechnology and public relations.
To meet degree requirements within four years, students should complete 30 credit hours each year, minus transferred credits. Tuition for the online Bachelor of Science in Applied Health will be approximately $220 per credit hour for in-state students and $320 per credit hour for out-of-state students, plus fees. Tuition for the online Bachelor of Science in Informatics will be $250 per credit hour for in-state students and $350 for out-of-state students, plus fees.
IU Online also offers degrees, certificates and degree-completion programs in fields that include business, criminal justice, education, nursing, psychology and mathematics.