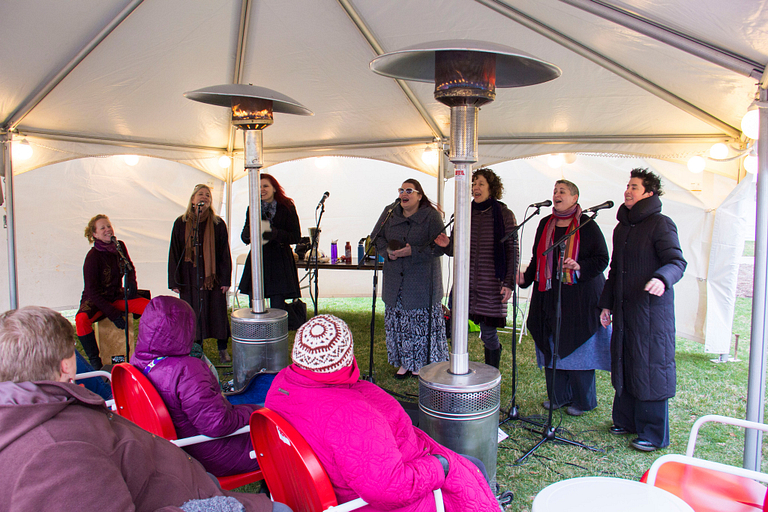 On March 2, the Indiana University Arts and Humanities Council celebrated the return of the First Thursdays Festival for the spring semester. IU's First Thursdays Festivals pay tribute to the arts organizations on IU Bloomington's campus by bringing them together around the Showalter Fountain for live entertainment, exhibits and, of course, food.
Giving IU arts and humanities organizations a place to demonstrate what they have to offer is impressive in both scope and magnitude. Showalter Fountain – surrounded by the IU Auditorium, Eskenazi Museum of Art and Lilly Library – is the perfect place on Bloomington's campus for an arts and humanities festival of this degree.
The festival is always free for all members of the public to enjoy performances and activities, usually related to an overall theme for the month. For March, the First Thursdays Festival focused on women's history – appropriately so, since March is Women's History Month.
While it would be nearly impossible for any attendee to visit every event or performance during a First Thursdays Festival, I attempted to experience as many booths, tables, activities and performances as I could, starting with the festival main stage. This month it featured the soulful sounds of Bloomington band The Vallures, the a cappella stylings of IU's Ladies First and sister folk-pop duo Lily and Madeleine.
Not wanting to miss out on any of the other great activities, I made my way around the festival between musical acts (no easy feat, I might add) and checked out the miniature book collection of Ruth E. Adomeit at the Lilly Library. This collection spans the entire history of human record-keeping, from cuneiform tablets to modern classics – all in miniature form. While enjoying a free cup of hot cider, I viewed books smaller than my thumbnail (and smaller) and was completely captivated by this collection of miniature books.
Directly next to the Lilly Library was "Hoosier HERstory!," a collaborative display from the Sage Collection, University Archives and Wylie House focusing on the role of women in IU's history. I learned about the brave and resilient women who helped shape the history of IU Bloomington and paved the way for all women to attend the university.
I ended my evening with some of the best student-made art on campus with the BFA Group Show, accompanied by Beili Liu's piece "After All (Mending Sky)" in the Grunwald Gallery. Liu's work consists of suspended raw silk half domes, imprinted with indigo ink to give them rich blue colors that echo a sky. Liu's work gives the impression of rain falling from the sky and is truly impressive to witness in person.
By the end of the festival, my legs weary and my brain filled with art, music, history and miniature books, I bid adieu to the festivities. I recommend this as one of IU's most fascinating events on campus. Where else can you find the Feminist Student Association talking about the Black Lives Matter movement and coloring book pages of Frida Kahlo art in one location?
April's First Thursdays Festival on April 6 will focus on the "China Remixed" festival, also presented by the IU Arts and Humanities Council. More about First Thursdays Festivals and other IU Arts and Humanities Council initiatives can be found online.
Bridget Albert is a graduate student in SPEA's arts administration program.