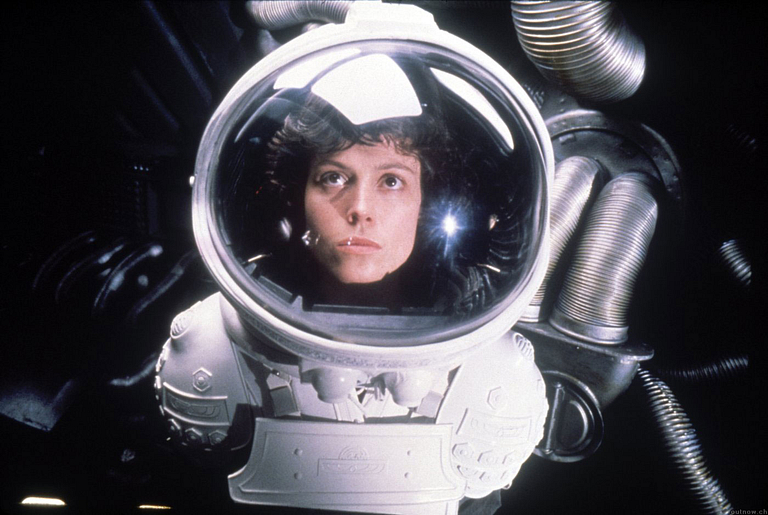 Indiana University Cinema will take part in the fourth annual National Evening of Science on Screen on Tuesday, March 28, as part of its 2016-17 "Science on Screen" grant.
Twenty-eight independent theaters in cities across the country will participate in the event, which will feature a short introductory video, followed by a unique film and speaker presentation at each venue as part of its "Science on Screen" program. IU Cinema will screen Ridley Scott's 1979 film "Alien," with an introduction by Richard H. Durisen, Indiana University emeritus astronomy professor.
Through "Science on Screen," theaters creatively pair screenings of classic, cult, science fiction and documentary films with lively presentations by notable experts from the world of science and technology. Each film serves as a jumping-off point for the expert speaker to explore a related scientific or technological topic in a way that engages general audiences — from the dangers of climate change  to the search for extraterrestrial life. The "Science on Screen" program began in 2005 at Coolidge Corner Theatre in Boston and has since expanded to other independent cinemas through a national grant initiative funded by the prestigious Alfred P. Sloan Foundation and administered by the Coolidge.
IU Cinema was among 35 cinemas to receive a Science on Screen grant in 2016-17, previously receiving the grant in 2014-15 as well. Participating cinemas this year include theaters across the country, from the Michigan Theater Foundation in Ann Arbor, Michigan, to the Oregon Museum of Science on Industry in Portland, Oregon.
"We're delighted to join with the Coolidge in celebrating a National Science on Screen evening in 28 cities across America," said Doron Weber, vice president and program director at the Alfred P. Sloan Foundation. "With the success of Oscar-nominated box office hits such as Hidden Figures and The Martian, it's clear that mainstream audiences are starting to embrace science-themed films. Science on Screen goes one step further and shows that just about any popular film — be it epic, comic, satiric, horrific, biographic, dramatic or thrillerific — can lead to an exhilarating discussion of science and technology."
The National Evening of Science on Screen aims to highlight the rich and varied connections between science and film. This year, movie and speaker pairings will address such diverse concepts as the chaos theory, deep-sea exploration, the science and history of musical instruments, and wildlife preservation.
"IU Cinema is thrilled to once again participate in the National Evening of Science on Screen, and we look forward to engaging patrons in the scientific side of one a fan-favorite cult film," said Brittany D. Friesner, associate director of IU Cinema. "We welcome back Professor Durisen, who led a post-film discussion following our 2015 screenings of Blade Runner, to provide scientific context for this year's film, Ridley Scott's 'Alien.'"
Durisen joined the IU Astronomy faculty in 1976. He received a B.S. in physics from Fordham University in 1967 and a Ph.D. in astronomy from Princeton University in 1972. He has had extended research leaves at NASA-Ames Research Center as an NRC Research Associate and at Max Planck Institute for Extraterrestrial Physics as Fulbright Fellow and an Alexander von Humboldt U.S. Senior Scientist Awardee. He also has a long-standing interest in science fiction and film.
The New York-based Alfred P. Sloan Foundation, founded in 1934, makes grants in science, technology, and economic performance. Sloan's program in Public Understanding of Science, Technology & Economics, directed by Doron Weber, supports books, radio, film, television, theater and new media to reach a wide, non-specialized audience. Sloan's film program encourages filmmakers to create more realistic and compelling stories about science and technology and to challenge existing stereotypes about scientists and engineers in the popular imagination.
Over the past 15 years, Sloan has partnered with some of the top film schools in the country — including AFI, Carnegie Mellon, Columbia, NYU, UCLA, and USC — and established annual awards in screenwriting and film production, along with an annual best-of-the-best Student Grand Jury Prize administered by the Tribeca Film Institute. The Foundation also supports screenplay development programs with the Sundance Institute, Tribeca Film Institute, the San Francisco Film Society, the Black List, and Film Independent's Producing Lab and Fast Track program. More information about the Alfred P. Sloan Foundation and the National Evening of Science on Screen can be found online.
Tickets for the IU Cinema screening of "Alien" are $3 and can be purchased via the IU Cinema box office.
Brittany D. Friesner is the associate director of the IU Cinema.