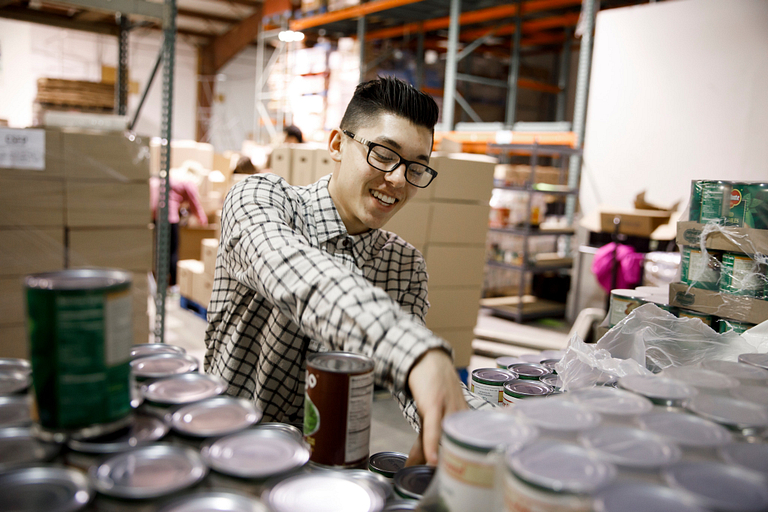 When Saleem Tucker first visited Indiana University's Bloomington campus, he instantly fell in love. Although a little intimidated by its size, Tucker began dreaming of attending the Big 10 school.
But first, he had to find a way to pay for it. Enter the Jesse H. and Beulah Chanley Cox Scholars Program, which provides financial support to Indiana students who are working their way through college. 
"I wouldn't be here without the Cox Scholarship," said Tucker, a freshman majoring in biology. "When you are looking at paying for college, money is a huge factor that can close the door for a lot of people. Worrying about paying for school is a huge deal. Once I got this scholarship, it was a huge weight and worry lifted off my shoulders. It has allowed me to be here."
Tucker, of Noblesville, is one of 265 Cox Scholars and part of the inaugural class of newly created Cox Civic Scholars, which focuses on volunteer opportunities in the community.
The Cox Scholarships were created more than 20 years ago through a $92 million gift from the late Jesse H. Cox and Beulah Chanley Cox of Indianapolis, making it the largest donor-funded IU scholarship program on the Bloomington campus.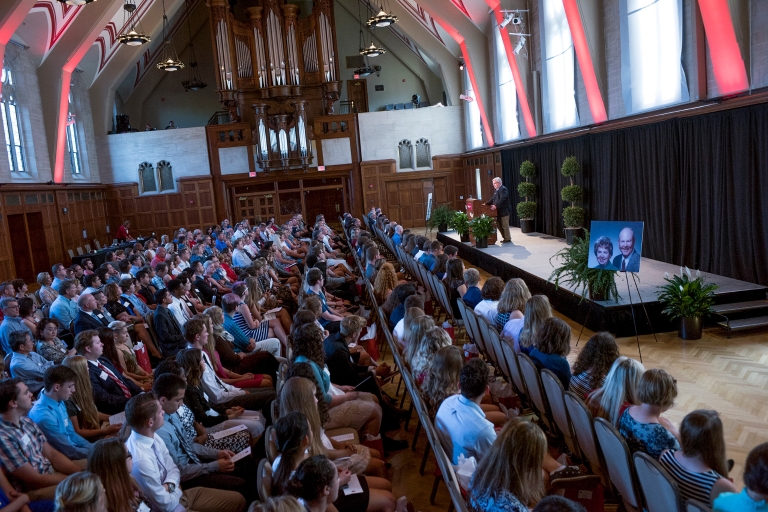 The program is now made up of six scholarship programs available to Indiana residents – civic, engagement, exploratory, legacy, research and access. Four of the scholarships are aimed at incoming freshmen, one is available to both incoming freshmen and current students, and one is geared toward nontraditional students.
All of the scholarships reward students who have demonstrated financial need, are academically strong and are willing to work during their undergraduate studies at IU. 
"Cox Scholars are hard-working Indiana residents who are resilient and committed to making the most of the opportunities afforded to them," said Ben Agan, assistant director of the Office of Scholarships and coordinator of the Cox Scholars Program. "While they receive this prestigious total-cost-of-attendance scholarship, they also work for it and are positively impacting campus and the community through their various work components."
In 2016, the program inducted 110 new Cox Scholars, the largest incoming cohort in the program's history. More than 200 current scholars work in over 100 different campus departments, offices and community organizations. The partnerships are made possible through a collaboration with the Office of Enrollment Management, the Office of the Provost for Undergraduate Education, the Division of Student Affairs and the IU Foundation. 
As part of his scholarship, Tucker works three days a week at the Hoosier Hills Food Bank coordinating student organizations volunteering at the pantry.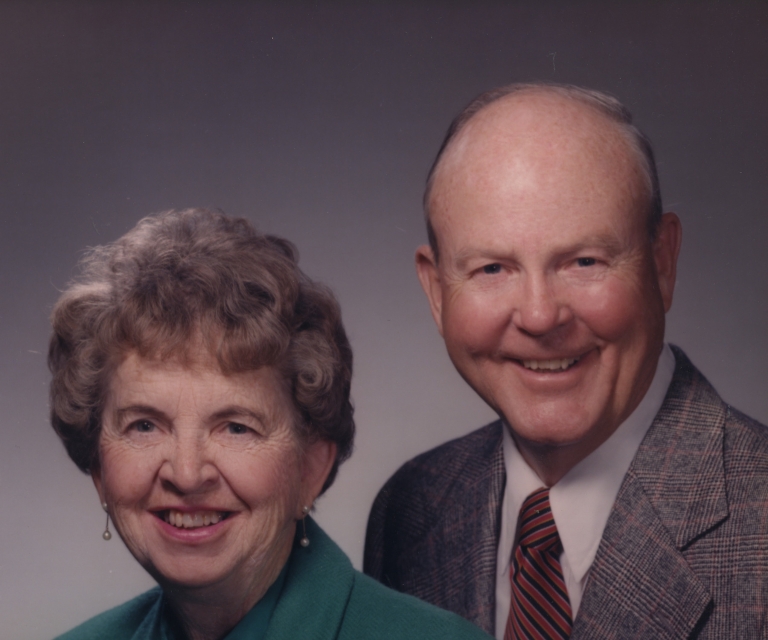 While his original interest in the scholarship program was solely for the financial benefit, volunteering in the community and being part of a bigger legacy on campus has added a new element for Tucker in what it means to be a Cox Scholar.
"When you learn about Jesse Cox and what the scholarship means, you forget about the financial part and realize I'm doing something really important," he said. "All the experiences I've had at IU are because of him. When you think about all he is giving to you, it makes you think about ways you can give back, and it gives you additional motivation to do good and to carry on his legacy."
The Coxes' legacy is something junior Lucas Sowders has spent time thinking about.
The Bloomington native decided to forgo college right out of high school, instead going straight into the workforce. But after 10 years at a local company, Sowders realized that if he wanted to continue moving up the corporate ladder, he needed a college degree.
With his eyes set on the Kelley School of Business, Sowders began saving his money and trying to find a way to pay for school. After one semester at IU, he heard about the Cox program and was awarded a Cox Access Scholarship his sophomore year.
"I planned very meticulously in preparation for attending college," said Sowders, who is majoring in marketing and professional sales at Kelley. "It wasn't easy, and it still isn't necessarily easy, but the Cox Scholarship has been amazing in releasing the anxiety of figuring out how to manage financially while furthering my education."
As part of his scholarship, Sowders works in marketing at the School of Informatics and Computing. Not only does he feel fortunate to have the scholarship, but like Tucker, Sowders appreciates the legacy the couple has left behind and the idea of earning the help the scholarship provides.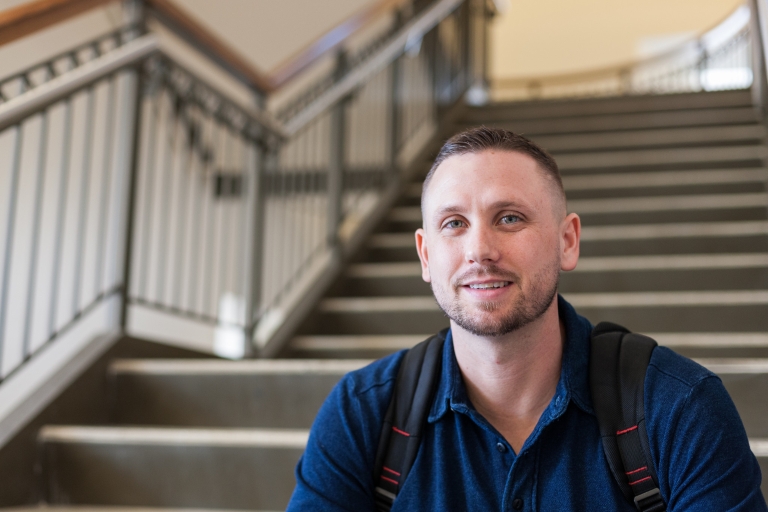 "When I first read Jesse and Beulah's story, I really enjoyed the element of earning everything that comes your way. That was something that appeals to me," he said. "I've been independent throughout my life – working my way up in my former company, getting into IU, working my way into the Kelley School was all something I had to work for. So I identify with Jesse's entrepreneurial sprit and the companies he started and how he worked his way through school. Although not identical, I see a lot of similarities in our stories, and that is inspiring."
Sowders is also appreciative of the opportunity for returning students like himself. While he has a little more life experience than some of his fellow students, being at IU has been life-changing, giving him more confidence and teaching him a lot about himself, his values and his determination to see it through.
Being a Cox Scholar not only made it a little easier for him to pursue his dreams, it also has him thinking about his own legacy and what he can do for others.
"Jesse and Beulah's story is amazing – the idea that by investing in students, they continue to invest in our future because of the things we will go on to do," he said. "I'm really appreciative of the fact there are people like the Coxes who are willing to contribute so greatly to other people's lives, and it makes me think about what mark I could leave on society."
More information about the Cox Scholars Program is available online or by emailing iubcox@indiana.edu.