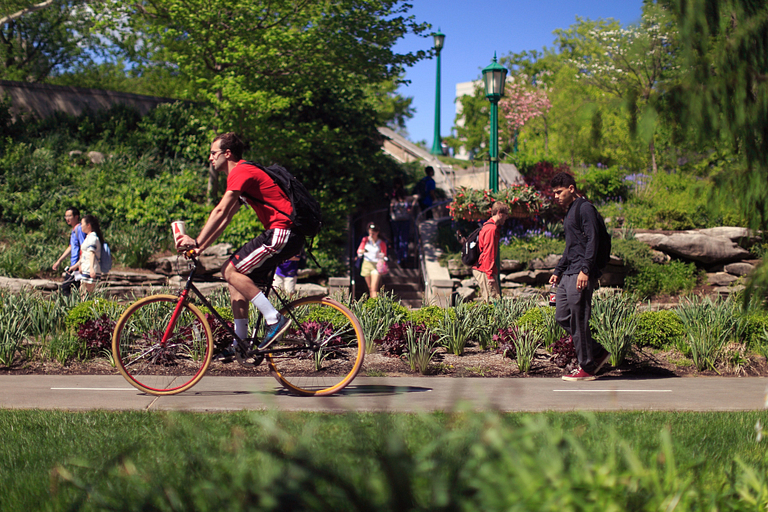 In honor of National Public Health Week, Indiana University's School of Public Health-Bloomington is inviting the campus community to see the city from a different perspective: on a bike.
"Ride About Town" takes place from 4 to 5:30 p.m. April 6 and will include a social ride throughout Bloomington that will teach bike safety, demonstrate safe bike routes and present an opportunity to discuss the city environment and how it pertains to cyclists.
The event is a collaboration between the university, the city of Bloomington and the IU Campus Bicycle program.  
"We are excited to be hosting this event in honor of National Public Health Week," said Megan Metzger, manager of alumni engagement and events for the School of Public Health. "This will be a great way for IU students, faculty and staff to break free of the 'campus bubble' and to see part of the city such as the B-Line trail. We want to show them safe and easy ways to get around town on a bike and hopefully inspire them to explore all Bloomington has to offer."
Participants will meet on the east lawn of the School of Public Health, outside the Wildermuth Intramural Center gym. A quick Bike Safety 101 discussion will take place before the ride begins. Cyclists will then make their way down the B-Line trail before cutting through Bryan Park and then back to campus, ending back at the School of Public Health. 
Riders of all skill levels are invited to attend, and helmets are encouraged. 
After the ride, participants can walk over to IU's First Thursdays Festival, where the School of Public Health will have a tent, helping riders learn quick bike maintenance tips, gather information on local bike resources and pick up bike swag. There will also be a chance to meet members of RideOn Cycling, the Little 500 team sponsored by the School of Public Health.
"The City of Bloomington is happy to be partnering with the IU School of Public Health and IU Bikes to host a fun and educational event about bicycling in our community," said Beth Rosenbarger, bicycle and pedestrian coordinator for the city of Bloomington. "Walking and bicycling are important modes of transportation in Bloomington, and we're always looking to increase the number of people who walk or bicycle for transportation. 
"This free event will focus on teaching safety tips to people interested in riding bicycles and demonstrate several useful routes for getting around town. We look forward to this event and to working together in the future."
According to the 2014 Transportation Demand Survey, just over 5 percent of IU's faculty and staff ride bikes to work. But cycling, whether it is to and from school or work or simply for fun, has numerous health and financial benefits, Metzger said.
"Biking is a great way to get your 30 minutes of physical activity a day," she said. "Biking as a form of transportation on campus has huge benefits: no parking permit required, no parking tickets, beat the traffic, get to class faster, and it's built-in exercise. Plus, it's simply fun."
Information on local and state riding laws, safety tips, bike registration and more is available on the IU Campus Bicycle program's website.