The Hoosiers defeated Northwestern 63-62 on Feb. 25, but the real show occurred after the buzzer sounded.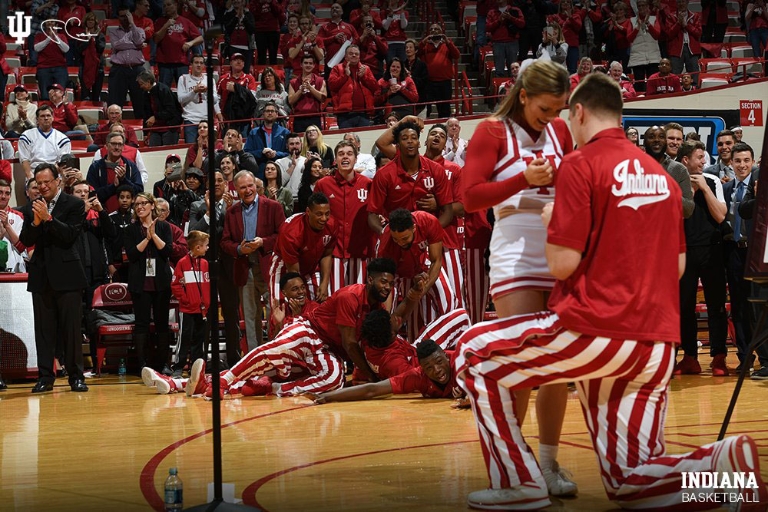 As the only senior on the basketball team, Collin Hartman had all eyes on him during the Senior Night festivities after the game. And he took that opportunity to propose to long-time girlfriend, and IU cheerleader, Hayley Daniel. Fans loved the moment between the two Indiana athletes, and photos and videos quickly populated social media.
Inside IUB recently had the chance to sit down with Hartman and ask him a few questions about the special moment, what's ahead for the IU couple and more.
Q: How did you and Hayley meet?
A: We met the summer before freshman year through mutual friends, but we just had a short conversation then. We really met when we got to school and ran into each other on the way to and from class.
Q: Why did you decide to propose on Senior Night, and why was it important for you to have all of "Hoosier Nation" there for that special moment?
A: I first thought of the idea our sophomore year and chose that night because I knew it would be a special moment for both of us. I was the only senior on the basketball team, so I wasn't stealing the thunder from anybody else. Assembly Hall has been a special place for us, both individually and as a couple, and I thought it would possibly be the last time that we would both be there in our uniforms.
I wanted to share that moment with everybody, and I thought it would be a very memorable way to purpose to my fiancé. I know it is typically an intimate moment, but our lives have been so much about this university and everything that IU has done for us.
Q: What were you feeling when she said "yes" in front of all of your fans, family, coaches and teammates?
A: I almost didn't get to ask her to marry me before she said yes! She was so surprised that I think she just froze and hugged me. I had to ask her to back up for a second and stop hugging me so that I could put the ring on her finger! It was great to have all of my family, her family, my teammates and her teammates there to support us and be a part of the night!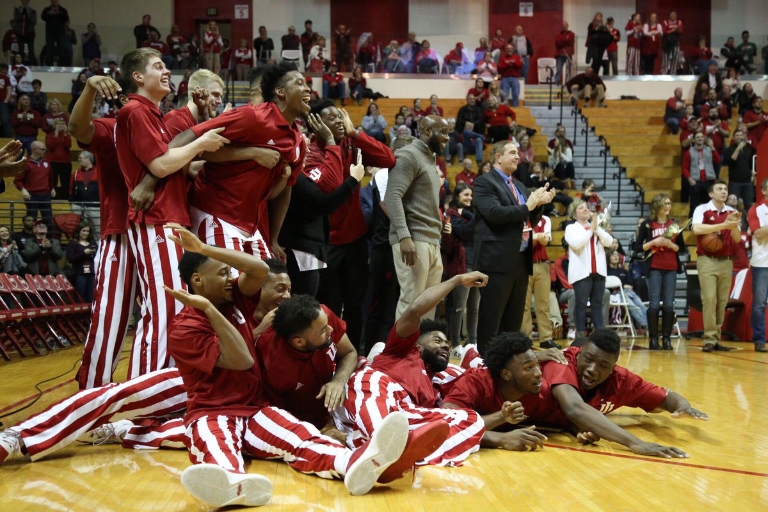 Q: Did your teammates know ahead of time and what did you think of their reaction?
A: Some of them knew but not all of them. Their reaction was priceless and made it all that much better. They all know Hayley and love her, so it was fun to be able to share that moment with them as well.
Q: What has it meant for you to play basketball at IU?
A: Playing basketball at Indiana University has been paramount for who I am today as a man. Not only have I learned to be more athletic and better at basketball, but it has taught me so many life lessons and values that will enable me to be the leader of my home, family, co-workers, employees, or whatever path I choose in life.
Q: What's next for the two of you?
A: We will both graduate this year and aren't really sure what is next in the future. All we know is that, with the support from the people around us and the relationships that we've created along this journey, we will be just fine in whatever our next step is in life.
We are still trying to wrap our heads around the fact that we're engaged, and we're just trying to enjoy this period of time together. There isn't a date yet but there should be one soon. We'll post it on our social media.