Kevin Bucy got the call at 10 a.m. Sept. 15, 2015 – 18 hours after being added to the organ waiting list for a double lung transplant. Bucy, a retired lieutenant colonel in the National Guard, suffered from lung disease as a result of an infection he contracted during a 2008 deployment in Afghanistan. He was in a work meeting at the Indiana University Bloomington Central Heating Plant when he learned he had 30 minutes to be on his way to IU Health Methodist Hospital for the procedure.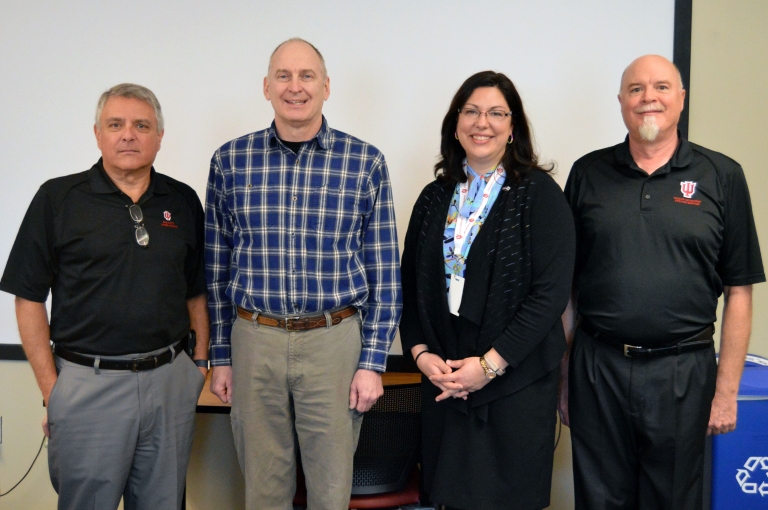 Management team members at Facility Operations stepped into action to ensure Bucy, the distribution manager for utilities, had the proper insurance coverage and FMLA documentation. During the next 100 days, while Bucy lay in the hospital recovering from complications of the surgery, his supervisors' support never wavered.
Because of this support, Bucy nominated Human Resources Manager Jamie Gayer, Assistant Vice President of Facilities Hank Hewetson and Assistant Director of Utilities Operations Mark Menefee for the Service Member Patriot Award, which they received Feb. 22 in a ceremony at the Service Building.
"They went above and beyond what was required of them by law," Bucy said. "They were a real blessing."
The Patriot Award is granted by Employer Support of the Guard and Reserve, a 40-year-old Department of Defense program that promotes "cooperation and understanding" between service members and their employers. Individual supervisors may be nominated for their support of Guard or Reserve members during difficult times, including before and after deployments and during medical crises.
Bucy's retirement from the Guard in 2012 – prior to employment – meant some of the legal protections guaranteed to active members did not apply to him. Despite this, Gayer, Hewetson and Menefee did all they could to keep his job and insurance coverage intact.
Retired Cols. Turner Nolan and Jim Davis presented the awards in the form of framed certificates. During the ceremony, Bucy praised Gayer for staying in touch with his wife, Lori, to reassure her that everything work-related was taken care of. Gayer said it was the least she could do to allow Lori to focus on what was most important.
"There were no second thoughts about whether it was the right thing to do," Gayer said. "I'm just glad I work for a division and employer that has the same values I do in supporting our service members – and all employees – in any way we can."
Menefee is Bucy's direct supervisor, and he took over many of Bucy's duties while he was in the hospital. Other Utilities Division staff, including Phil Nichols, Ron Porter and Beth Parker, also chipped in to make sure the work would get done. Hewetson went out of his way to make adjustments to Bucy's work environment in early 2015 to accommodate his illness, and he backed all of Gayer and Menefee's efforts during his recovery.
Now, Bucy is back. He returned part time in April 2016, switched to full time in June and worked his first full month since the transplant in December, though he is still not fully recovered. Most lung transplant patients never return to work; he said he went back because he could and because he is fond of his job and co-workers. His office is filled with souvenirs from his days in the Guard next to photos of his wife and three children; he said he feels lucky to have both.