More than 750 works from the IU Eskenazi Museum of Art's collection now available online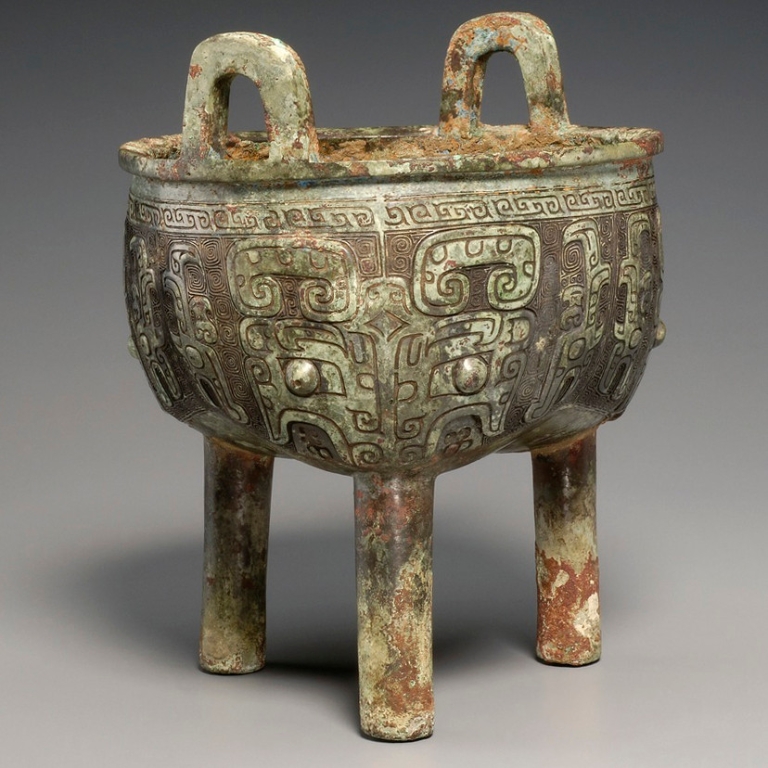 A new section of the Sidney and Lois Eskenazi Museum of Art's website has launched. It contains more than 750 of the finest objects in the museum's collection, and it is the first time such a broad look at the museum's collection has been available online.
Discover hieroglyphs on an Egyptian mummy case, view one of the largest known jade hei tiki pendants in the world, or take a peek into Picasso's studio as you explore a seminal portrait of the artist and his mistress. Selections from each world culture are featured on this new website, along with brief perspectives on each of the artworks, many of which are currently on view in the museum's galleries. 
The Eskenazi Museum of Art's collection includes more than 45,000 works organized into nine curatorial areas.
Researchers invited to apply for $25,000 translational research project grants
Researchers at IU Bloomington can further develop translational research projects with grants as high as $25,000 from the Johnson Center for Innovation and Translational Research.
The Translational Research Pilot Grant Program funds the completion of proof-of-concept projects that will support the development of translational research projects with industry partners, the establishment of new companies or the strengthening of patent applications. The deadline to apply for this third round of annual funding is April 1. Funding will be made available June 1.
Individual project budgets up to $25,000 will be considered. Applications will be assessed on scientific merit, the potential to significantly enhance the commercial development of the new discovery and the potential for the creation of new intellectual property. Materials must be submitted in Microsoft Word and Excel documents to the Johnson Center at jcitr@indiana.edu. More information is available online.
Contact assistant director Johanna E. Salazar at 812-855-3133 or jsalazar@indiana.edu with questions.
Culturally Engaging Campus Environments survey reminder
All IU Bloomington students have been asked to complete the Culturally Engaging Campus Environments survey to help the university better understand what students from diverse populations need to succeed on campus.
The 10- to 15-minute survey is optional and confidential and has been emailed to all current undergraduate and graduate students on the Bloomington campus. It is part of the university's response to recommendations from a university-wide, objective and comprehensive diversity assessment by Halualani and Associates on behalf of the Office of the Vice President for Diversity, Equity and Multicultural Affairs. 
Findings from the Culturally Engaging Campus Environments survey will be used to inform the work of educators both at IU and nationally to help improve campus life for students. As an added incentive, Amazon cards worth $20 will be randomly awarded to 400 participants who complete the survey.
The survey will officially close on April 1. Questions about the study and procedures should be directed to the Culturally Engaging Campus Environments Project at IU Bloomington at cece@iu.edu.
Presidents Hall will be now be available for use in Franklin Hall
Faculty, staff and students can now take advantage of an open space in Franklin Hall. Presidents Hall, which was originally used as a "Reading Room" when Franklin Hall was a library, will now be open several days a month. When the room is not reserved for special events, it will be open for those who want to avoid the noise of collaborative teams and the big screen in the commons. The space includes tables, lounge chairs and plenty of outlets as well as large windows that let in natural light. 
Find the most up-to-date calendar with dates and times indicating when Presidents Hall will be available posted outside the room. For more information contact Katie Spohr at kspohr@indiana.edu.
Paul H. O'Neill Graduate Center at SPEA will be dedicated
A ceremony dedicating the new Paul H. O'Neill Graduate Center within the School of Public and Environmental Affairs building will be held on March 24 at 2 p.m. The three-level addition to the existing building constructed for use by graduate students will be named after alumnus Paul O'Neill, former U.S. secretary of the treasury and chairman and CEO of Alcoa.
The center will also have a second-floor student study and meeting space known as the David and Cecile Wang Commons thanks to a recent gift from David and Cecile Wang. David Wang was chair of SPEA's Dean's Council, and the couple requested the commons space be so-named only for the next 10 years.
The ceremony will take place on the first-floor commons in the O'Neill Graduate Center and will include an introduction from IU President Michael A. McRobbie as well as remarks from Executive Vice Provost Lauren Robel and Dean John D. Graham.
For more information contact University Events (812) 855-3762 or email University Events.
IU School of Global and International Studies convening America's Role in the World conference
The second annual America's Role in the World conference at IU's School of Global and International Studies in Bloomington will address pressing global issues facing the new U.S. administration, the nation and the world.
 
This nonpartisan conference on March 29 and 30, co-convened by two of America's most esteemed voices in foreign policy, former Sen. Dick Lugar and former Rep. Lee Hamilton, will address the rising anti-democratic tide around the world, U.S. relations with its allies and with Russia and China, and challenges presented by Iran and North Korea and by global trade and inequality.
 
Participants in the two-day conference, the largest of its kind in the Midwest and hosted by School of Global and International Studies Dean and former Ambassador Lee Feinstein, will feature many of the nation's leading policymakers, scholars and journalists.
Center for Research on Race and Ethnicity in Society Faculty Seed Grant deadline approaches
The deadline for a Faculty Seed Grant from the Center for Research on Race and Ethnicity in Society is April 1.
The grant is open to IUB tenure-track faculty, and awards up to $5,000 to support original social scientific or humanities research related to the areas of race and ethnicity. The grant is intended to provide short-term, one-time support that will facilitate a pilot research project, which will result in data used to develop major proposals for submission to extramural funding agencies or assist in the completion of an on-going project. All individuals holding faculty rank at IUB are eligible to apply. Active Center for Research on Race and Ethnicity in Society affiliates will be given priority.
Grant recipients will be notified of the decision regarding their application by May 1, 2017.
Register now for Indiana Clinical and Translational Sciences Institute retreat 
Registration is now open for the Indiana Clinical and Translational Sciences Institute retreat April 24 at IU Bloomington. The event will feature programming focused on team science and public health impacts related to translational research, including keynote speakers from the National Institutes of Health, the University of Kentucky, and the American Cancer Society.
The retreat will also highlight IU Grant Linking University-wide Expertise Award winners with talks by Department of Psychological and Brain Sciences faculty members Franco Pestilli and Andrea Hohmann. And the lunch break will be organized into a "speed-dating" session for participants interested in networking opportunities to expand their research scope. 
Register by 4 p.m. April 17 to reserve space at the event.
IU opens Big Ten Tournament against Iowa
The IU men's basketball team will meet Iowa for the second time this season and third time in the history of the Big Ten Tournament on Thursday, March 9. Iowa beat IU 96-90 in overtime on Feb. 21 in Iowa City. 
Tipoff for the game is at 6:30 p.m. at the Verizon Center in Washington D.C. Watch it on ESPN2 and WatchESPN. The winner will advance to the Quarterfinals to face No. 2 Wisconsin at 6:30 p.m. Friday.
IU Bloomington among top producers of Peace Corps volunteers
For the fourth straight year, IU Bloomington is one of the leaders in the Peace Corps' annual list of top volunteer-producing colleges and universities nationwide. IU ranks 21st overall and eighth in the Big Ten in terms of alumni who are volunteering around the world through the Peace Corps.
This year, 37 IU graduates with a passion for service abroad are working on behalf of the United States in 20 nations around the globe, including Costa Rica and Guatemala in Central America; Mozambique, Namibia, Senegal and Zambia in Africa; Armenia and Macedonia in Europe; and the Philippines and Thailand in Asia.
IU's active support of the Peace Corps is consistent with goals set out in the university's Bicentennial Strategic Plan, to increase IU's international engagement and continue its historical commitment to institution-building around the globe.