Faculty in environmental affairs, recreation studies, gender studies, biology and English have been named Indiana University Bloomington's Outstanding Junior Faculty for 2016-17.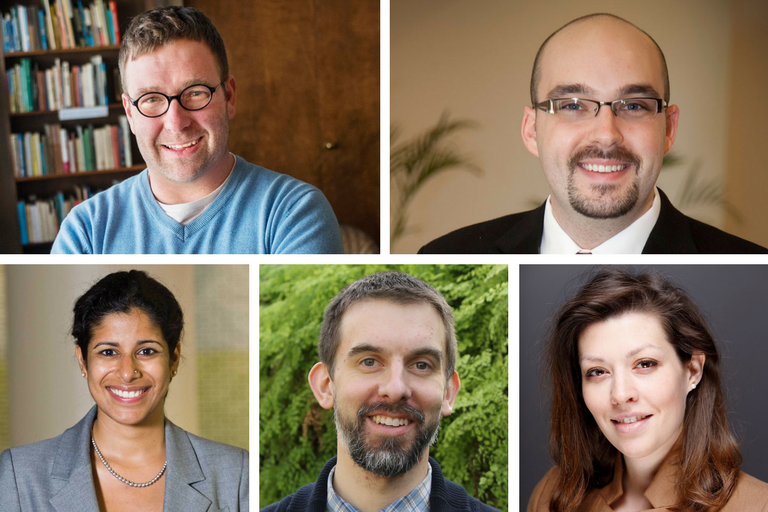 The award, presented by the Office of the Vice Provost for Research and the Office of the Vice Provost for Faculty and Academic Affairs, celebrates tenure-track faculty working on nationally recognized research or creative programs. Recipients are:
All untenured, tenure-track IU Bloomington faculty in the third, fourth or fifth year of the tenure probationary period are eligible for the Outstanding Junior Faculty Award, which provides a $15,000 grant to support future research.
Shahzeen Attari
Attari, assistant professor in the School of Public and Environmental Affairs, is an interdisciplinary scholar whose research questions are related to understanding such issues as how to motivate long-lasting behavior change without top-down regulations. Her research focuses on why people lack knowledge of resources and resource systems and what prevents them from engaging in pro-environmental behaviors. Her methods include online surveys, experiments and an educational game called WaterWorks, scheduled to be launched next year.
Through her research, Attari identifies methods to heighten understanding of and emotional connections with resources and to evaluate which features are important in different contexts to motivate action. She joined SPEA in 2011 and has a B.S. in engineering physics from the University of Illinois at Urbana-Champaign and a joint Ph.D. in civil and environmental engineering and public policy from Carnegie Mellon. She held an Earth Institute Postdoctoral Fellowship at Columbia University.
James Farmer
Farmer is an assistant professor in the Department of Recreation, Park and Tourism Studies. His research focus is on sustainable behavior and decision-making, particularly in the areas of sustainable food systems, including local food, farmers' markets and regenerative agriculture. He analyzes food systems through the lens of leisure, providing a foundation for understanding barriers in recreational settings. He also studies natural resource sustainability, focusing on land conservation with the goal of understanding approaches that spur the protection and stewardship of vital ecosystem services.
He began a national study of how municipal parks departments adapt their management practices in the face of climate change. This study will contribute to his research on natural resource sustainability, as it will address both the field of parks and recreation and the role that parks departments play in climate change adaptation and urban ecology sustainability. He earned his Ph.D. from IU Bloomington in 2009 and returned to IU as a faculty member in 2012.
Justin Garcia
Garcia, the Ruth N. Halls Assistant Professor of Gender Studies, is an international leader in sex research. His research involves a multifaceted interdisciplinary and collaborative investigation into the evolutionary and biocultural dynamics of human monogamy. He studies aspects of monogamy, including intimacy, infidelity, consensual nonmonogamy, singlehood, hookup culture, courtship and partner choice. He also explores tensions between gender and sexuality and between romantic and sexual desires, examining how they shape relationships.
He has appeared on "The Dr. Oz Show" to discuss the science of infidelity and his own published research on the topic. He received a Trustees' Teaching Award in 2015 and his department's teaching award in 2016. He also serves as associate director for research and education at the Kinsey Institute. Garcia earned his Ph.D. in 2011 in biological sciences from Binghamton University.
James "Jake" McKinlay
McKinlay, an assistant professor of biology, studies bacterial physiology and metabolism with the goal of harnessing bacteria to benefit society. His research on microbes and their diverse metabolic lifestyles reveals the many ways life thrives on our planet. His lab seeks to understand the inner workings of useful microbes, how they interact with their environments and neighbors, and how they can be optimized as microscopic machines to produce fuels and chemicals.
He received his Ph.D. in microbiology and molecular genetics from Michigan State University in 2006 and served as a postdoctoral fellow at the University of Washington before coming to IU in 2010.
Nikki Skillman
Skillman is an assistant professor of English. Her scholarship has advanced the proposition that, since the mid-20th century, the traditional subjects of lyric poetry have become plausible objects of scientific study. She conveys the theme in her book "The Lyric in the Age of the Brain," which explores our era's historically specific responses to timeless questions about the relationship between body and mind. She says it is now taken for granted that love is both an experience and a chemical phenomenon, that attention and mood can be regulated by drugs, and that memories are both representations of lived experience and dynamic networks of activation in the brain.
Skillman believes poets have invented new forms to describe feeling, will, imagination and selfhood in the age of the brain. After earning her Ph.D. from Harvard, she won the American Academy of Arts and Sciences postdoctoral fellowship and spent a year in Cambridge, Massachusetts, before coming to IU in 2013.
The Outstanding Junior Faculty Awards were established in 1985. Additional information and a list of past winners are available online. For more details, email vpfaa@indiana.edu.