For students with food allergies or vegetarian diets, visiting a prospective college campus is not just about the academics, it's about what's on the menu.
That's where Rachel Noirot, a registered dietitian with Residential Programs and Services, comes in.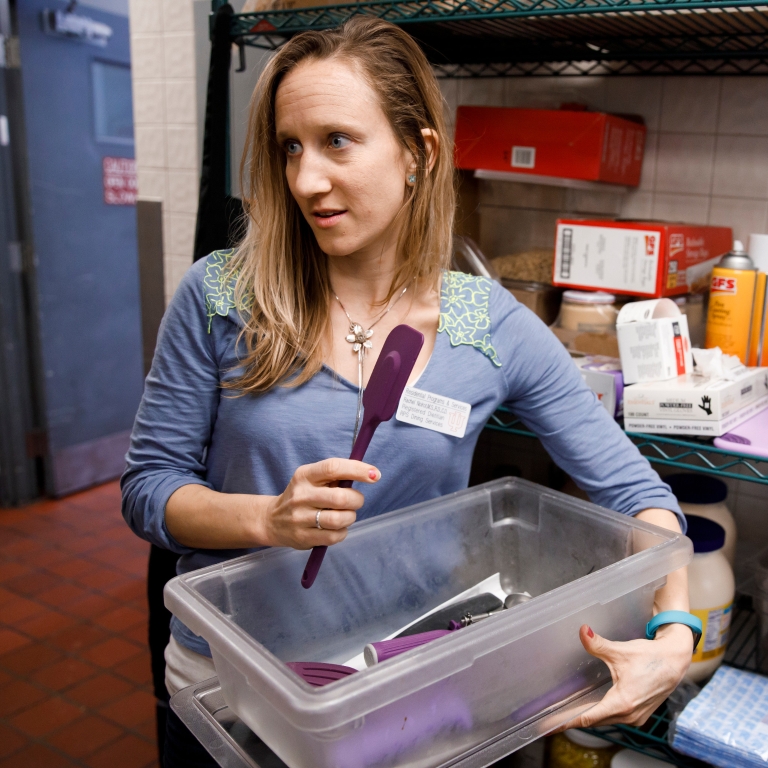 "I really enjoy meeting with incoming students, and food is one of those things I don't want them to have to worry about," she said.
Noirot arranges meetings with students, parents and chefs on campus to talk about what they can eat and how those foods can be made available.
"Our campus dining services have chefs who are basically the go-to people for special diets," she said. "They run the kitchen, train the team leaders, explain how things are prepared cooked and track the ingredients and recipes."
Noirot and the chefs have talked with students who have peanut allergies or have Celiac disease and must avoid gluten. She recalls one student who got migraines when he ate nitrates, so she met him at the dining hall and they talked with the chef about what foods don't have nitrates.
"We have had students over the years who have had jaw surgery," she said. "Even with a jaw wired shut, our staff provides food specifically for them by blending smoothies with fruit and extra protein."
Whether its dairy-free pancakes, soy yogurt, vegan cheesecake, tofu brownies or gluten-free bread, Noirot is eager to let students know there are options for them.
She's gotten ideas for food items to make available in the dining halls based on suggestions from parents and students.
"On campus, and no matter where you eat, we can work with students with any type of allergy," she said.
Noirot works on food labels, making sure all the ingredients are accurate and available for students to find. She helps with training food service staff to understand the importance of preparing food so it's safe for students with allergies or specific dietary needs.
And she's always excited to add new items to the menu.
"I really love cooking myself, and I love to encourage people to cook and try new things," she said. "New foods and new flavors – it's a cool area for dietetics."
You might find Noirot working with a resident assistant on a program in the dorms to introduce students to healthy options like kale salad or smoothies made with spinach. She even brings by samples of the dining hall's homemade granola and bread for them to try.
Noirot also tries to get IU's littlest eaters, at the campus daycares, to expand their taste palates.
"We added turkey meatballs to the menu, and my dietetic intern and I went to the daycares and observed the children during lunch and asked them what they thought," she said.
From her point of view, offering gluten-free and vegetarian foods or healthier options is an opportunity to improve the menu.
"I like to focus on what students can have," she said.
To celebrate March being National Nutrition Month, Noirot and the dining services staff are promoting this year's theme, "Rise to the Occasion," with a recipe contest. The program encourages students to post a favorite recipe on the RPS Dining Facebook page. IU's chefs will then pick the top three entrees, desserts and sides, cook them up and allow students to sample and vote on their favorites. Winners will be added to the recipe database to serve on campus.
It's all about making students feel at home and not stress out about eating.
"We want them to feel we care about them and want them to be healthy, so they go to their classes and get through college at their best," Noirot said.
RPS Dining locations are open to faculty, staff, students and guests, as CampusAccess, cash and credit cards are accepted in addition to I-Bucks.
Nutrition and allergen information for campus dining locations is available online. For questions about food allergies and special diets, contact Noirot at nutrinfo@indiana.edu.