Michelle Abbott, and her husband of 13 years, get up bright and early to get their kids ready for school each morning. Then, Abbott heads off to class herself.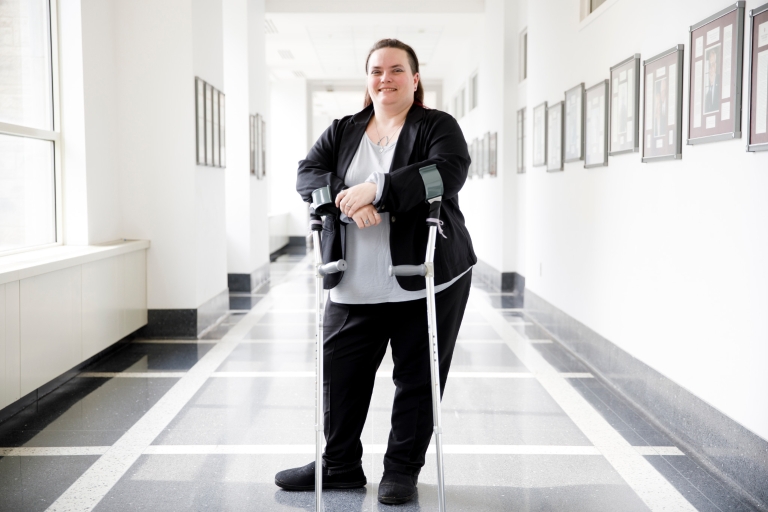 At the age of 34, after an accident on the job left her permanently disabled, Abbott decided to return to college to pursue a degree in accounting.
"Getting hurt on the job was a big kick in the pants for me to go back to school," she said. "Not only will I be able to have a desk job, but this is my chance to be able to work in a field that I actually like."
At a university like IU, where the majority of students are coming to college directly from high school, Abbott stands out from her classmates.
IU's Center for Students in Transition is aiming to make it easier for students like Abbott to find the academic path that works for them.
"The center is not just for a specific type of student, but rather we are geared toward helping students who find themselves in certain circumstances where they need specific, personalized advising," said Sharon Hay, an advisor in the Center for Students in Transition.
Circumstances that the center specializes in include switching schools within the IU Bloomington campus; returning to finish a degree after a long hiatus; serving in the military service; or adjusting back to civilian life.
Typically, the students are referred to the center by professors or advisors. The staff at the center evaluates where the students are and where they want to go, which can involve connecting them to a career path that fits their circumstance or helping them figure out how to get their studies on track.
"For many of the students we work with, their circumstances are causing them a high level of anxiety; some of them have been laid off or have families depending on them," Hay said. "We have the ability to take an individualized approach to helping them succeed academically, no matter what they are facing outside of school. They can come to us for assistance and leave with all of their questions answered."
Abbott is one of the center's greatest success stories so far.
She first enrolled at IU in 2000, but Abbott said it just wasn't clicking for her. She decided to quit school and enter the workforce. Sixteen years later, Abbott enrolled in classes at IU once again, with the hope of being admitted into the Kelley School of Business. With the help of Hay, she made it happen. Abbott is now on track to graduate with her master's in accounting.
"Students come in with a lot of shame, regret and a 'shoulda, woulda, coulda' attitude," Hay said. "Watching as those layers peel away and they slowly become more confident is very rewarding, and Abbott is a great example of that. She knew what she wanted, and she made it happen."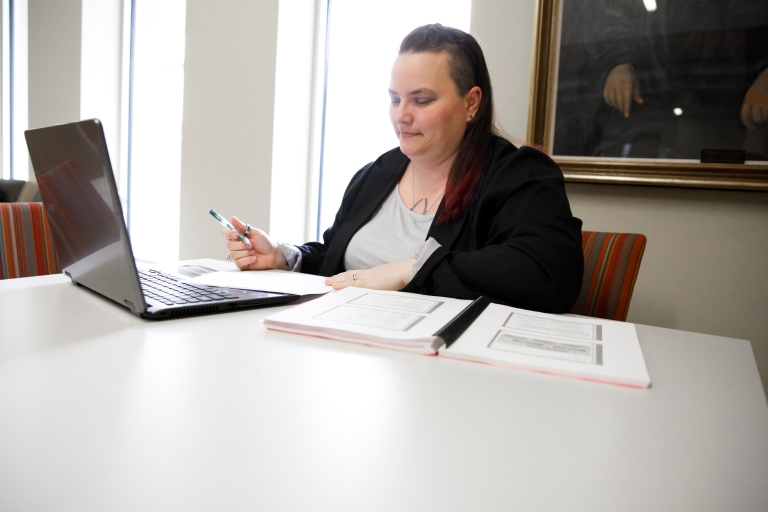 Renee Rerko, director of academic advising in the Kelley School of Business, has had a front-row seat to Abbott's success. She first had the opportunity to work with Abbott when she reached out to the Center for Students in Transition, as Rerko was an advisor there at the time. In her current position, Rerko is Abbott's official academic advisor.
"Advisors often talk about students who have grit, meaning courage and resolve. However, in my 12 years of advising students, I have never met anyone with more grit than Michelle Abbott," Rerko said. "Her ability to return to school after a long hiatus, earn the highest possible grades and be admitted to the Kelley School of Business is an undeniable achievement.
"It took Michelle some time away from IU to fully understand her academic and career goals and bring them to fruition, but the skills and maturity she gained in her time away from IU is what has made her so successful today!"
After Abbott completes her degree and sits for her license to become a certified public accountant, she hopes to land a job with a manufacturing or retail company.
"When I compare my first time at IU to now, it's so different," she said. "My life revolved around me and only me, and now my life revolves around my family. I'm motivated to prove that I can get back into the workforce and prove to my children that they have a strong foundation so that they can choose what they want their future to look like."
To help students in circumstances like Abbott's as they transition to life at IU, the Center for Students in Transition offers scholarships to returning students and nontraditional students each academic year. Applications for the 2017-18 school year are available now, and the deadline to apply is March 10.