The IU Health Center has offered physical therapy services since the early 1970s. However, they weren't able to open these services to faculty and staff until more recently.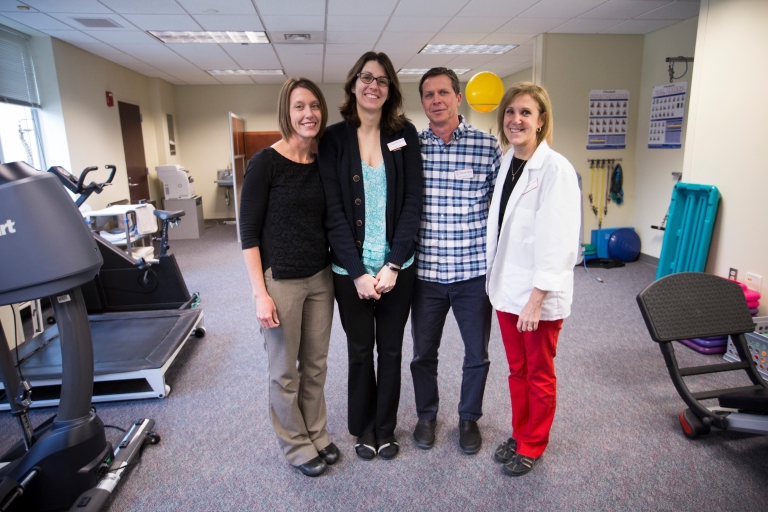 As of March 1, any IU employee on a Blue Cross/Blue Shield insurance plan can book physical therapy sessions at the IU Health Center. Historically, only enrolled students were able to utilize these services, due to insurance limitations.
"We are excited to now be able to offer our services to IU employees," chief physical therapist Patti Grant said. "Physical therapy sessions are often scheduled twice a week for several weeks in a row, so it will be a tremendous benefit and convenience to employees to have the resource available right on campus."
To prepare to serve a new host of patients, the physical therapy center got a new home within the health center building in January. The new first-floor location has allowed the department to expand and upgrade their equipment, grow their team and offer better ease of access for patients.
With room to house two offices, two private treatment rooms, a reception area and a large gym, the space is nearly five times as large as their former location.
With the additional space, the center is able to offer a variety of new equipment, including a built-in Theraband wall station, a Plyoback machine, a bike and a treadmill. The Theraband station allows for targeted, safe strength training with bands of differing resistance levels, while the Plyoback machine is used for rebounding medicine balls, improving balance and jogging exercises.
"The new space allows our three very experienced and caring physical therapists to aid patients in exercises with greater ease and variety," Grant said.
The team includes three physical therapists, Grant, Amanda Clark and Dave Boncek, as well as Jennifer Webb, a physical therapy technician. The physical therapy department offers both evaluation and treatment for all types of musculoskeletal injuries, acute or chronic spine or extremity pain and post-surgery recovery.
Following an initial consultation assessing the injury, a physical therapist will develop an individualized treatment plan fit for the patient. Supervised exercises, hot/cold packs, ultrasound, muscular biofeedback, electrical stimulation, manual therapy and injury education are just a few of the treatment methods used at the center.
Physical therapy is one of 11 services the IU Health Center offers to university employees.
With a doctor's referral, patients can schedule an appointment by calling 812-855-6272 or in-person at the health center.