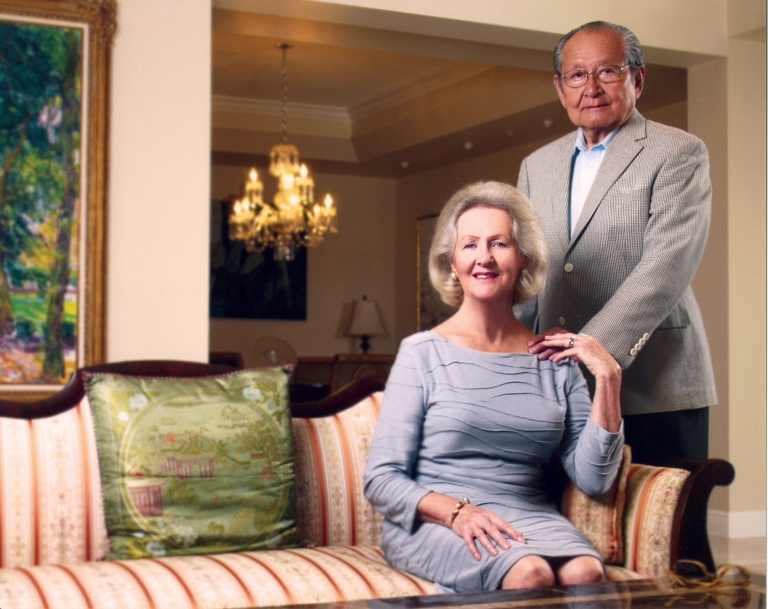 BLOOMINGTON, Ind. – A glistening new space at Indiana University's School of Public and Environmental Affairs in Bloomington has been named for a couple who donated $1 million to IU. At their request, the name is temporary – and that's a first for Indiana University.
David and Cecile Wang offered to make possible what in the world of philanthropy is known as a "limited-time naming." For the next 10 years, the second-floor student study and meeting space in the just-opened graduate center at SPEA will be known as the David and Cecile Wang Commons.
"We are pleased to support students who aspire to serve the public good," Wang said. "What we didn't want to do is tie the hands of the school's leaders. The space may need to be updated or repurposed at some point, and we want SPEA's dean to have the complete discretion to do so."
Limited-time namings are increasingly popular outside of higher education, but relatively few universities have latched on to the trend.
"David and Cecile Wang have been extremely generous with their gift, which will benefit our students and faculty tremendously," IU President Michael A. McRobbie said. "They have set an example for all who love IU and are considering how to make a positive difference in a uniquely personal way."
David Wang was chair of SPEA's Dean's Council when plans for the Paul H. O'Neill Graduate Center were launched in 2014, and he remains on the school's advisory board. Wang also applies his forward-thinking approach to philanthropy through service to nonprofits including the Southern Poverty Law Center and the National 4-H Council. He is a former business executive and corporate director with firms including International Paper and Atlas Holdings.
"The David and Cecile Wang Commons is one of my favorite places in the O'Neill Graduate Center," SPEA Dean John D. Graham said. "Students and faculty are constantly meeting there to work on projects, exchange ideas or just take a break from their tasks. We're incredibly grateful to the Wangs for their gift and for all they do for IU and for SPEA."
The $1 million gift by the Wangs launched the fundraising effort for the graduate center, which is named in perpetuity after former U.S. Treasury Secretary Paul H. O'Neill. A formal dedication of the building with O'Neill and the Wangs in attendance will take place March 24.
This gift counts toward the $2.5 billion campaign, "For All: The Indiana University Bicentennial Campaign."
About David Wang
David Wang retired in 2011 as senior operating partner of Atlas Holdings, a private equity investment firm with current revenues of $5 billion that owns and operates industrial businesses. In 1991, Wang retired from the International Paper Co., where he served as executive vice president and was a member of the company's board of directors.
A native of Beijing who emigrated to the United States with his family, Wang was a trustee of the Robert F. Kennedy Center for Human Rights, the National 4-H Council, the Eisenhower Fellowships, Southern Poverty Law Center, Bowdoin International Music Festival and Artis-Naples. He also serves on the advisory board of the Coalition of Immokalee Workers, an organization of several thousand immigrant farm workers in Florida that advocates for living wages and fair treatment.
About the School of Public and Environmental Affairs
Founded in 1972, SPEA is a world leader in public and environmental affairs and is consistently ranked in the top tier of graduate schools of public affairs. With more than 90 full-time and more than 100 part-time faculty members, SPEA provides international scope, influential research and focused opportunities for students to pair a comprehensive foundation of knowledge with hands-on experience in the field.
About For All: The Indiana University Bicentennial Campaign
The campaign is taking place on all IU-administered campuses including IU Bloomington, Indiana University-Purdue University Indianapolis, IU East, IU Kokomo, IU Northwest, IU South Bend and IU Southeast. The campaign will conclude in December 2019 to coincide with IU's bicentennial year celebration in 2020. To learn more about the campaign, its impact, and how to participate, visit forall.iu.edu.
About the IU Foundation
Founded in 1936, the Indiana University Foundation maximizes private support for Indiana University by fostering lifelong relationships with key stakeholders and providing advancement leadership and fundraising services for campuses and units across the university. Today, the IU Foundation oversees one of the largest public university endowments in the country, with a market value in excess of $1.9 billion. In fiscal year 2016, IU received $392.2 million in support from the private sector. IU is consistently ranked among the top four of Big Ten universities in annual voluntary support.