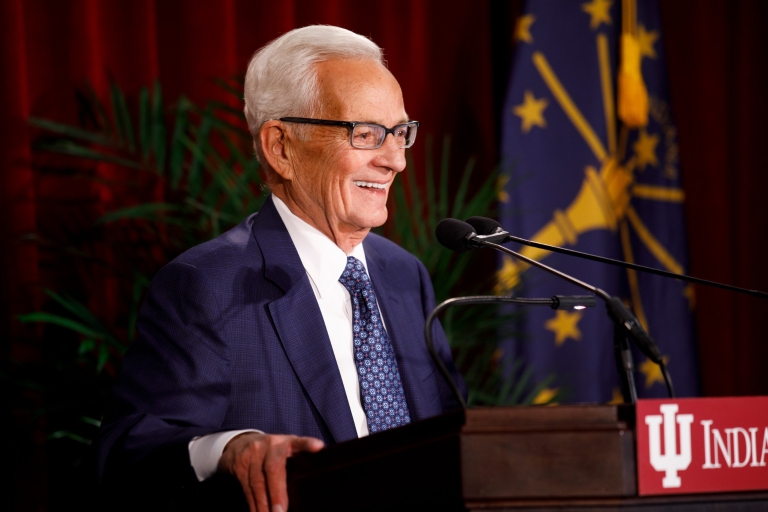 BLOOMINGTON, Ind. – Indiana University President Michael A. McRobbie presided over today's dedication of the Paul H. O'Neill Graduate Center, home to the top-ranked public affairs and environmental science and policy graduate programs in IU's School of Public and Environmental Affairs.
The 34,000-square-foot building provides state-of-the-art classrooms, meeting areas, faculty offices and three large student commons that will foster SPEA's tradition of multidisciplinary collaboration.
"IU's School of Public and Environmental Affairs was established 45 years ago as the first school in the country to combine programs in public management, policy and administration together with the environmental sciences. And among public policy schools more broadly, it is now ranked No. 1 in the nation – a remarkable achievement in such a relatively short time," McRobbie said.
"Through groundbreaking interdisciplinary research, the school's faculty and students have contributed solutions to many of society's most pressing needs. The new Paul O'Neill Graduate Center will help attract the next generation of public and environmental affairs students, who will come to IU to prepare for careers in which they, too, will take on some of the most difficult challenges facing our world."
The center is named for IU alumnus Paul O'Neill, former U.S. secretary of the treasury and chairman and CEO of Alcoa.
"I am honored that the graduate center provides a place to carry on the tradition of intellectual curiosity and excellence that I found at IU 50 years ago," O'Neill said when the naming was announced.
Other speakers at the dedication ceremony included Lauren Robel, IU Bloomington provost and executive vice president; SPEA graduate students Dorian Davis and Lauren Shaman; and John D. Graham, dean of SPEA.
"Our pledge today is to use this space to prepare and inspire the next generation of leaders, to send them out, ready to serve the greater good," Graham said.
The O'Neill Graduate Center features an open, three-story stairway that echoes the architecturally striking atrium in the adjoining, original SPEA building constructed in 1982. Another unique feature is a dramatic glass curtain that is a glistening wall between the commons spaces and 10th Street.
School faculty and staff moved into the new space in January.
"You can already see students taking advantage of the new study rooms, classrooms and commons to discuss everything from an upcoming exam to the newest Washington policies," Shaman said. "Students have even been seeing their course work in a new light – literally; there's sunlight now."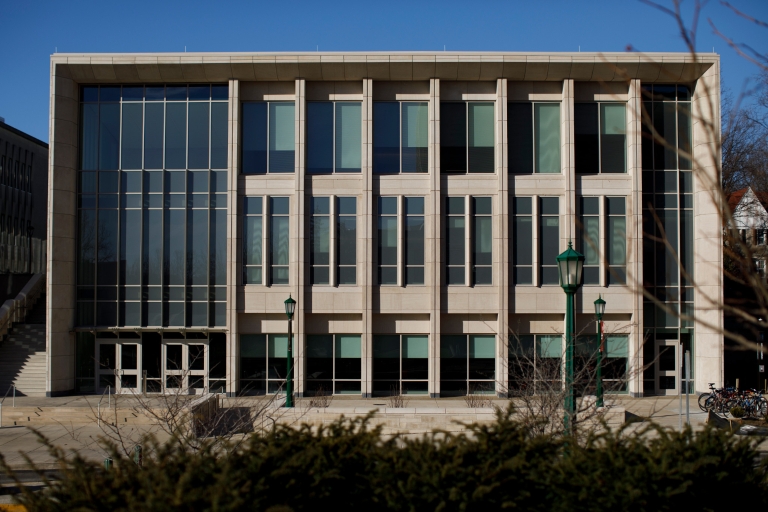 IU is pursuing LEED Gold Certification from the U.S. Green Building Council for Leadership in Energy and Environmental Design. The O'Neill Graduate Center was designed by BSA LifeStructures and constructed by Weddle Brothers Construction of Bloomington. The $12 million building was partially funded by a $3 million gift from O'Neill, the largest private donation in SPEA's history.
O'Neill is a regular visitor to SPEA and IU, meeting with students and faculty on frequent trips to campus.
"Paul O'Neill represents the best that Indiana University and SPEA can be," Graham said. "He has excelled in all three sectors: as a visionary corporate leader, inspiring nonprofit leader and principled government leader."
O'Neill earned his Master of Public Administration degree in 1966 from IU and was awarded an honorary Doctor of Humane Letters in 2014. In 1967, he joined the U.S. Office of Management and Budget, serving as deputy director from 1974 to 1977.
In addition to serving as secretary of the treasury under President George W. Bush, O'Neill held leadership positions in the business and nonprofit sectors. He was president of International Paper, chairman of the RAND Corp. and CEO of Alcoa. He co-founded the Pittsburgh Regional Health Initiative, an innovative effort to address health care problems in his hometown.
Innovation is also a hallmark of SPEA. It is a world leader in public and environmental affairs and is consistently ranked in the top tier of graduate schools of public affairs. The school was ranked No. 1 in the most recent U.S. News and World Report rankings of 272 graduate schools of public affairs and policy.
With more than 90 full-time and 100 part-time faculty members, SPEA provides international scope, influential research and focused opportunities for students to pair a comprehensive foundation of knowledge with hands-on experience in the field.
"For decades, SPEA has been a force for tremendous good on our campus, throughout our state, and around the globe," Robel said. "The school is a hub for cross-campus collaborations and service-oriented learning in the community. The O'Neill Graduate Center provides a wonderful home base from which our faculty and students can continue to bring SPEA's outstanding work to the wider world."
Video of the entire dedication ceremony can be seen at broadcast.iu.edu.