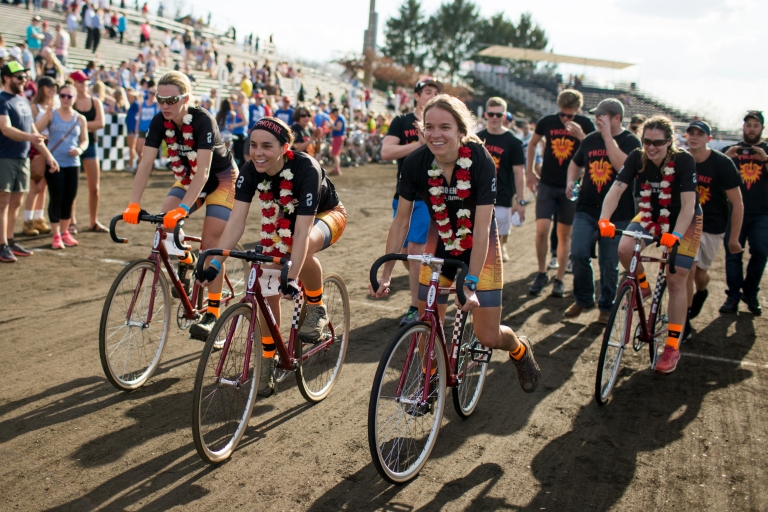 BLOOMINGTON, Ind. – From four sorority members training in the basement of their house to competitive cycling on the same terms as the men, the women's Little 500 has become an important event at Indiana University Bloomington.
The IU Student Foundation will present the 30th running of the women's race beginning at 4 p.m. on Friday, April 21. The men's race, now in its 67th year, takes place the next day beginning at 2 p.m. Both races will take place in Bill Armstrong Stadium, off Fee Lane, just north of its intersection with 17th Street.
Both Little 500 races will be shown live online at broadcast.iu.edu, presented by students in The Media School at IU and produced by IU Radio-Television Services. It also will be simulcast by WIUX student radio.
More than 25,000 people attend the races every year, with the proceeds benefiting students who need unexpected financial assistance to complete their IU degrees. In total, the IU Student Foundation has raised more than $2 million to fund scholarships for IU students. It also provides professional development for many IU students who work off the track and behind the scenes to make it a success.
'We went for it'
The Little 500 began in 1951 as a men's race between teams from fraternities and residential units. In 1988, a women's race was added – a year after a team of women trained and qualified for the men's race, but were bumped from the field the day of qualifications based on time. Today, the makeup of the race is more diverse, through the involvement of more student organizations.
The origins of the women's Little 500 date back to the winter of 1986, when four friends at Kappa Alpha Theta sorority – Lee Ann Guzek Terhune, Martha Hinkamp Gillum, Darcy Fieck and Kathy Cleary Kallner – found they had a mutual interest in cycling.
After Kallner spent a semester in England, where she had ridden in triathlons, the four immersed themselves in training and were the only women to attend a Little 500 mass riders meeting in January 1987.
"Initial reaction was that this wasn't something that women do," said Gillum, today the mother of twin daughters and an attorney in Winnetka, Illinois. "I think that stems from the fact that people don't always embrace change. The Little 500 was so entrenched at that time period as a men's race."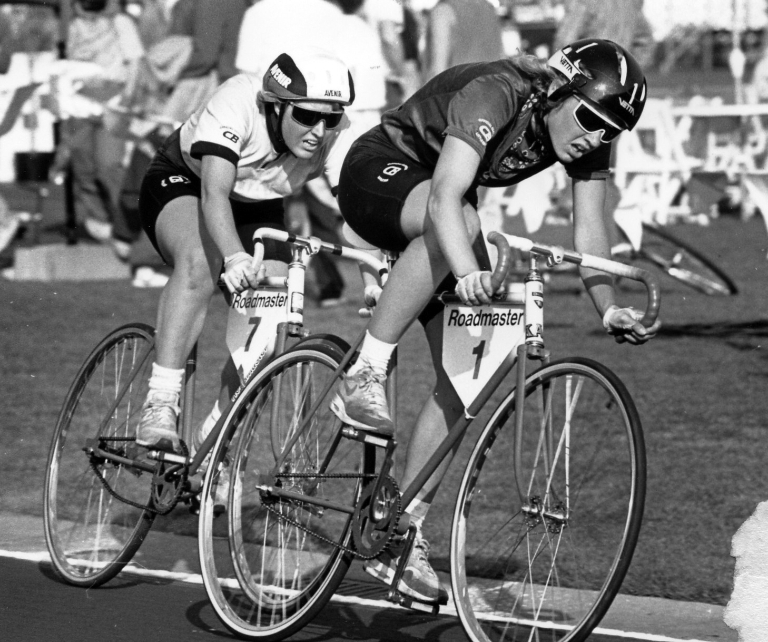 Up until that point, the primary activity for women during Little 500 weekend was Mini 500, a tricycle race that had outlived its relevance. Another earlier group of women, "Team Doubletake," also attempted to qualify for the men's race, in 1981.

"I don't want to say that it was a men versus women thing, because it wasn't," Gillum said, adding that opposition came from traditionalists across campus and some male riders. However, most of the men riding in the race were supportive, as was the IU Student Foundation.
"We looked at it as trying to do something that we thought needed to be done," she said. "We just had it in our minds to do and we went for it."
Their first two efforts to qualify for the 1987 race were marred by dropped exchanges, and the team would retry at the end of the day. While waiting several hours for their next attempt, interest in the team grew. They became the day's major news story, and their sorority rallied others in support. When they took the track again at the end of the day, the crowd was at its largest.
A time of 3:03.72 initially garnered them a place in the race, but they were later bumped along with four men's teams. The following October, the IU Student Foundation announced the formation of the women's Little 500, and the following spring the first race was held with 31 teams. A team from Willkie Sprint won the inaugural women's race, with the Thetas coming in second.
Kappa Alpha Theta has since won the race six times and typically finishes in the top 10. Depending on interest, a women's alumni race is scheduled for 9 a.m. on April 22.
How the race is won
The Little 500 races are patterned after the Indianapolis 500, with up to 33 teams lining up for the start in 11 rows of three. Starting positions are determined by qualifying times, with the fastest team nabbing the pole.
As many as four riders can compete on a team. When one rider is tired, he or she exchanges the bicycle with a teammate. The women's race is 25 miles – 100 laps on a quarter-mile cinder track. The men's race is 50 miles – 200 laps on the same track.
The competitors are amateurs and are undergraduate students at IU Bloomington. Little 500 has been the subject of numerous national news reports and sports broadcasts and an Academy Award-winning film, "Breaking Away." The inaugural women's Little 500 was covered by The New York Times.
As with the Indy 500, winners of the Little 500 are immortalized on their version of the Borg-Warner Trophy, which is displayed year-round at the Indiana Memorial Union.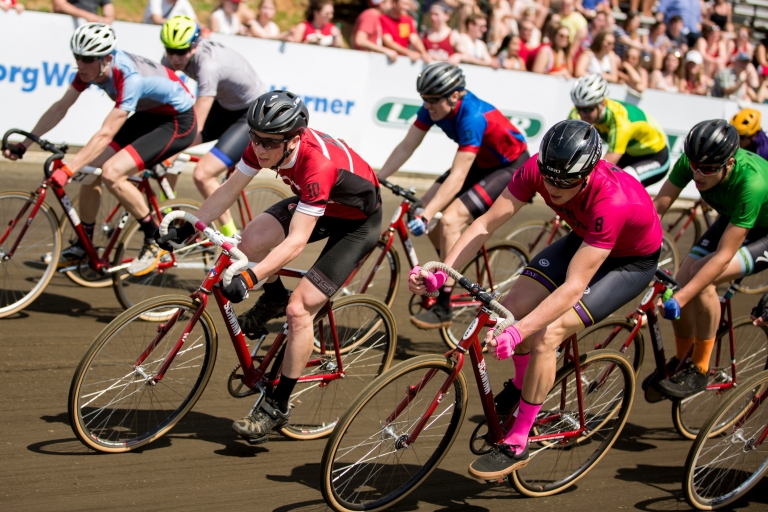 Related events
Little 500 races culminate a series of annual cycling and philanthropic activities during the spring semester. Three free events at Armstrong Stadium are individual time trials, which begins at 3 p.m. on March 29; Miss-N-Out, which begins at noon on April 1; and Team Pursuit, at 1 p.m. on April 9.
The annual Little 500 5K will begin at 9 a.m. on April 2 near the stadium at 17th Street and Fee Lane. Prizes will be awarded to winners in six age groups and there also is a team competition. Registration information is available at the IU Student Foundation site.
This is the fifth year for a Little 500 crowdfunding campaign, Cycling for Scholarships. In addition to competing on the track, Little 500 teams are collecting donations from supporters through their respective Fundly sites. People also are encouraged to "play the field" by making a donation in honor of all the men and women who have and will make Little 500 a success.
Daniel Tosh will present an evening of standup, featuring writers and comedians from Comedy Central at 7:30 p.m. April 18 at the IU Auditorium.
Rapper Jeremih, with special guest iLoveMakonnen, will present Union Board's annual Little 500 concert at 9 p.m. April 20 at the IU Auditorium.
The National Pan-Hellenic Council will present its annual Little 500 Step Show at 7 p.m. April 22 at the IU Auditorium. The step show has become a tradition for showcasing students from diverse areas of interest throughout IU and the larger Greek community, including step teams from IU and other local National Pan-Hellenic Council chapters.
Tickets for both races are available for $30 in advance, $40 at the gate, and $15 for children 12 and younger. Premium press box seating also is available for $100. There is no charge for children 2 and younger.