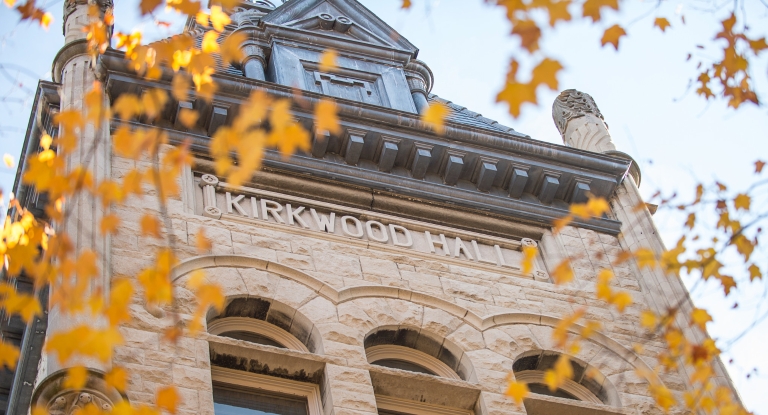 BLOOMINGTON, Ind. – Indiana University Bloomington will celebrate the launch of the new School of Art and Design and rededicate the school's new office, classroom and studio space in Kirkwood Hall next week.
The ceremony will take place at 1:30 p.m. April 7 in Alumni Hall at the Indiana Memorial Union. A reception will follow at Kirkwood Hall.
"The establishment of the School of Art and Design reflects the vital importance of innovative design and visual inquiry as essential components of successful product development and of economic competitiveness, as well as contributing to a vigorous and creative visual arts culture," IU President Michael A. McRobbie said.
"The school will play a central role in fulfilling some of the key goals of the university's Bicentennial Strategic Plan, specifically its commitments to developing contemporary programs that are relevant to student career success and to the development of a culture of building and making on the Bloomington campus, which will contribute to the building of a prosperous and innovative Indiana.
"In this context the university is delighted that the school will be adding to these strengths in a major way by establishing a new program in architecture. It is also fitting that this school, the latest of eight new schools the university has formed, should be located in a newly renovated home in Kirkwood Hall, a building that exemplifies the great history and tradition of Indiana University."
At the ceremony, McRobbie will award the President's Medal to two of the school's most distinguished emeriti faculty – Barry Gealt and Jeffrey A. Wolin. This medal is given to recognize excellence and extraordinary achievement and merit.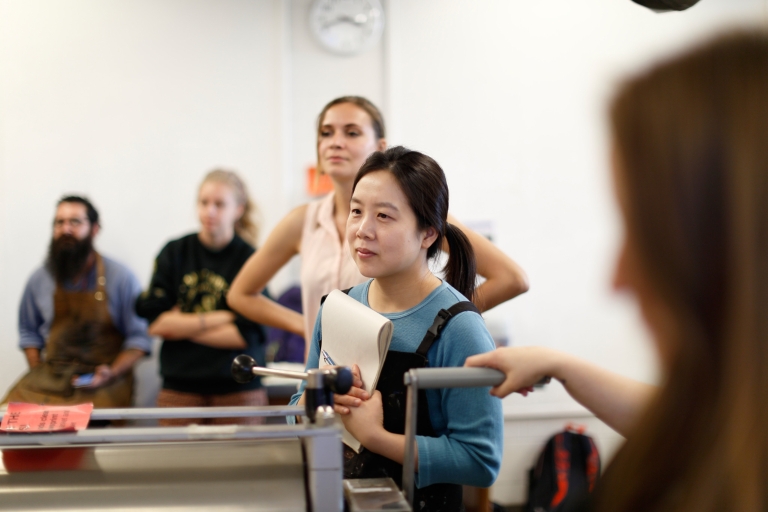 Gealt, a member of the painting and drawing faculty from 1969 to 2007, built an unparalleled reputation for figure works and later for landscapes. Much of his work focuses on the natural environment in Indiana. A collection of his landscapes was recently exhibited at the IU Eskenazi Museum of Art.
Wolin was the Ruth N. Halls Professor of Photography until his retirement in 2015-16. His publications include "Written in Memory: Portraits of the Holocaust"; "Inconvenient Stories: Vietnam War Veterans"; and "Pigeon Hill: Then and Now." All were accompanied by major exhibitions.
The School of Art and Design was established in 2016 with a merger of the Department of Studio Art and the Department of Apparel Merchandising and Interior Design. Part of the College of Arts and Sciences, it brings together strong programs in a technology-rich environment that encourages collaborative learning. In addition to programs in various art and design disciplines, the school will offer a Master of Architecture program beginning in the fall of 2018. The program will have its primary focus in Columbus, Indiana, an internationally recognized center for architecture.
"The School of Art and Design builds on historic strengths of the Bloomington campus to offer students exciting new academic and career paths," IU Bloomington Provost and Executive Vice President Lauren Robel said. "The recently renovated Kirkwood Hall in the historic Old Crescent section of campus is a wonderful home for the school's faculty and students, and we look forward to the outstanding work they will do there for many years to come."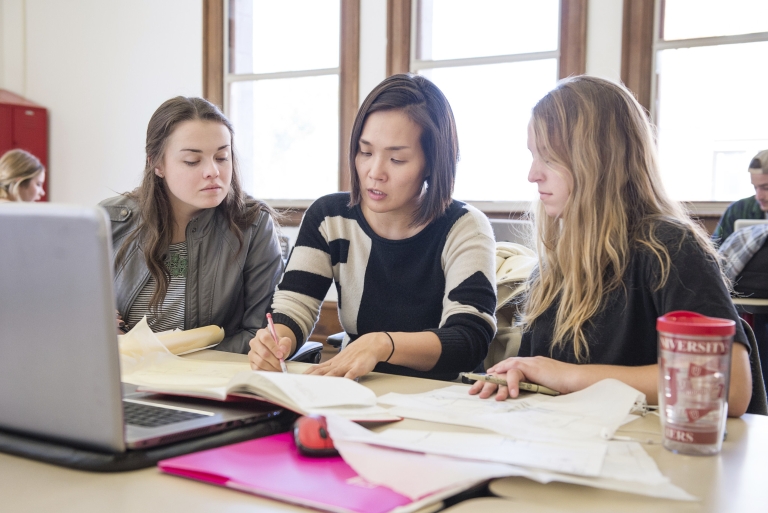 "I can assure you that we will be encouraging the imaginative, innovative spirit that brought the school into existence," said Peg Faimon, founding dean of the School of Art and Design. "I am going to dedicate myself to welcoming fresh ideas from all sides: not only from faculty but from students, alumni and residents of our state and from our artistic, design and merchandising colleagues around the nation and beyond."
The school's dean's suite and apparel merchandising, interior design and fashion design offices moved to Kirkwood Hall in October 2016. The Fine Arts Building remains the main home for various studio arts disciplines. A new complex for ceramics, printmaking, painting and sculpture will be developed at 13th Street and Woodlawn Avenue.
"The School of Art and Design is fortunate to be the new steward of Kirkwood Hall, a building with such rich history," Faimon said. "It has been a site for engagement and opportunity since the late 1800s. The design of the renovated building, with glass walls and open studios, allows for beautiful natural light to flood the space – perfect for creativity and design activities."
Kirkwood Hall, completed in 1895, is one of the oldest buildings on campus. The renovation includes reconfigured interior walls, new windows and updated utilities that bring the building to 21st-century standards. Along with offices and classrooms, the building now includes space to display student art and collaborative work space.
In addition to the ceremony and reception, April 7 events will include an MFA students' thesis show opening, McCalla School sculpture park tour and McKinney Visiting Artist Series lecture by Los Angeles multimedia artist Sandow Birk.