Taylor Rhodes became one of the first students in the history of Indiana University-Purdue University Indianapolis to be awarded the William M. Plater Civic Engagement Medallion both as an undergrad and as a graduate student when the winners were announced on Wednesday. Recipients of the Plater Medallion are soon-to-be graduates who have excelled in their commitment to the community through activities such as service learning, volunteerism, community and social issue advocacy, community work-study, and political engagement.
Lindsay Lazo also became a two-time winner last week, joining Rhodes in the distinction.
A quick glance at Rhodes' accomplishments gives a good snapshot of why she is the first two-time honoree in the award's 12-year existence. After completing her bachelor's degree in international studies with a business minor, Rhodes spent two years in the City Year program through AmeriCorps. Now she's in the dual-degree program at the School of Public and Environmental Affairs and the Lilly Family School of Philanthropy, earning a master's in both nonprofit management and philanthropic studies.
Rhodes is currently president of the IUPUI Graduate and Professional Student Government; she held the Undergraduate Student Government presidency in her first stint at the university. She is also a graduate assistant with the IUPUI Division of Student Affairs, where she works with the Office of Student Advocacy and Support, specifically with the campus food pantry, Paw's Pantry.
"I thought I had an understanding of hunger and food insecurity," Rhodes said, recalling lessons from working with Washington, D.C., sixth- and seventh-graders through City Year. "I saw the statistics that 99 percent of my middle school got free lunch and free breakfast. I thought I understood what the cycle of poverty really meant, but it hadn't really hit me that the cycle of poverty continues. It doesn't just stop because they go from middle school to high school – and then they come to college."
According to an October 2016 survey by the National Student Campaign Against Hunger and Homelessness, more than half of all first-generation college students were food insecure, as were 57 percent of black or African-American students. At IUPUI, Paw's Pantry provided more than 10,000 food and personal hygiene items to students, faculty and staff just last year.
While Rhodes' resume is impressive with the dual degrees and her on-campus service, those things don't really highlight the unique. They don't speak to the complete package of experiences that have led her to today, that brought her from international studies to philanthropic and nonprofit studies and that will inspire her contributions through graduation and beyond.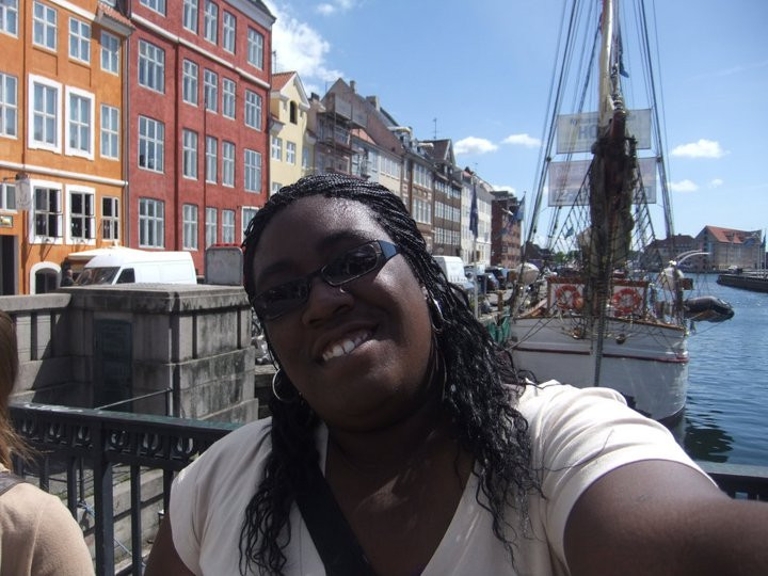 Community service on a global scale
To fulfil her study-abroad requirement as an international studies major, Rhodes chose Denmark, an often-overlooked Scandinavian country when it comes to choosing academic destinations. She took two classes overseas – one on sustainability and the other on international business.
"That's where I learned about corporate social responsibility," she said.
Corporate social responsibility, or how business practices can benefit society, is now a focus of Rhodes' studies. She interned in the field last summer and is considering a doctoral degree down the road. But that's hardly the only lesson she came back with when she returned to Indianapolis.
"I learned so much, and it's not even the classroom learning; it was more the cultural learning. Scandinavia as a whole is just so different. For example, their society doesn't have the same fears that American society does. They don't worry about killers and the fact that people kill. They have rehabilitation in their prisons. There's no such thing as a life sentence. You get the max, they rehabilitate you and then you're back out into society.
"People will just leave their kids. Going to the grocery story, women would leave their kids in the strollers on the street while they went in and grocery shopped. Kids – I mean kids, first-graders, kindergarteners maybe – were on the public transportation going to school. They just don't have this fear," said a still-astounded Rhodes.
"They're so healthy. There are bikes everywhere. When they get their award year after year of being the happiest place on earth, I can understand it."
Denmark is routinely voted tops among the world's nations on the "happiness index."
Fast forward to May 2015, and Rhodes was overseas again, this time in Uganda for an 11-week internship through SPEA in Bloomington. Her work in the African nation focused on sustainable international development with a nongovernmental organization and homestay. While her time in City Year put her in middle schools where she found a "love for seventh-grade girls" (something "no one in the world will admit to"), Rhodes worked with primary schools in Uganda. Her time in the African nation gave her experience working on sustainable international development with a nongovernmental organization as well as the opportunity to live with a family.
"The whole point is that you're supposed to implement things in the summer sustainable projects," she said. "You do community development, asset mapping, the type of stuff where you're really bringing the community into it. The last thing they want you to do is go into a community and decide what they need. It's the opposite. It should really be that the community tells you what they need, and then you assist in meeting that need."
Of Rhodes' four projects that summer, two are still running. And one of those truly stems from the community driving the efforts for what it needed most.
Uganda suffers from a high rate of lightning strikes, a problem in that most buildings are not constructed to withstand that kind of voltage. The Ugandan government passed a law requiring schools to have conductors, but financial support to make that happen was not provided. That's where Rhodes' project came in.
"We learned how to create our own, like a homemade conductor for the school. We got a nonprofit to come and teach us how to make one. The whole point was to teach the teachers how to make them and then go to other schools to make them for other schools. So one, they would be helping other schools, and two, they'd be making a profit for their own school that they could funnel into school activities. They've made at least two conductors for two other schools. So it's really exciting that they've learned it and that they're trying to teach other people a skill."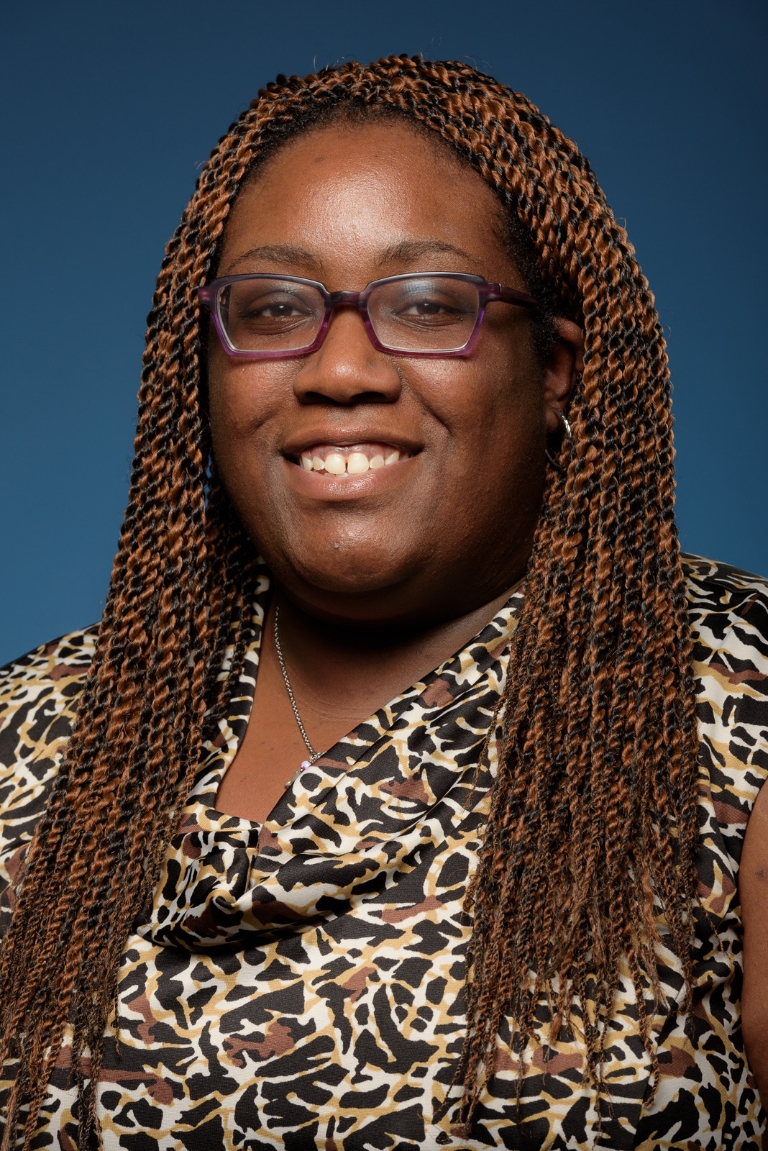 'To make yourself great, the whole community has to be great'
Locally and globally, Rhodes' impact through service is indisputable, so it's no surprise that she'll soon be able to display a second Plater Medallion. While the honor is not something she ever consciously worked toward, she is grateful nonetheless.
"It made me feel successful and appreciated and that the things I did had an impact on campus," Rhodes said of winning the Plater Medallion as an undergraduate. "Then, coming back as a graduate student, I definitely didn't have any expectations of the Plater Medallion, even though I have this long history of knowing about it. When I got nominated in December, I was actually kind of surprised because I hadn't even thought about it. You talk about having three different experiences within the application. I do have three very different meaningful experiences from undergrad to graduate, and I would love to talk about what I've learned and to see if that makes a difference for anybody who reads my application.
"I think the Plater Medallion, out of all the different accolades, means the most because it really speaks to what you have done with your time as a student, how you have gone above and beyond just being in the classroom but really trying to do things for your community and society as a whole."
If the double honor is no surprise, then neither is just how ingrained service is in Rhodes' everyday mentality.
"Something that I learned in City Year and I've taken with me is ubuntu," she said. "It's a Swahili philosophy that basically means 'my humanity inside yours.' I can't be great unless everyone else is great, and we all build each other up instead of putting each other down. To me, community service isn't a requirement; it's just something you should do, that you have to do to make everyone great. To make yourself great, the whole community has to be great."