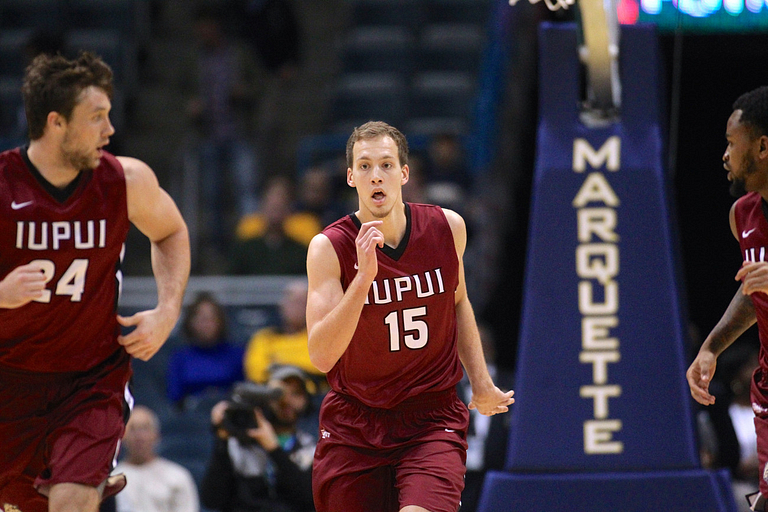 Matt O'Leary's college basketball career is over at Indiana University-Purdue University Indianapolis, but he's leaving a big shadow behind. The 6-foot-8 forward from Terre Haute averaged a team-leading 6.1 rebounds per game, scored 13.9 points per game (second among the Jaguars) and became the first Academic All-American honoree in the program's Division I era, the culmination of a career filled with academic honors. O'Leary – who holds a 3.81 GPA while majoring in management at the Kelley School of Business – spent a few minutes in the Campus Center with IU Communications, talking about balancing academics and sports, his favorite study area on campus, what's next in his career, and being the big man on campus – literally.
Q: First things first: Who do you like in the Final Four? How's your bracket look?
MO: I'm rooting for South Carolina. Most people root for the underdog. But UNC is playing pretty well. I did a bracket, but it's trashed. It's long gone.
Q: Your calendar doesn't have college basketball anymore. Are you used to that yet?
MO: It's been different, for sure. I've been playing college basketball for five years. Now it's a life where you're getting used to working out on your own, without teammates or coaches pushing you, and just focusing on school.
Q: What do you miss the most?
MO: The best part about sports, to me, is camaraderie with your teammates, seeing them every day. They're your best friends. Even though practices can get long, you're always with your best friends. That's what you miss the most when it's over.
Q: You have won plenty of awards for your academic excellence, but there are only 15 Academic All-Americans every season. Was that a surprise?
MO: I didn't expect it at all. It was definitely a big honor for me. It meant a lot to be recognized for academics and athletic performance. You can't beat that.
Q: What's the secret to excelling in both?
MO: It can be challenging at times, especially when you're on the road a lot. It can be hard to get yourself to do the homework you need to do. It's all about time management – getting your stuff done early and not waiting until the last second, which everyone knows but not everyone does. But you have to do that to be able to be successful.
My No. 1 goal was always to not have to do homework on any road trips. I would grind it out for two or three days before we left, and hopefully I wouldn't have to do anything.
Q: Where did your excellence in academics come from? I'm guessing that started long before college.
MO: I've got three older brothers. Two of them went to Hanover College and played basketball, and the one that's right above me went to Indiana State and played football. All four of us got scholarships.
At home, you just expected to work hard. For me, it was easy because my three older brothers did it. It started with the oldest, and if he's working hard and doing well in school, you look up to him, so everybody else is going to follow along.
Q: But you're the smartest, right?
MO: C'mon! (laughing) Obviously I'm going to say "yeah," but we're all pretty smart. I definitely have the best awards – write that down for sure. But the older two were on the dean's list at Hanover, which is a pretty good college. And the one at Indiana State had a good GPA, too.
Q: I've heard you're a bit of a bookworm.
MO: I don't know about that, but I'll take it. I'm not offended. I'm about to start "The Alchemist." I'll let you know how it is. A couple of my buddies read it, and they said it's really good. We'll see.
Q: What's your favorite place to read or study on campus?
MO: Most of the time when I'm doing homework, I'm locked up in my room, but if not, I'll go the library. One of the study rooms in the library is the best spot – you can usually focus in there and get your stuff done pretty well. I can't be around any noise; I have to be by myself.
Q: What are you working toward now?
MO: I'm going to try to play professional basketball overseas. I'll be signing with an agent in the next week or so, and then we'll see what happens after that. It's exciting, but it's definitely stressful – that's going to be a big change, living in Western Europe, probably. I'm just not ready to give up basketball.
I'll definitely pursue a business career after ball. I'm just not sure yet.
Q: Coming over here, I wondered how I'd spot you, and then I remembered you're 6-8. Are you the tallest in your family?
MO: Oh, yeah. The oldest brother is 6-3, then it's 6-4, 6-2, 6-8. My mom is 5-6 and my dad's 6-1 or 6-2. I don't know how I got 6-8.
Q: Do you ever wish you could spend a day without being spotted or getting questions?
MO: I'm used to it. I've been the tallest one all my life. Once you hit high school, you get used to it. In middle school, you're trying to duck down, put hoodies on. I've always been a couple inches taller than everyone. More than a couple.
I get the questions every day. I haven't gone a day without someone asking my height or if I play basketball. "Yes, I play basketball. Do you play mini-golf?" That's my one line.