IUPUI programs ranked highly by U.S. News and World Report
Several graduate programs at IU have been ranked highly by U.S. News and World Report. Among them, some schools at IUPUI stand out:
U.S. News did not issue new rankings for public affairs, the biological sciences, chemistry, earth sciences, mathematics, physics or statistics. Graduate programs in these and other disciplines typically go several years between rankings. The rankings are available at www.usnews.com.
New Anesthesiologist Assistant Program
The Indiana University School of Medicine has launched a new Anesthesiologist Assistant Program, which is a Master of Science in anesthesia. This new program is the 12th one in the country. The program is currently accepting applications to fill a class size of 12 for the semester beginning August 2017.
Students entering the program will have completed a baccalaureate degree that will have included prerequisite courses very similar to medical school. It is a 28-month, full-time program. The first four semesters are a blend of didactic and clinical education. In the second year, students participate in full-time clinical rotations and two senior-level courses. This program trains students to become certified anesthesiologist assistants, providing anesthesia to surgical patients within the anesthesia care team. To find out more information about the program, visit the program's website and/or its Facebook page.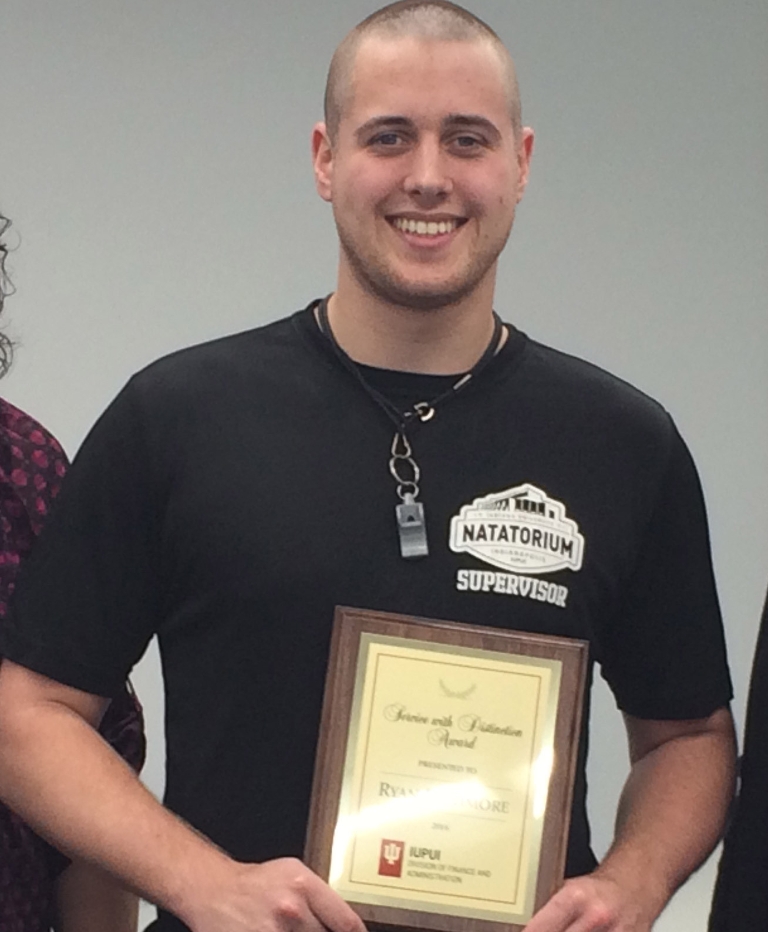 Finance and Administration Service with Distinction Award winner
Ryan Lattimore of Auxiliary Services was honored March 6 as the 2016 winner of the annual Finance and Administration divisional Service with Distinction Award, earning recognition for his work and his contributions to IUPUI.
Lattimore is a student and works as a lifeguard supervisor at the Natatorium. He was recognized during a reception in the Natatorium Hospitality Room by Vice Chancellor for Finance and Administration Camy Broeker, finance and administration leadership, and his Natatorium co-workers.
The Division of Finance and Administration's Service with Distinction Award program was launched in 2015 to recognize the quality of service displayed by the division's employees and to honor individuals who provide such service across the campus.
Employees are nominated for monthly recognition; those who are monthly nominees are eligible for the annual award. Nominees must work in the division and excel in behaviors attributed to one or more of the standards identified in the Service with Distinction model.
In April 2016, Lattimore noticed a student having difficulty breathing. He helped care for the student, who was exhibiting signs of anaphylactic shock. He then ran two blocks to the Natatorium to retrieve an equipment bag to deliver oxygen to the young woman until emergency medical services arrived.
The Service with Distinction model serves as a tool for the campus to shape a culture that ensures that all customers experience a high level of service in every interaction they have with the campus community. It is designed to help IUPUI recruit and retain employees who represent the standards established through the program.
McKinney Family Foundation gift to prepare Indiana's future environmental leaders
Graduate students passionate about protecting the environment will have an opportunity to make that passion their profession – and become Indiana's environmental leaders of tomorrow – as the result of a $100,000 gift from the McKinney Family Foundation to the Indiana University Lilly Family School of Philanthropy, celebrating the school's 30th anniversary. The gift counts toward the $2.5 billion For All: The Indiana University Bicentennial Campaign.
Four students pursuing careers with nonprofit environmental organizations will be selected to be McKinney Family Philanthropic Fellows at the school. The gift will enable the fellows to earn a master's degree in philanthropic studies and serve in graduate assistantships with Indiana environmental nonprofits for two years, learning firsthand how these organizations operate while also sharing new information and the latest best practices with the nonprofits where they work.
"We are honored to support the Lilly Family School of Philanthropy's efforts to attract, train and empower outstanding nonprofit scholars and professionals who seek to advocate for environmental causes. We are confident that the McKinney Family Philanthropic Fellows will become the next generation of leaders in the environmental nonprofit sector," said Marni McKinney, McKinney Family Foundation board president.
"Nonprofits focused on the environment need knowledgeable leadership and often must compete with better-funded organizations for top talent. These fellowships are a win-win, giving some of the best and brightest environmentally minded students a leg up while assisting Hoosier nonprofits now and in the long run," said Amir Pasic, the Eugene R. Tempel Dean of the school. "We thank the McKinney Family Foundation for this generous contribution, which will inspire and equip future environmental leaders for our state."
People interested in applying for the McKinney Family Philanthropic Fellowships should visit the program's website. The deadline for applications is March 31, 2017.