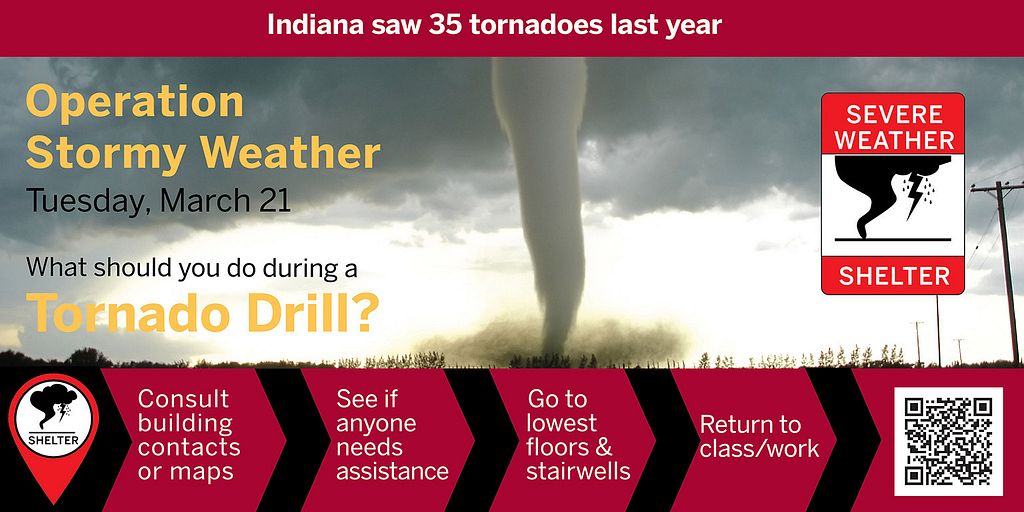 In 2016, 35 tornados struck Indiana, with one causing significant damage within a block of IU Kokomo.
Indiana University emergency management authorities urge students and staff to use the annual tornado drill on March 21 to practice your response to tornado warnings and to locate your severe weather shelters.
IU's Operation Stormy Weather is held in conjunction with drills conducted by schools, municipalities and emergency management agencies statewide. New this year: IU is automating its IU-Notify emergency alerts so that tornado warnings can be issued several minutes quicker.
"The damage caused by tornadoes can be devastating and deadly," said Diane Mack, university director for IU Emergency Management and Continuity. "With this change, IU-Notify emergency alerts will be issued at the same time the National Weather Service issues tornado warnings. This should provide a few extra minutes to respond when seconds can make a difference."
During the morning and evening drills, students, staff and faculty members are expected to respond as they would to the real deal: heading to their severe weather shelter or the safest location available. IU President Michael A. McRobbie and faculty leadership sent a letter to colleagues earlier this year emphasizing the importance of complying with emergency instructions during real-life incidents and drills.
What to expect:
IU-Notify alerts using most modalities, including email, text and Alertus desktop alerts, will be sent between 10 and 10:30 a.m. and 7 and 8 p.m. announcing the beginning of the drill (9 to 9:30 a.m. and 6 to 7 p.m. CDT at IU Northwest).
New: Because the emergency alerts will be automated to sync with the National Weather Service and its procedures, no "All clear" will be given. During a real emergency, the expiration time for the warning will be included in the IU-Notify emergency alert. During Operation Stormy Weather, if no expiration time is given by the National Weather Service, students and staff should return to their offices or classes after 10 to 15 minutes.
Students do not need permission from faculty to comply with emergency instructions during emergencies and drills. They can leave class to locate a severe weather shelter – but they must return.
Outdoor warning systems should issue tornado warnings, but people inside may not hear these because they are designed to alert people who are outside.
A survey will be sent to gather feedback for improving the process.
It's important to know where to go before the drill occurs. Most buildings throughout the IU system have maps posted by main entrances to indicate shelter locations. They also have staff who serve on emergency action committees that have prepared Emergency Action Plans for their building or campus. These plans, among other things, include procedures for how to respond to tornadoes and other threats.
Some plans are available online; others can be accessed by contacting the building coordinator or building contact for specific buildings. The Protect IU website contains information for campus and building-specific plans and building contacts.
The safest places to be during tornadoes are in basements, interior rooms or hallways, and severe weather shelters, which are indicated by a tornado funnel cloud symbol. The Protect IU website also provides information about preparing for tornadoes and severe weather.
During the March 21 drill, here are some other considerations:
If you're working in a lab or conducting another critical function that cannot be interrupted (e.g., a dentistry procedure) and can't seek shelter during this drill, take a few minutes to review the procedures and know where you would have gone to seek shelter. Those procedures should be discussed with anyone else in the vicinity. If this were a real tornado warning, you would be expected to proceed to a designated tornado shelter location.
When IU-Notify messages are delivered, recipients should be sure that those around them are aware of the message in case they are not subscribed to IU-Notify. They should check to see if anyone in their vicinity needs assistance in following severe weather procedure.
Also be certain that those people from other countries – who may be used to a siren signaling a tsunami – know what the siren means in the United States.
Emergency Management and Continuity staff would like to see pictures of students, staff and faculty members in their shelters, either on campus or at home. Pictures can be posted to Twitter, Instagram and Facebook with the hashtag #IUShelterSelfie. A search of the hashtag will pull up pictures from last year. These pictures can also be viewed on the Protect IU Instagram.