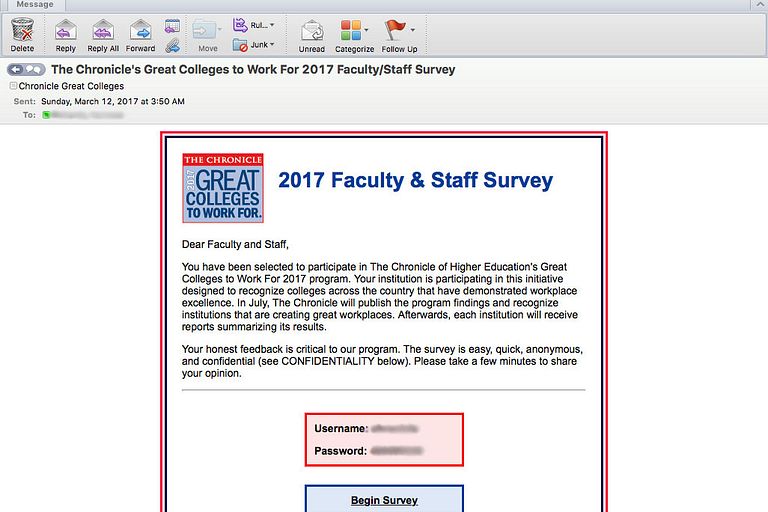 'Great Colleges to Work For' survey
In alignment with the IUPUI Strategic Plan and the Welcoming Campus Initiative, IUPUI is participating in The Chronicle of Higher Education's "Great Colleges to Work For" program, a national survey designed to recognize institutions that have built great workplaces. The aim is for IUPUI to be perceived as a wonderful place at which to work by both faculty and staff, and the campus seeks to continuously improve in this respect.

Regardless of whether IUPUI is recognized, the summarized feedback received will be helpful as IUPUI continues the process of creating the best workplace possible.

On March 13, this voluntary and confidential survey was distributed to a random selection of IUPUI employees. If you were included in this random sample, you would have received an invitation with details about the program and how to access the survey.

If you received the invitation, please take a moment to complete the survey. You will be representing not only yourself, but all of your colleagues as well. Your feedback is invaluable. At the close of the program, IUPUI will receive reports that summarize the organizational competencies and relationships that most directly impact and influence IUPUI's culture.

Please contact Karen Lee at klee2@iupui.edu or visit the program's website with any questions.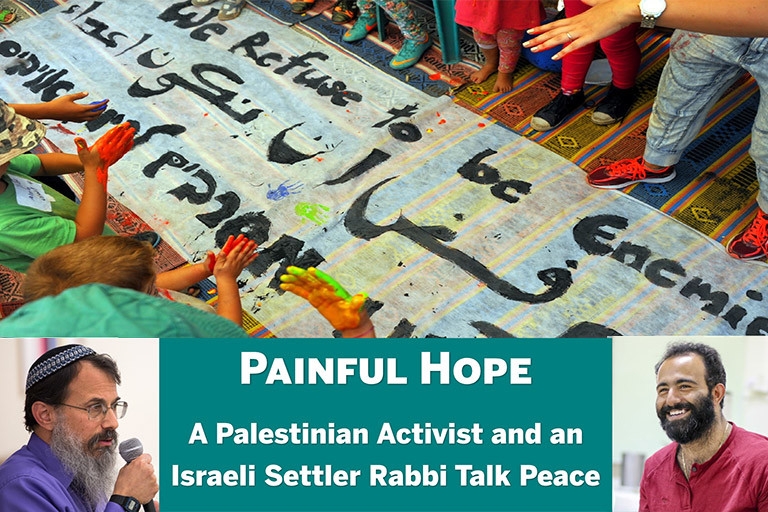 Painful Hope
Roots is an initiative led by a joint Palestinian and Israeli committee based in the West Bank. Join the Indianapolis Jewish Community Relations Council, in partnership with IUPUI, for a conversation between a Palestinian activist and an Israeli settler rabbi as they discuss peace, mutual support and understanding.
The discussion, titled "Painful Hope," will take place Tuesday, April 4, at 1:30 p.m. in the IUPUI Campus Center Theater. Learn more about the organization and its movement of understanding, nonviolence and transformation among Israelis and Palestinians.
Wager awarded faculty advisor of the year award by JACADA
The Jaguar Academic Advising Association awarded the Faculty Advisor of the Year Award to Elizabeth Wager at the JACADA annual meeting, which took place March 9.
Wager currently serves as a lecturer and undergraduate program director for the Department of Technical Leadership and Communication in the School of Engineering and Technology.
Congratulations, Elizabeth!
Drug Take Back Day
In recognition of National Public Health Week, IUPUI will hold a Drug Take Back event in the Campus Center Lobby from 10 a.m. to 3 p.m. Tuesday, April 4. Bring in your old, expired prescriptions for disposal – no questions asked.
These prescription-drug "Take Back" events, sponsored by the U.S. Drug Enforcement Agency throughout the country, are an opportunity to discard unused drugs that might otherwise be shared or sold for illicit use.
The event is sponsored by the Richard M. Fairbanks School of Public Health and the IU Police Department - Indianapolis.
Librarian Jenny Johnson named to Library Journal's 'Movers & Shakers' list
The national publication Library Journal has named Jenny Johnson, digital scholarship outreach librarian at the IUPUI University Library, to its 2017 "Movers & Shakers" list. Johnson, selected as one of the top digital developers in the library industry, joined 51 other librarians from across the country on this prestigious list.
Johnson has worked on creating an open and free resource for people interested in learning more about Indianapolis and its cultural heritage. One such project is a collaboration with the Indianapolis Motor Speedway. "One of my favorite projects has been our collaboration with the Indianapolis Motor Speedway," Johnson said. "This collection has become a model for other cultural heritage organizations to visualize the opportunities they have to preserve and provide access to collections."
The success in the creation of digital collections has been made possible by funding agencies that include The Library Fund, a fund of the Indianapolis Foundation and Library Services and Technology Act grants administered by the Indiana State Library. Jenny has raised nearly $500,000 and created more than 80 collections relating to the history of Indianapolis and Central Indiana.
"Jenny has developed a network of partnerships that has been very rewarding for both University Library and the cultural community in Indianapolis. Through her work, we are able to preserve and make available collections that have such a wide array of material that nearly everyone in the state could find something they are personally interested in seeing. The partnerships she cultivates allow us to build bridges from IUPUI into the community that are unique to this kind of work," said David Lewis, dean of IUPUI University Library.
Having gained a wide array of proficiency in this area, Johnson is setting benchmarks and meeting goals for herself and assisting others in doing the same. "She has developed an expert-level reputation in academic library community engagement," said Kristy Palmer, Johnson's nominator and the associate dean for digital scholarship at University Library. Johnson's leadership is epitomized in her role advocating for Indiana's status as a hub for the Digital Public Library of America. This organization shares the digital collections of libraries and museums with people all over the world. Johnson serves on the outreach committee for the Indiana service hub and helps to share guidelines with those who are digitizing collections.
Next up for Johnson is creating best practices and standards for 3-D scanning and metadata creation. "As 3-D scanners become more affordable, the processing power of computers increases, and the interest in libraries and museums grows, we need to figure out workflows and best practices for preserving and providing access to 3-D images," she said.
Johnson joins IUPUI librarians Willie Miller (named in 2016) and Kristi Palmer (named in 2009) on this prestigious list.
See a full list of the 2017 "Movers & Shakers."
Intercultural spring retreat
Gateway to Graduation presents an event titled "Improving your Cultural IQ: Ideas and Tools for Engaging the International Student Community." On Monday, May 8, the Intercultural Community of Practice will facilitate a series of presentations and workshops, including keynote speaker Hans de Wit, an author and a globally recognized scholar in the internationalization of higher education. Other highlights from the retreat include topics such as sanctuary campuses, intercultural learning in the classroom, developing a study abroad course and more.
Learn further details and how to reserve your seat at the event by visiting the event website. All interested participants at IUPUI should contact Estele Ene at eene@iupui.edu with any questions, while Bloomington parties should contact Patrick Gentry at plgentry@indiana.edu.