The tax man cometh
Running late and haven't yet filed your 2016 return? Here are a few tips from IU's University Tax Services to help the process go smoothly: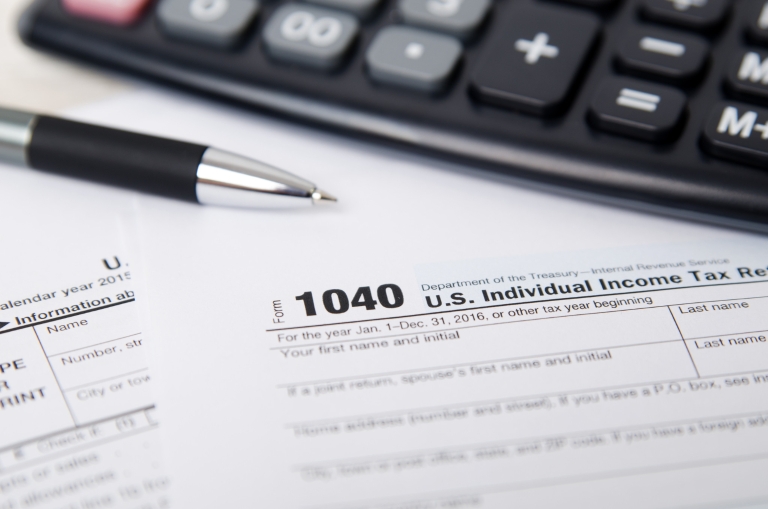 Help! I need a copy of my W2: The approximately 80 percent of IU employees who have elected to receive their W-2 tax forms online can view, download or print it by logging into One.IU, going to the "Employee Center" and clicking on the "Payroll & Tax" link.
What's a 1095-C, and do I need one? Each year, IU is responsible for providing certain information on IRS Form 1095-C to anyone who was a full-time employee or enrolled in an IU health care plan for at least one month of the year. The statement was mailed to your home address, but you can elect to receive it electronically. For more information about the form, visit Human Resources' 1095-C page or email IU1095C@iu.edu.
What if I have special circumstances? The University Tax Services' website offers tips for employees about fringe benefits such as taxable gifts, tuition benefit and personal use of an IU vehicle as well as a tax calculator and information for those working outside the state. If you or a family member took a class this year, you can access your 1098-T form by searching it on One.IU.
Are you ready? It's almost IU Day 2017
The IU Day party starts at midnight Wednesday, April 19. Staff and faculty are encouraged to participate in a variety of ways, including:
Visit iuday.iu.edu for exclusive videos, games and more.
Share your pride on social media using the hashtag #IUDay.
Wear your IU gear.
Plan an IU Day celebration – big or small – and put it on the map.
Decorate your apartment, home or office.
Participate in social media or giving challenges throughout the day.
Give any amount to your favorite IU campus, school or program.
Inside IU will have special content for IU Day, so be sure to look for our April 19 edition in your inbox. For more information about IU Day, visit the FAQ page.
ICYMI: Outlook Web App will soon require two-step login
As of April 23, anyone logging into the Outlook Web App via mail.iu.edu or exchange.iu.edu will automatically redirect to the IU Central Authentication Service. Anyone required to use Duo will then be prompted to do so.
If you've not yet enrolled in Duo, you'll need to set it up as soon as possible at twostep.iu.edu to maintain access to your email.
The move will help in the ongoing fight against spam and phishing by allowing Duo to act as a safety net if your credentials are compromised.
Tom Church hired as IU Kokomo men's basketball coach
Indiana University Kokomo has hired Tom Church as its men's basketball coach. Church previously was head men's basketball coach at St. Joseph's College in Rensselaer.
Athletic Director Greg Cooper said Church brings the leadership style, professionalism and coaching background to lead the program into the next phase of its growth.
Church began work March 17. He is from Conneaut, Ohio, and played at NCAA Division II Ashland University in Ohio. He had been an assistant coach at Hiram College in Ohio, St. Joseph's College and Florida Southern College before earning the head coaching job at St. Joseph's.
IU Southeast student affairs division named 'Promising Place to Work' for third consecutive year
For the third consecutive year, the publication Diverse: Issues in Higher Education has named IU Southeast one of the Most Promising Places to Work in Student Affairs.
IU Southeast and 17 other universities received this distinction for 2017. The universities were featured in the March 23 issue of Diverse.
Diverse and the Center for Higher Education Enterprise at Ohio State University conducted a national web-based survey to select the universities. The survey contained several categories, including family friendliness; salary/benefits; and professional development opportunities.
IUPUC's Brandi Rund receives 2017 Outstanding Woman Leader Award
Indiana University-Purdue University Columbus staff member Brandi Rund was recognized in March at the Women's History Month Leadership Reception at the IUPUI Campus Center.
She received the 2017 Outstanding Woman Leader in the category of "staff, newcomer," which is one of the IUPUI Women's History Month Leadership Awards.
Rund's career at IUPUC began Nov. 1, 2013, as support team lead in the Office of Information Technology. In June 2014, she was recognized as IUPUC's employee of the month.
Travel@IU to officially retire July 1
Effective April 1, new trips cannot be created in Travel@IU. This service will officially retire July 1 and will be replaced by the Travel Expense Module of the Kuali Financials System.
If you use Travel@IU for a trip after July 1, 2017, you'll need to re-enter it in the Travel Expense Module for reimbursement even if it has already been authorized. If you already used it for a trip before July 1, then Travel@IU will still process reimbursement.
After July 1, you'll no longer be able to access trips on Travel@IU, but past data will still be available via IU Information Environment Reports.
To initiate a new trip using the Travel Expense Module, search for "Travel" on One.IU and select Purchasing and Travel Expense Modules.
Mosaic Initiative to launch on regional campuses
The Mosaic Initiative supports active learning at Indiana University through classroom design, instructional support, collaboration and research. It launched on the Bloomington campus in fall 2015 and on the IUPUI campus in fall 2016. Now it's expanding to all regional campuses, too.
The Mosaic Active Learning Initiative regionals luncheon will be from 11:30 a.m. to 12:45 p.m. April 7 at the Kelley Student Center 130 on the IU Kokomo campus. Additional information and registration is available.
Associate Vice President for Learning Technologies Anastasia "Stacy" Morrone will talk about the initiative, while IU Kokomo's Vice Chancellor for Academic Affairs Mark Canada will introduce Mosaic Faculty Fellows from the regional campuses.
IU Simon Cancer Center's Mark Kelley's work making therapy inroads
With almost three decades of cancer research under his belt, Mark Kelley, associate director for basic science research at the IU Simon Cancer Center, and his colleagues are moving science from the laboratory to the patient's bedside.
In early 2017, a phase I clinical trial will open at the IU Simon Cancer Center in which study participants – those with solid tumors that are no longer treatable by standard therapy – will take pills twice a day. The clinical trial will help to determine the drug's safe dosage. Once that's been determined, it will be evaluated in a number of different cancer patients including those with pancreatic cancer.
Kelley is an expert in the protein the drug targets. He and his team were one of the first groups to demonstrate that the protein has an additional function: It helps cancer cells "turn on" genes that regulate transcription factors that cancer cells need to survive.