As a professor of psychology and director of the Institute for Learning and Teaching Excellence at IU Southeast, Robin K. Morgan's primary focus is to create the most conducive learning environment for students. In today's world, that often means implementing technology into the classroom in new ways.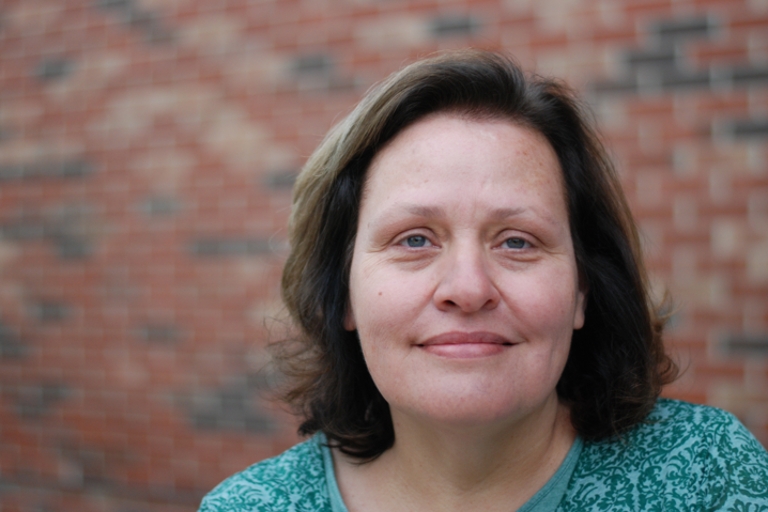 Her commitment to being innovative in the classroom, and helping her fellow faculty members do the same, recently earned her the President's Award for Excellence in Teaching and Learning Technology.
"I'm thrilled that such an award exists which recognizes the importance of pedagogy in selecting appropriate technological tools," Morgan said. "And I'm honored that my efforts have been recognized by my peers and the university."
Morgan was among six faculty members and a graduate student awarded at the 2017 Celebration of Distinguished Teaching dinner on March 31. In addition to Morgan's award, IU President Michael A. McRobbie presented the following:
 President's Award for Distinguished Teaching: Israel Fernando Herrera, IU Bloomington
Frederic Bachman Lieber Memorial Award for Teaching Excellence: April Lidinsky, IU South Bend
Lieber Memorial Teaching Associate Instructor Award for Teaching Excellence: Nicholas G. Zautra, IU Bloomington
W. George Pinnell Award for Outstanding Service: Tina Baich, IUPUI, and Tanice Gayle Foltz, IU Northwest
John W. Ryan Award for Distinguished Contributions to International Programs and Studies: David B. Audretsch, IU Bloomington
While implementing technology into the classroom is a huge part of Morgan's teaching strategy, she is deliberate about making sure the technology she chooses will have a direct impact on student success.
"I think it's too easy to become enamored with the latest technological tool without considering whether that tool enhances student learning," she said.
For Morgan, a winning technological tool has two elements: ease of use for both students and faculty and the ability to enhance student learning. But even if it appears to be a good choice for the classroom, its impact on student learning needs to be tested, she said.
For example, one tool she is interested in adopting is the Mastery Paths Tool within Canvas, which allows for a certain degree of individual tailoring of instruction to students. But first, she has to learn the tool and acquire a good sense of its function before implementing it into her curriculum. Once she does that, she looks at how her students are reacting to the tool. If the tool fails to deliver, she will modify how she uses it or, in some cases, drop it.
For the tools that prove successful, she develops workshops through the Institute for Learning and Teaching Excellence to help other faculty members learn and incorporate it into their courses.
"Some pedagogical methods and technological tools will work better for some faculty over other faculty, so we provide options that allow them to create a learning environment that will work for their students," she said. "We always start by asking faculty what it is that they want their students to be able to do when they finish the course, and then we help the faculty member to choose one area to modify.
"Trying to modify everything at once is overwhelming. Making one change, assessing the effectiveness of that change and ensuring that change is integrated into the course is a great first step that doesn't have to be overwhelming."
While it may seem like Morgan's passion for technology has greatly influenced her teaching style, it's actually the other way around. She has grown to love technology for what it can lend to her role as an educator.
"I don't really have a passion for technology; my passion is for enhancing student learning, and choosing the right technological tool is critical," she said. "Just as a hammer is not appropriate for every home improvement task, a single technological tool will not be effective in every classroom."
In addition to earning a Distinguished Teaching Award, she has recently been recognized by Quality Matters for her course Sleeping and Dreams. Morgan's course is the first in the IU system to receive the certification from the global nonprofit organization, which provides the "gold standard" rating for online courses and programs.