Student financial aid data, as well as recent financial literacy efforts that have resulted in major financial savings for Indiana University students, were spotlighted at the April IU Board of Trustees meeting.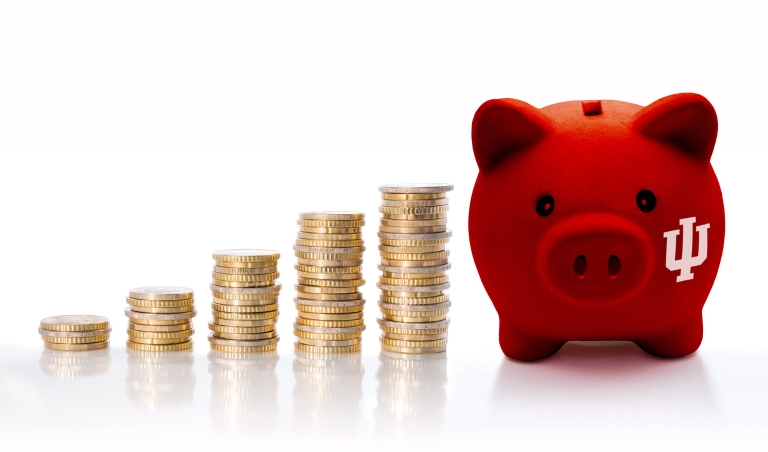 In the 2015-16 academic year, more than $1.1 billion in financial aid was disbursed to IU students, with just over $600 million of that coming in the form of gift aid (federal, state, institutional and private).
In addition, 45 percent of bachelor's-degree recipients will graduate with no student-loan debt – compared to less than 30 percent nationally – and 80 percent will graduate with a student loan balance below the national average.
In total, over the past four years, borrowing by IU students has been reduced by almost $100 million.
As IU President Michael A. McRobbie highlighted in an op-ed for the Chronicle of Higher Education earlier this week, in which he advocated for "common-sense" approaches to reducing student loan debt at the nation's colleges and universities, current figures indicate that today's student borrowers will graduate from college more than $30,000 in the red, on average. Americans owe more than $1.3 trillion (and counting) in student loans, surpassing credit-card debt and auto loans. 
In recent years, IU has established several programs, which have now become models for other institutions around the country, to raise awareness about the risk of excessive borrowing and help students make informed decisions about money before, during and after college. 
As part of this effort, the university began sending annual letters to all student borrowers, updating them on exactly how much they had borrowed and what it will take to repay their loans.
Members of Congress were recently introduced to a new bill, modeled after the "debt letter" initiative at IU, aimed at curbing the effect of student-loan debt on college students, their families and our nation's economy.
Sponsored by U.S. Rep. Luke Messer of Indiana, the Letter of Estimated Annual Debt for Students Act (HR 1429), would require colleges and universities that accept federal aid to send annual debt letters to every student, estimating their total loan debt and future monthly payments.
Today, issuing such letters is the law in Indiana, which requires public and private colleges to provide yearly information to all students who have college loans, including total estimated debt and estimated monthly payments after graduation.
Several years ago, IU and the Office of Financial Literacy also launched MoneySmarts, a financial-wellness program that included such features as a basic online primer about managing money, calculators to help students with budgeting and loan-repayment plans, peer coaching, and podcasts on specific financial-literacy topics.
Already a model for several of IU's peer institutions, MoneySmarts U is now going national through a new partnership with Peter Dunn, better known as the financial authority Pete the Planner. In 2015, IU hosted a national summit on student financial wellness that drew more than 200 college staff members from across the country – and the university expects to exceed that number in this year's session. 
Total student borrowing and federal loans have decreased every year since IU began these efforts, again with borrowing by IU students being reduced by nearly $100 million in four years.
The establishment of financial-wellness programs, and adoption of more-vigorous policies to increase student financial assistance and promote on-time graduation, have helped maintain the affordability of an IU education, while ensuring IU's doors remain open to the best and brightest students.