Growing up I remember absolutely loving school. I looked forward to going to class every day and getting to see my teacher and all of my friends. My love for school spread even into my play, as I often asked my friends to play "school" and I would always be the teacher eager to teach my "students" new lessons.
I always dreaded the last day of school and spent my summers waiting for the first. My love for school and learning has persisted through today as I still enjoy my classes and learning as often as I can.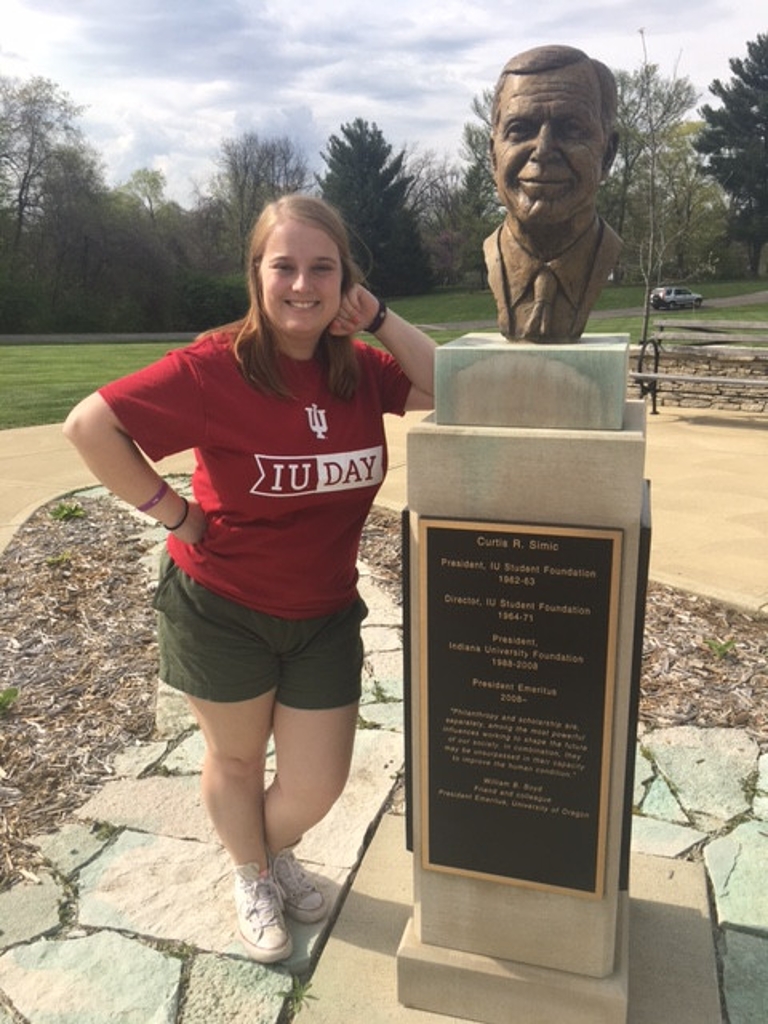 I decided to study education as it allowed me to combine my love for school with my passion for helping others. I've always known that I want to spend my life helping others, in any way I can, which led me towards a person-centered career. I then was brought towards education after my experience as a summer camp counselor, in which I spent the whole summer working with kids and fell in love with the work.
As I went through high school I worked with events for Easter Seals and respite days, in which I began my exposure to working with children with disabilities. I began to find that my favorite thing was watching the smile I could bring to the face of a child with exceptional needs. As my love for working with kids grew, I decided I wanted to become a special education teacher and my passion for working with children has only grown from there.
I chose IU after I discovered the Teaching All Learners Program and the Global Gateways Program. In the Teaching All Learners program I would have the opportunity to double major in special education and elementary education while only taking a few extra classes.
While the Teaching All Learners program sparked my interest in Indiana University, it was the Global Gateways Program that made my decision to go here. It is very difficult for education majors, especially Teaching All Learners majors, to study abroad, but through the Global Gateways Programs I would have the opportunity to go abroad for my student teaching.
Learning about the program, and all of the great locations I could choose from cemented my decision to come to IU. In fact, I was so sure of my decision to come to IU that I didn't apply to any other schools.
When I first got to IU I was definitely overwhelmed and a little scared. I was the only person from my graduating class to come to IU, so seeing a campus filled with 40,000 people, but not knowing anyone was very intimidating to me. The feeling of fear quickly subsided as I met the people who lived on my floor and started making new friends who would explore the campus with me. As my first few weeks went on, I found myself loving campus, and loving IU as I began my classes and started making really genuine friendships.
My degree program has been amazing from the beginning. Beginning my first semester I started having content courses for my major, giving me my first insight into the field of education and being a preservice teacher. Being in the Teaching All Learners program has allowed me to gain experience in the elementary school classroom beginning my freshman year and I have been placed in a classroom almost every semester since then.
As I progressed through my major I started to have classes with the same group of students, all of whom are now in my "cluster," which is when all of our classes are scheduled together in a block. Being with the same group of girls for three years now has allowed us to get to know each other very well, allowing for both entertaining and candid conversations in my classes. I cannot imagine having class without the girls I have spent everyday with for the past three years and I wouldn't trade them for anything.
Outside of my academics I have been involved in the Student Ambassadors program, the School of Education Direct Admit Council, and have worked at the Telefund. As a student ambassador, I gave tours around campus to prospective students, and though I loved it, it simply didn't fit my schedule come my junior year. I also am on the leadership team for the Direct Admit Council, on which I have served as the chair for social events and am now co-chair for the mentor program. Outside of academic extracurriculars, I have also worked at the IU Foundation Telefund as a student caller, and progressed to becoming a supervisor.
My biggest goal for the future is to find a way to positively impact the lives of others. I want to find a way to help other people. I want to be able to look back on my life and be happy with my choices, and I feel the only way I can personally do this is by dedicating my life to helping others. IU has helped me achieve these goals by giving me an opportunity to help others, specifically children, who can be among the most vulnerable of populations.
I am grateful to IU donors because without IU donors I would not be able to go abroad to New Zealand and teach there my senior year. The life-changing opportunity to travel abroad is what drew me to IU in the first place. The scholarship I received when I was directly admitted to the School of Education is what is making that dream trip possible.
IU Day allows us to celebrate this great university as well as the people who support it. All of the opportunities I have today are because of Indiana University, and these opportunities wouldn't be possible without IU donors.
Libby Quigley, of Scarsdale, New York, is a junior in IU's School of Education and a recipient of the Global Gateways Scholarship. The fund was established within the School of Education through private philanthropy from multiple donors and provides additional scholarship funding to students who have plans to study internationally.