New mobile-responsive digital maps of seven Indiana University campuses are now available for staff, faculty, students, alumni and visitors to use at map.iu.edu.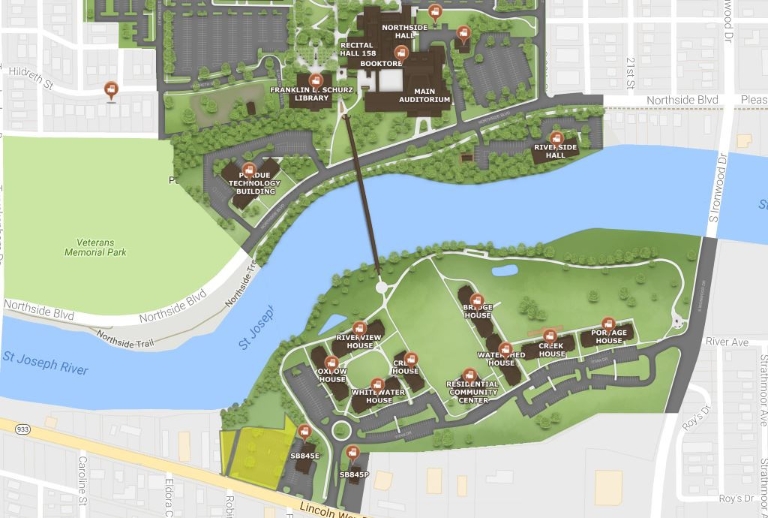 IU Communications initially worked with Campus Bird, a Colorado- and Minnesota-based company that specializes in creating campus and university maps, to map the IUPUI campus. That digital representation launched in spring 2016, and served as a pilot project for all campuses.
Representatives from University Information Technology Services, IU Communications and the Office of the Vice President for Capital Planning and Facilities then worked with Campus Bird to create maps for the remaining university campuses.
Angie McNew, assistant director of informational and emerging technologies for IU Communications, said the university's previous digital maps were separated into desktop and mobile versions that were maintained by different units within the university.
Enter Campus Bird, which has worked with Texas A&M University, Duke University and Guilford College.
"We really liked their product. The map graphics are really cool, and it offered some new features for end-users that weren't available in the maps we had," McNew said. "The majority of information on the maps pulls directly from space planning and facilities' databases, so any time there is an official update to building information, it automatically gets updated in the map."
Since the new maps are based on Google Maps technology, they have features like satellite view and street view.
Other features include:
Automatic location detection
Walking, driving and biking directions from one place to another
The ability to search for specific departments within buildings
The ability to share a link for a specific location on a map
More options for printing or capturing a screen shot of a map
The maps also allow users to add "layers" to turn on locations for things like parking lots, emergency phones and handicapped accessible entryways.
Questions or feedback can be directed to mapiu@iu.edu.