Indiana University to provide paid parental leave for staff
Indiana University President Michael A. McRobbie has announced that IU will begin offering fully paid parental leave for all staff employees of the university.
The new program, endorsed today by IU's Board of Trustees at its April meeting on the IU East campus, will go into effect July 1 and provide up to six weeks of paid leave for parents after a birth or adoption. The leave will be available to both mothers and fathers whose child is born or adopted on or after July 1, regardless of their marital or relationship status.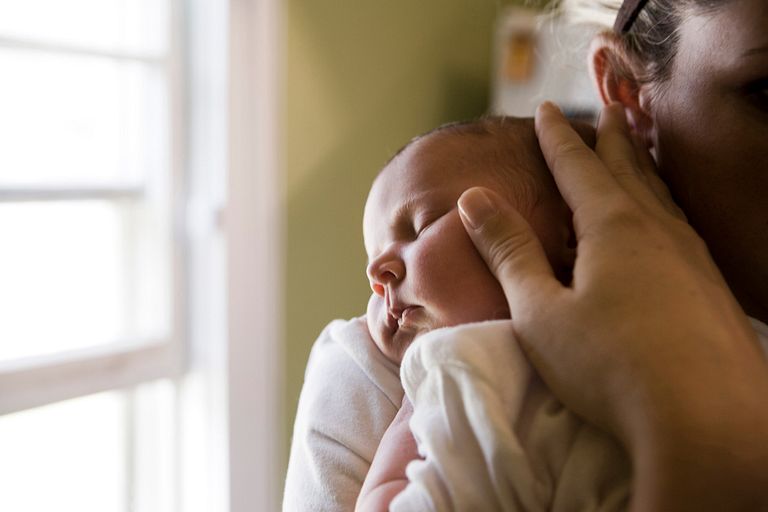 The new program, endorsed today by IU's Board of Trustees at its April meeting on the IU East campus, will go into effect July 1 and provide up to six weeks of paid leave for parents after a birth or adoption. The leave will be available to both mothers and fathers whose child is born or adopted on or after July 1, regardless of their marital or relationship status.
Paid parental leave will be available to all staff employees at IU who are in non-temporary positions of 30 hours or more per week and have been continuously employed in a benefits-eligible position for at least 12 months before the date of the birth or adoption of a child. If both parents are IU staff employees, each is entitled to take six weeks of paid leave. Staff employees will be able to use their leave on an intermittent basis, though it must be completed within six months following the birth or adoption.
Cruz-Uribes endow $100,000 scholarship for IU East students
Indiana University East Chancellor Kathryn Cruz-Uribe and professor of history Eugene Cruz-Uribe want to honor the support and heritage of their families by establishing an endowed $100,000 scholarship.
The scholarship will be named in honor of their parents, Gloria and Joseph Allwarden and Lillian and Antonio Cruz-Uribe, who firmly believe that higher education is the key to a better life.
The gift will be matched by IU President Michael A. McRobbie's matching gift program that encourages endowed gifts to For All: The Indiana University Bicentennial Campaign. The program matches endowed scholarship gifts of $25,000 or more given by current or former IU faculty and staff or $50,000 or more for friends of the university.
IU Bloomington to dedicate tribute to historically black Greek organizations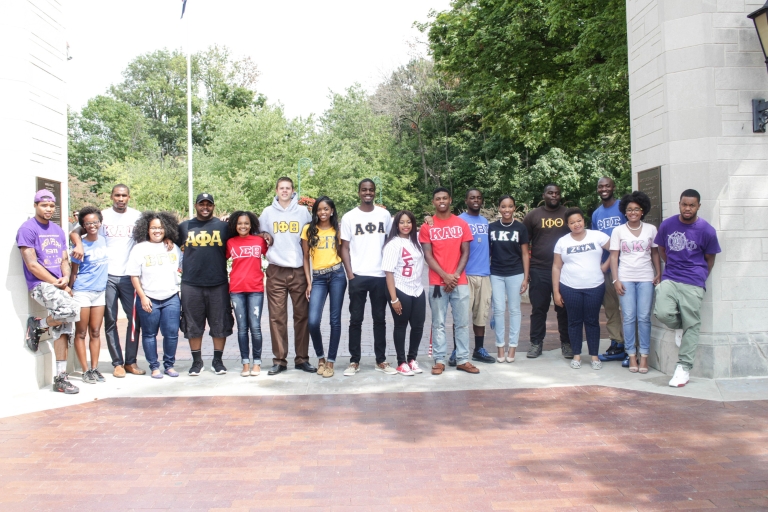 IU Bloomington will honor its historically black fraternities and sororities in a public celebration at 11 a.m. Friday, April 21, outside the Neal-Marshall Black Culture Center.
A permanent row of limestone markers or "plots" bearing the names of America's nine original black Greek chapters – known as the "Divine Nine" – are arranged in an arc along the sidewalk that leads to the entrance of the Neal-Marshall building. A 10th plot represents the National Pan-Hellenic Council Inc., a collaborative of the nine chapters that was founded at Howard University in 1930.
The plots are placed in order of when they received their charter at IU. Eight of the nine currently have active chapters at IU, and all have had a presence on the IU Bloomington campus.
IUPUI hosts naturalization ceremony
One hundred people from 38 countries will become citizens of the United States during a naturalization ceremony that will take place April 27 at Indiana University-Purdue University Indianapolis.
IUPUI Chancellor Nasser H. Paydar, who asked federal officials to hold the naturalization ceremony on campus, will welcome them. The request reflects IUPUI's, IU's and the chancellor's commitment to immigrants and embrace of students from around the world.
The event at IUPUI is one of five naturalization ceremonies in Indianapolis that are scheduled to take place away from the federal courthouse in 2017.
More than 250 people – including immigrants, their families and friends, and local officials – are expected to attend the ceremony at Hine Hall, 850 W. Michigan St. Due to limited seating, members of the community are encouraged to watch a live broadcast of the ceremonies via streaming video at broadcast.iu.edu.
IU Social Media Summit returns in August
If you manage an official IU social media account, don't miss the second annual IU Social Media Summit on Aug. 7 at IUPUI.
More than 200 marketers and communicators will converge in Indianapolis for a day's worth of sessions all centered on social media and digital strategy. The best part? The event is $49, which makes it an affordable conference, close to home and accessible to several members of your team. Registration is now open.
This year's event features two keynotes, including digital marketing expert Jay Baer, who will talk about how to use social media to win over customers, and Eli Lilly and Company's Amy O'Connor, who will go over best blogging practices and strategy. In addition, there will be three rounds of breakout sessions sorted by skill level: beginner, intermediate and advanced. Lunch and a networking session are also included.
University's eText program saves students more than $3.5 million
The latest numbers are in: IU's eText program continues to save students millions of dollars every year, while delivering course materials straight to their digital devices before the first day of class.
In academic year 2016-17, IU students saved an estimated $3.5 million over what they would have otherwise spent on traditional textbooks.
Over 40,000 IU students used at least one eText from IU's direct partnerships with publishers for digital course materials. This is part of IU's overall efforts to reduce the total cost of attendance while also improving education in the digital age.
New housing program offered for IUPUI employees
IUPUI is rolling out a new Anchor Housing program to assist full-time employees with the purchase or improvement of a home in the downtown area. This includes down-payment assistance to purchase a home or financial assistance to make exterior repairs such as replacing a roof, repairing windows or painting. The home must be in a defined targeted area of downtown.
Here's the deal: For those who qualify, the program provides a five-year forgivable loan to IUPUI employees to purchase or repair a home within the Near West/River West, Riverside or Ransom Place neighborhood. The funds for this program are limited and will be available until April 30, 2018. Applications will be accepted starting at 8 a.m. May 1.
Full details are available in Inside IUPUI.
2017-18 Patten Lectures to feature poet, communication scholar, sociologist
Irish poet Paul Muldoon, journalism and political communication expert Kathleen Hall Jamieson and sociologist Michael Burawoy will speak at IU Bloomington in the 2017-18 Patten Lecture Series.
The lectures, which are free and open to the public, will take place from 7:30 to 9 p.m. on Tuesdays and Thursdays. The series is presented by the William T. Patten Foundation under the auspices of the Office of the Vice Provost for Faculty and Academic Affairs.
Muldoon will speak the week of Sept. 12 to 15, 2017, Jamieson the week of Feb. 26 to March 1, 2018, and Burawoy the week of March 26 to 29, 2018.
IU Northwest's first chancellor dies
The IU Northwest community recently learned of the death of Dr. John C. Buhner, the campus's first Chancellor (1966-1969).
Buhner's legacy will be remembered with the dedication of the Arts & Sciences Building on Aug. 25, 2017.
"We thank Dr. Buhner for his years of service to Indiana University, his commitment to the city of Gary and for his unwavering academic vision for our campus," IU Northwest Chancellor William J. Lowe said in an email to campus. "His leadership set the foundation for what we are today – the Region's University."
Memorial contributions may be made in Buhner's name to the IU Foundation for use by the IUPUI School of Liberal Arts, or the donor's preferred IU cause.
Staff, faculty honored, promoted, hired
Read about recent IU staff and faculty honors, promotions, hires and grants, including:
James C. Wimbush has been appointed to the newly established Johnson Professorship for Diversity and Leadership, created to support senior leaders at the university who work on issues in diversity and leadership. The position was funded by Lacy M. Johnson, an attorney at Ice Miller LLP and an alumnus of the IU Robert H. McKinney School of Law.
Three IU Bloomington faculty members – Jerome R. Busemeyer, Sumit Kumar Ganguly and Andre Watts – have been elected as fellows of the American Academy of Arts and Sciences, one of the nation's oldest and most prestigious honorary societies. Busemeyer is a Provost Professor of psychological and brain sciences in the IU College of Arts and Sciences. Ganguly is a professor of political science, the Rabindranath Tagore Chair in Indian Cultures and Civilizations and director of the Center on American and Global Security in the School of Global and International Studies. Watts is the Jack I. and Dora B. Hamlin Endowed Chair and a Distinguished Professor in the IU Jacobs School of Music.
Ryan Shelton was named athletics director at IU Northwest. In his new role, Shelton will continue to serve as head coach of the women's basketball team. He will also take on the responsibility of overseeing IU Northwest's six other NAIA Division II teams: men's basketball, men's and women's cross country and golf, and women's volleyball.
Vicki Román-Lagunas will begin her appointment as IU Northwest's executive vice chancellor for academic affairs on July 3. She will exercise broad responsibilities for all aspects of the academic and student dimensions of the campus in coordination with Chancellor William J. Lowe and other university leaders.
Two IU Bloomington professors have been named recipients of the John Simon Guggenheim Fellowship for 2017: Armin P. Moczek, professor in the IU Bloomington College of Arts and Sciences' Department of Biology, and Sara E. Skrabalak, the James H. Rudy Associate Professor in the College's Department of Chemistry.
Fifteen female faculty, staff and students were honored as outstanding leaders on campus by The IUPUI Office for Women and the Division of Student Affairs at the 20th Annual Women's History Month Leadership Awards reception. Five faculty members, four staff members and six students were recognized during the event. A full list of award winners is available.