On the edge of IU South Bend's campus, 10 city blocks of underutilized land will soon get a "green" face-lift.
In November, the university announced plans to turn the lot into a Sustainability Showcase. Now the project is moving forward with feedback from both the local and campus communities.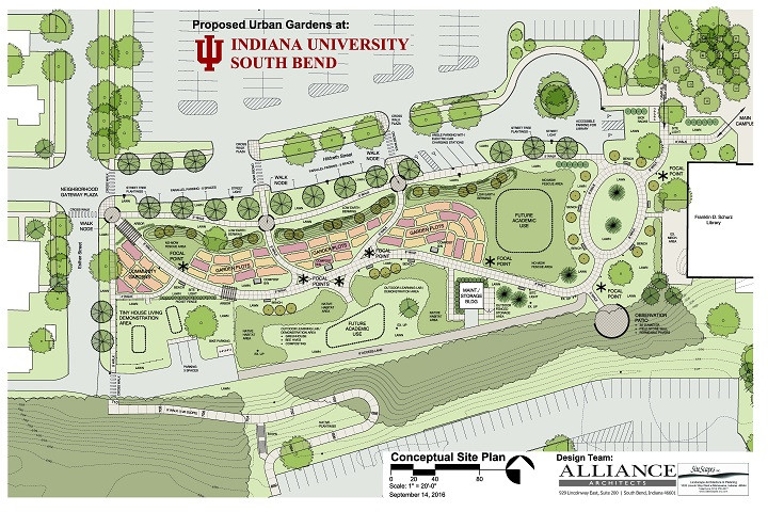 "The showcase is meant to be a bridge between the campus and the local community," said Krista Bailey, the director of IU South Bend's Center for a Sustainable Future. "This space will highlight the actions and steps we can all take to live as sustainably as possible."
The showcase will be a one-stop shop for students, faculty, staff and community members to interact with and learn about sustainable initiatives as they "look and feel." Furthermore, the sustainability models will serve as examples for how to adopt similar ideas or structures in visitors' own backyards.
The site, between the Franklin D. Schurz Library and Esther Street, will connect campus to the River Park West neighborhood. Proposed elements of the site include both indoor and outdoor spaces, such as a greenhouse, gardens, tiny houses, learning spaces, walkways, outdoor learning labs, beehives, composting, native plantings and more.
Three areas are being targeted with this project: sustainable design, sustainability in action and sustainability revenue options.
For the revenue segment, Bailey said the hope is to show the community a small business model. For example, if you make your own honey, the next step is to think about how you can sell it and make a profit.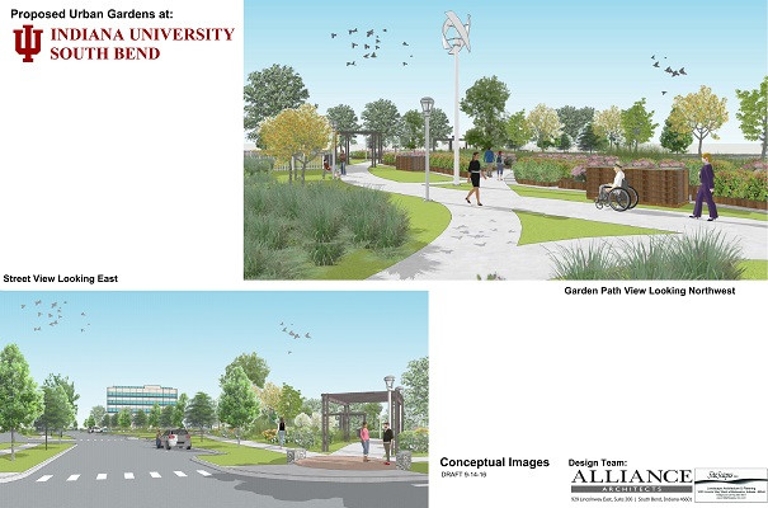 "People are really excited for this," Bailey said. "Nothing else like this exists in the state."
IU South Bend is one of a few campuses in the IU system and in the region to offer sustainability degrees, Bailey said. Continuing as a leader in sustainability, the showcase space will house a new building for the Center for a Sustainable Future, which will be a certified "living building."
A living building is a step higher than a Leadership in Energy and Efficient Design-certified building and requires the structure to generate all of its own energy. IU has several LEED-certified buildings, but this structure will place IU among only two other universities in the country with living buildings.
The building will be a space to hold community events, take part in research and teach classes.
IU South Bend hopes to break ground on the area by IU's bicentennial celebration in 2020. Until construction begins, several courses will have students working on projects to test the viability of options for the space.
Additional details about Earth Week activities across the university include: