WASHINGTON, D.C. – Indiana University President Michael A. McRobbie is serving as co-chair of a committee that is examining national voting practices and current challenges facing the U.S. election process.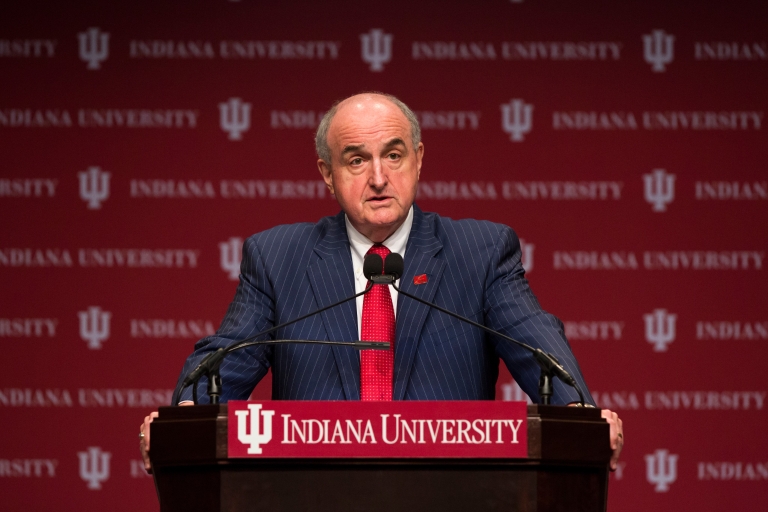 The committee's first meeting, including McRobbie and fellow co-chair Lee C. Bollinger, president of Columbia University, took place earlier this month in Washington, D.C.  
The Committee on the Future of Voting: Accessible, Reliable, Verifiable Technology for the National Academies of Sciences, Engineering and Medicine includes a number of the nation's leading political and social scientists, engineers, cryptographers, legal scholars and mathematicians.
Over a period of 18 months, the committee will seek to:
Document the current state of play in terms of technology, standards and resources for voting technologies.
Examine challenges arising out of the 2016 federal election.
Evaluate current and future advances in technology that may improve voting.
Offer recommendations that provide a vision of voting that is easier, accessible, reliable and verifiable.
The committee will issue a report at the conclusion of the study.  
"We are fortunate to be working with an extremely talented and diverse group of experts who are highly committed to helping to educate citizens about voting technology, identifying and analyzing challenges to our nation's voting systems, and providing recommendations toward maintaining the integrity, accessibility and transparency of our electoral process," McRobbie said.
McRobbie serves on several other committees outside IU, including the Council on Foreign Relations, an independent, nonpartisan membership organization, think tank and publisher specializing in U.S. foreign policy and international affairs. He also chairs the board of directors of the Digital Preservation Network, a large-scale digital preservation service designed to ensure the preservation of core online scholarly resources and cultural heritage materials.
The Future of Voting study is sponsored by the Carnegie Corporation of New York and the William and Flora Hewlett Foundation. Under federal law, all data-gathering meetings and activities of National Academy of Sciences, Engineering and Medicine consensus study committees are open to the public.
A second meeting is being planned at Columbia University in June.