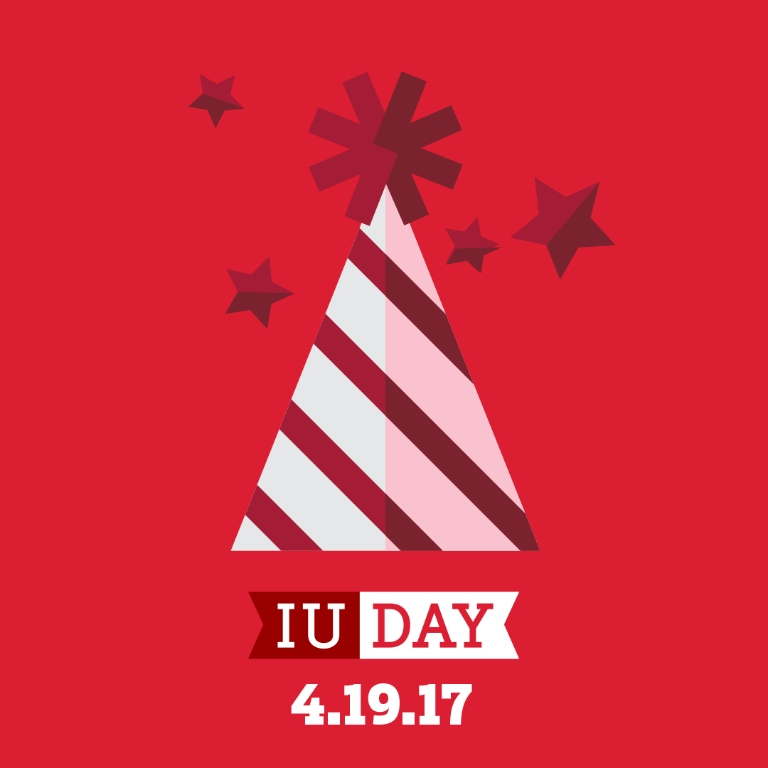 BLOOMINGTON, Ind. – Indiana University will mark its second annual IU Day – a full 24 hours of engagement, university pride and giving – on Wednesday, April 19.
IU Day 2017 will feature a wide variety of fun and games; a selection of mini-lectures by IU experts; a music playlist created by IU President Michael A. McRobbie; a behind-the-scenes video tour of the new Simon Skjodt Assembly Hall and other campus gems; social media and giving challenges; special announcements of gifts to IU; and more online at iuday.iu.edu and by following @IUFoundation and the hashtag #IUday on social media.
"IU Day is a very special day; it's this one, 24-hour period each year when our friends and alumni can stop and take a minute to remember all the ways IU has touched their lives and made a difference in the world," IU Foundation President Dan Smith said. "It's truly remarkable to see all the good that happens when the IU family joins one another in spirit to celebrate our university."
To kick off the day, individual alumni and official IU Alumni Association chapters are organizing IU Day celebrations around the world. More than 600 individual celebrations will take place around the world for IU Day, in more than 330 unique locations.
"Every day is an 'IU day' for our alumni," said J T. Forbes, CEO of the IU Alumni Association. "This single day catalyzes Indiana University's powerful global network of alumni and friends to share our pride and promise with the rest of the world."
Also joining in this year's IU Day are well-known alumni such as MLB World Series champion Kyle Schwarber of the Chicago Cubs, ESPN anchor Sage Steele, "Breaking Bad" actor Jonathan Banks and many more. Anyone who loves IU is encouraged to post alongside these notable names and create their own stories using the hashtag #IUDay.
Other exciting IU Day programming will include (all times are Eastern Daylight Time):
Scavenger hunts on the Bloomington and IUPUI campuses between 11 a.m. and 4 p.m.
A live-streamed philharmonic concert at 8 p.m., presented by the Jacobs School of Music.
Live "Ask IU" interviews on WFIU (103.7 FM) at 9 a.m. and 2 p.m. featuring experts from the Kinsey Institute, the Kelley School of Business and more.
An exclusive IU Day halftime dance-off between IU's regional campus mascots at noon.
In addition to live events and entertaining virtual programming, IU Day will again feature a giving component emphasizing the message that every gift matters. Students, alumni, faculty, staff and friends of the university can choose how they would like to support IU on April 19; however, gifts of any size made on IU Day have the potential to be boosted by a giving challenge or social media challenge.
These challenges include a #WaybackWednesday IU photo challenge, similar to popular Throwback Thursday photos posted to social media; a best-dressed IU pet photo challenge; a first-time donor challenge that awards an additional $5,000 to the IU school or program with the most first-time donors; and many more, listed here.
The IU Day celebration begins at midnight and ends at 11:59 p.m. Wednesday, April 19. IU fans anywhere can visit iuday.iu.edu/watch to access exclusive video content, activities and more, while spreading the word on social media using the #IUDay hashtag.
About IU Day
IU Day is a 24-hour, binge-watching, social-sharing, IU-wearing, online celebration of Indiana University and the people who make IU possible (that's you). Maybe you're a student getting your start. Maybe you're an alumnus well on your way. Maybe you're a parent, friend or fan with a special place in your heart for "old IU." In any case, these IU connections are cause for celebration.