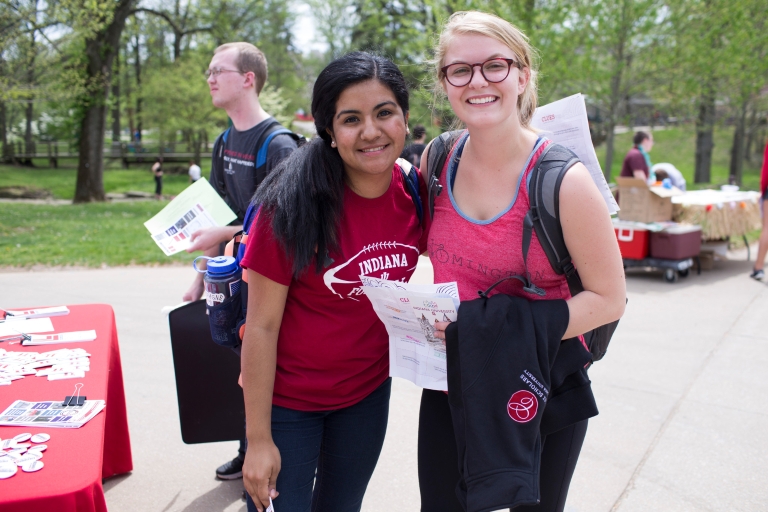 BLOOMINGTON, Ind. – Although final numbers are still being tabulated, Indiana University's second annual IU Day celebration exceeded its expectations for 2017, seeing exceptional stats for social media engagement, crowdfunding initiatives, and total donations raised and announced on IU Day.
The event's official hashtag, #IUday, trended nationally again this year and was used more than 12,500 times by IU fans across 62 countries – a collective effort that unlocked more than $13,900 in social media challenge funds for student scholarships on IU campuses. In its many forms, the IU Day spirit reached more than 8.9 million people this year, generating more than 36 million social media impressions in the 24-hour period.
More than 45 official IU celebrations took place on five continents. IU Day brought together members of the IU family from places as far away as Australia, South Africa, Chile and Greenland.
A number of recognizable alumni also joined in on the fun, including the president of Ireland, Michael Higgins; Chicago Cubs outfielder Kyle Schwarber; and former U.S. Olympic swimmer Mark Spitz.
Thanks to IU students, faculty, alumni and friends, over $12 million was raised and announced during IU Day through a combination of more than 2,750 large and small gifts. Significant donations announced on IU Day included undisclosed amounts from the Tanis and Irsay families; a $1 million gift from Robert and Sandra Borns to benefit IU's Borns Jewish Studies Program; a naming gift from the Hancock Hiltunen Caito family to support IU Athletics' new Excellence Academy; and a $10,000 matching gift opportunity provided by First Bank Richmond to supplement donations made to IU East on IU Day.
In addition to traditional gifts made throughout the 24-hour event, IU saw more than 1,200 donations to crowdfunded accounts benefiting various programs, units and schools across its campuses.
The IU Day programming line-up included IU-centric videos, interactive quizzes and games, live-streamed campus activities, and live "Ask IU" Q&A sessions with IU experts. The top three most-viewed videos of the day were a dance-off between the IU mascots, the science and effort behind two IU Olympians' successes, and a behind-the-scenes tour of the newly renovated Simon Skjodt Assembly Hall.
For more information on the success of IU Day 2017, visit the IU Day results page.
Gifts received on IU Day count toward the $2.5 billion campaign, For All: The Indiana University Bicentennial Campaign, stewarded by the Indiana University Foundation.
For All: The Indiana University Bicentennial Campaign is taking place on all IU-administered campuses including IU Bloomington, Indiana University-Purdue University Indianapolis, IU East, IU Kokomo, IU Northwest, IU South Bend and IU Southeast. The campaign will conclude in December 2019 to coincide with IU's bicentennial year celebration in 2020. To learn more about the campaign, its impact and how to participate, visit forall.iu.edu.
Founded in 1936, the IU Foundation maximizes private support for Indiana University by fostering lifelong relationships with key stakeholders and providing advancement leadership and fundraising services for campuses and units across the university. Today, the IU Foundation oversees one of the largest public university endowments in the country, with a market value in excess of $1.9 billion. In fiscal year 2016, IU received $360.9 million in support from the private sector. IU is consistently ranked among the top four of Big Ten universities in annual voluntary support.