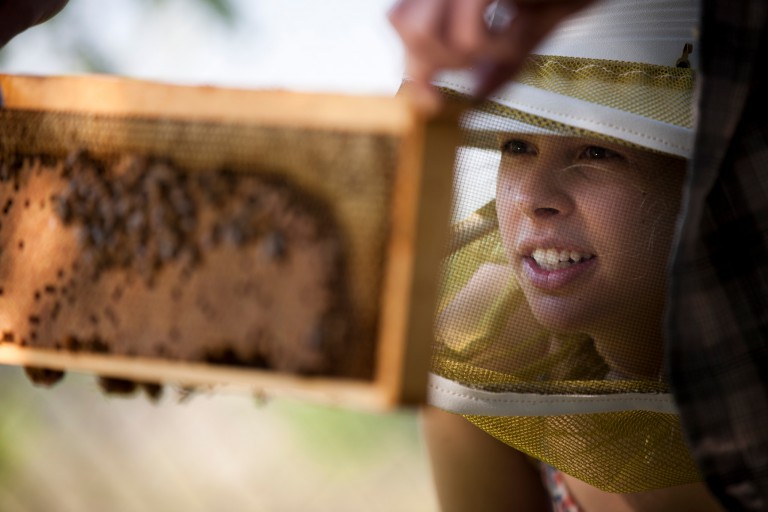 BLOOMINGTON, Ind. – Beekeepers who operate five or more hives are invited to beta test Queen's Guard, the hive risk-assessment software being developed and commercialized by The Bee Corp., an agriculture technology startup. The company was founded by Indiana University alumni Ellie Symes, Simon Kuntz and Wyatt Wells.
Participating beekeepers will be asked to contribute a discounted sensor rental fee to help cover research and development costs. The beta test will begin when it's warm enough to start the beekeeping season and will continue through the winter until the start of the 2018 beekeeping season.
Wells, the company's chief marketing officer, said the goal of the beta testing is to solicit feedback from beekeepers on the usability and effectiveness of monitoring hive data. The Bee Corp. developed Queen's Guard to diminish the time between the detection of a non-laying queen bee and intervention by the beekeeper. Wells said early detection could strongly improve the beekeeper's ability to prevent hive loss.
"A healthy queen lays about 2,000 eggs per day," he said. "This means that each day a non-laying queen goes unnoticed, 2,000 new bees are not being produced. This weakens the colony and impacts honey production.
"Queen's Guard alerts the beekeeper when it detects a non-laying queen. It monitors internal hive temperature, and we use an algorithm to assess temperature data in real time."
Beekeepers interested in beta testing the software should email info@thebeecorp.com or visit the Queen's Guard page on the website.