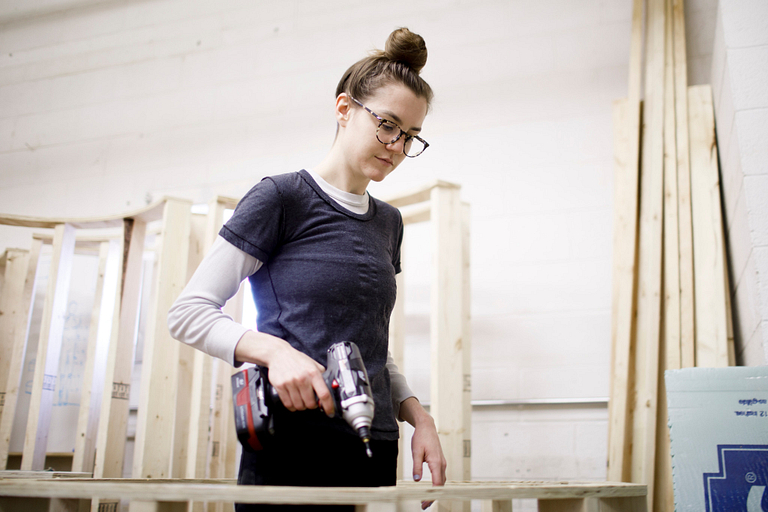 When people walk or drive past McCalla School on Ninth Street in Bloomington, they are greeted with an obvious former elementary school building with beautiful, green landscaping on the building's east side.
But for about two weeks starting April 7, that grassy field will be covered with large-scale sculptures that students from Indiana University's School of Art and Design have been working on all semester.
"I am so excited for students to present their work to the public in such a unique way," said Melanie Cooper Pennington, ​visiting professor in sculpture in the School of Art and Design. "It's a great experience to show your work outdoors. You are not stuck in a gallery, and it can be a bit risky. So I'm excited for my students to have this opportunity." 
"Go Big or Go Home" is a project led by Cooper Pennington that will feature 16 large-scale sculptures created by students in her class. Cooper Pennington was asked to develop a special topics class; knowing she wanted it to be something different, she chose large-scale sculptures that would become, for a short time, part of the campus landscape.
The sculptures will be on display as part of the celebration of the new IU School of Art and Design and the rededication of Kirkwood Hall. The pieces include a 15-foot-tall birdcage and a performance piece challenging the male gaze; they were made by students ranging from freshmen to graduate students. 
"I wanted to not only show people how active the arts program is and to allow our students' work to be seen by a large audience but to also create a show that would be seen by the general public, giving them an opportunity to interact with the pieces and engage with the art scene within the university," Cooper Pennington said.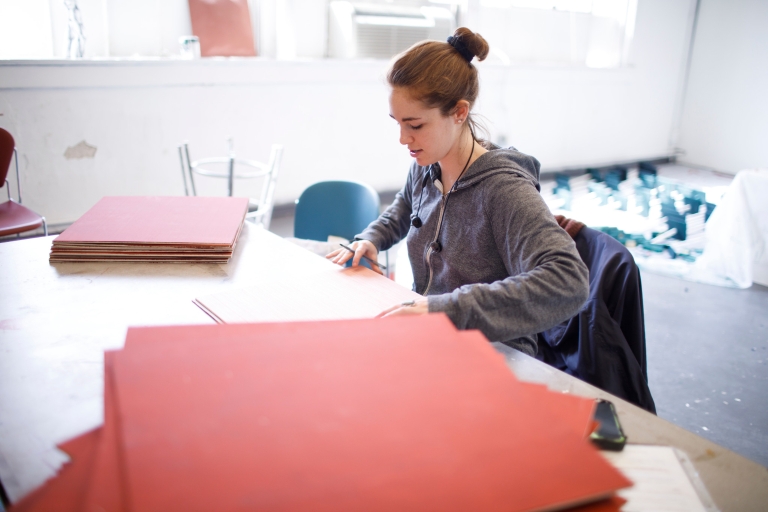 Kordi Schild, a senior BFA student in studio art with a minor in psychology, created a 7 1/2-foot-tall, 14-foot-long piece for the display. It will consist of an open-air hallway, a singular s-shaped wall with three consecutive entryways. One side of the wall will be surfaced with fabric and foam; the other side will be studded with pyramids made from wooden dowels and stretched plastic sheeting.
Schild said the idea for the sculpture is to evoke empathetic awareness and to demonstrate experiences that can feel comforting to some while feeling threatening to others.
"I'm interested in exploring how our senses influence our perceptional experience with things," she said. "This particular piece is about appreciating the stark juxtaposition between one person's perspective and another and how that awareness can help cultivate empathy, which I think is much needed in today's current situation."
Although Schild has worked with large-scale sculptures before, the materials she used for this piece – plywood, metal, plastic sheeting and industrial Velcro – were different than the fabric she used in her previous piece. The fact that the piece has to stand on its own and survive the outdoor elements was also something new, and admittedly sometimes frustrating, for Schild. It was also the first time she has spent an entire semester working on one piece.
But as she plugged away at her project, Schild was thankful for the new experience to work in a way she isn't familiar, or always comfortable, with.
"I'm not super savvy in the woodshed or metal shops, so I've learned a lot," she said. "And Melanie has gone above and beyond for this class, helping us get what we need and being accepting and encouraging of us while also pushing us when needed."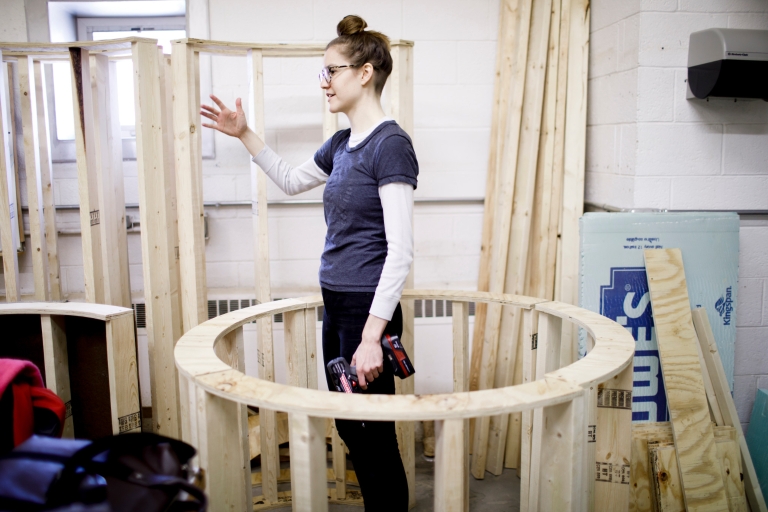 Amanda Waterhouse, a second-year Ph.D. student in history, said the class has helped her explore her studies on land art and how it plays into political policy.
She was inspired by artist James Turrell, whose work focuses on light and space and addresses the idea of human perception. Waterhouse's piece will consist of a tall, hollow cylinder – 15 feet high, sitting 3 feet below the ground – with a door cut out so viewers can enter the sculpture and stand on a metal grate. The entire sculpture will be 3 1/2 feet in diameter.
"I'm interested in the ways that immersive sculpture controls physical experience, in how it produces a feeling of transcendence," Waterhouse said. "In order to write a historical account about large-scale sculpture, I wanted to actually commit myself to creating it."
Like Schild, Waterhouse admits there have been obstacles along the way. But she has enjoyed the process, which has required her to continue to push the boundaries.
"You hit walls and you get discouraged, but for me, it has been worth it," she said. "Having this really specific idea of what I want to do but no sense of what it will physically turn out to be has been challenging. I've had so many people who know about art and construction helping me bring this idea to life. It's been really amazing."