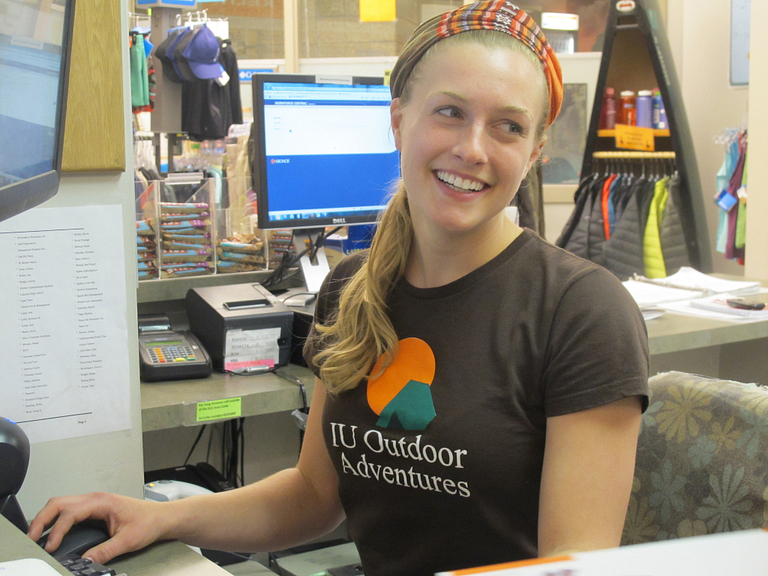 The top seven Indiana University student employers –which include Residential Programs and Services and University Information Technology Services – employ a total of about 3,300 students, according to Indiana University's Career Development Center. This number does not include the IU students working in smaller offices on campus or in local businesses off campus, but it begins to describe the value student employees add to the Bloomington community.
This year, IU's Career Development Center is again recognizing the importance of student employment by supporting events during National Student Employment Week, celebrated April 10 to 14.
National Student Employment Week itself is an initiative of the National Student Employment Association, which supports student employment and professional development for college students. IU's Career Development Center has celebrated student employment in the past, but this year some events have changed.
Leading up to National Student Employment Week, the Career Development Center held nominations for Student Employer of the Year and Student Employee of the Year, which will be celebrated with a pizza party at each winner's office on Friday, April 14.
Each day during the week will feature a different focus or event.
Monday, April 10: National Student Employee Week Kickoff – The kickoff to the week features a proclamation from Bloomington Mayor John Hamilton.
Tuesday, April 11: Job Shadow Day – Student employers are encouraged to have their students shadow them to show what their workplace is like from a management perspective.
Wednesday, April 12: Student Employee Appreciation Day
Thursday, April 13: Employer Appreciation Day
Friday, April 14: Student Employment Week Award Recognition Day – The Career Development Center will provide a pizza lunch to the Student Employee of the Year's office and the Student Employer of the Year's office.
Read the Proclamation
"Student employment offers value beyond the paycheck," said Jan Nickless, Senior Associate Director of the Career Development Center. "In addition to earning money, a student's work experience provides an opportunity to build direct and transferable skills that can lead to career success."
Nickless cited a 2015 study from Georgetown University titled "Learning While Earning: The New Normal" that found that over the past 25 years, more than 70 percent of college students have worked while attending school. This study also found that working and learning simultaneously does have its benefits, particularly through skills that working students will carry with them to future careers.
Sydney Heile, a student employee on the Career Development Center's media team, said she appreciates that National Student Employment Week recognizes the work of students on the job.
"I think this is a great way for students to realize our employers value us for more than the hours we put in every week," Heile said.
"A part-time job can be so much more than just a job," Nickless added.
Students seeking advice on how their part-time employment can translate to marketable skills can contact the Career Development Center for more information.