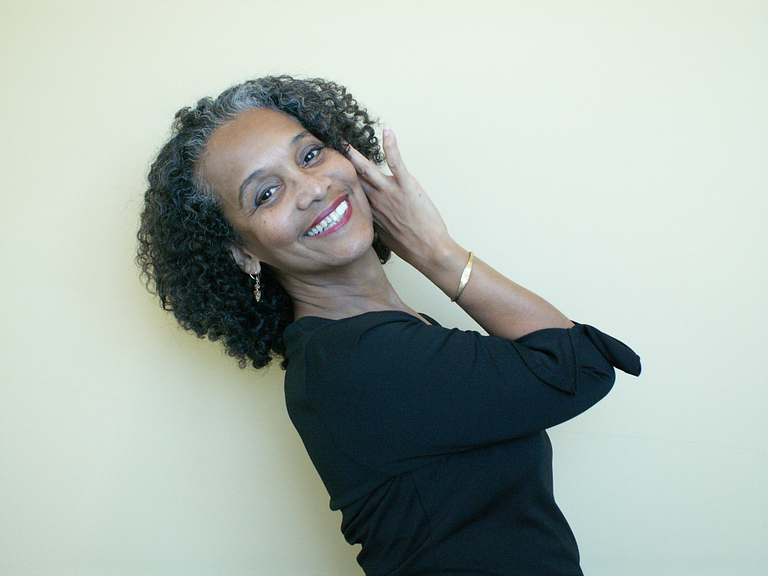 April 12 may not be a significant day on most calendars. But for the hundreds of IU students and alumni who have been part of the African American Dance Company over the past four decades, it's Iris Rosa Day.
Recognized in Bloomington, Indianapolis and her hometown of East Chicago, the day was named after Rosa, director of the African American Dance Company, during the ensemble's 40th anniversary in 2014.
This year, the day also marks the end of Rosa's tenure at IU.
Rosa will retire in May from her positions as director of undergraduate studies for the Department of African American and African Diaspora Studies and the African American Dance Company.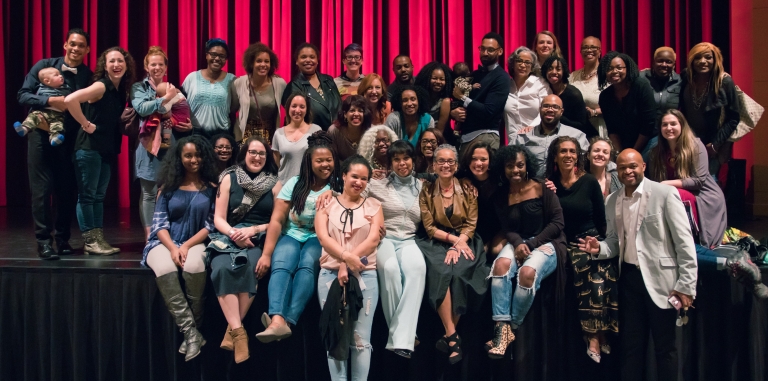 On April 8, the African American Arts Institute presented a farewell celebration and the dance company's final spring concert under Rosa's direction.
"In more than 40 years of service, professor Rosa has been a tremendous influence on countless IU Bloomington students during her tenure, using her art form to help them find their passion in life, whether in dance or otherwise," said James Wimbush, vice president for diversity, equity and multicultural affairs, during remarks at Rosa's celebration. "Her warm demeanor and great passion for both preserving the dance from African American and African diaspora traditions and, more importantly, exemplifying professionalism to her students, has been an integral part of Indiana University."
Appointed in 1974 by Herman Hudson, founder of the African American Arts Institute and then Department of Afro-American Studies, Rosa is the dance company's first and only director. The company is a course offered through the Department of African American and African Diaspora Studies, which Rosa said was the genius of Hudson to ensure the longevity and relevance of the program at IU.
Since the dance company's inception, Rosa's vision has been to create a space for her students – regardless of their major, experience level or ethnicity – that is fulfilling and dynamic. The company has worked to present art that is politically, socially and culturally relevant to each passing era.
"Even though the students and the dance discipline have changed and morphed over the years, the students today are reflecting their lived experiences just as they did more than 40 years ago," Rosa said. "By creating that space where students can create, discuss and make a mark, the dance company is woven into the fabric of Indiana University."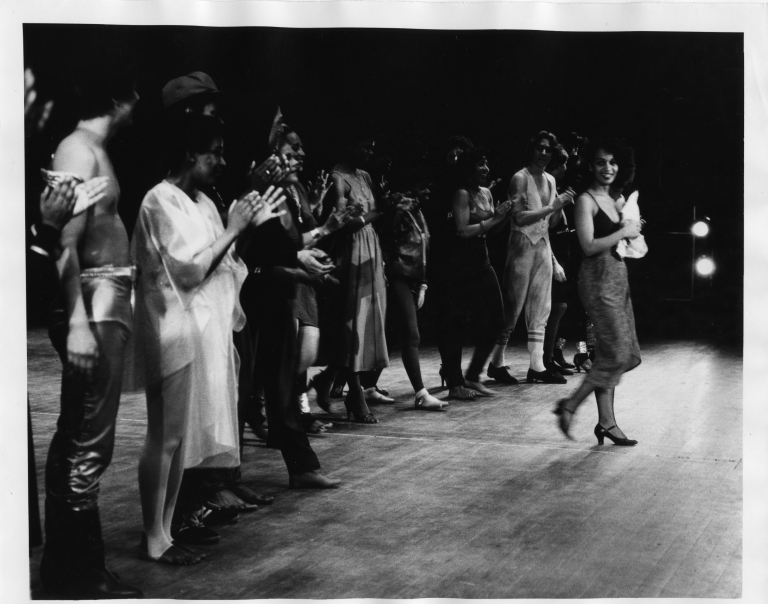 Rosa is celebrated as a pioneer not only at IU but in her field for the ways she merges art and black studies to provide students a holistic understanding of histories and cultures of the African American and African diaspora.
Valerie Grim, a fellow professor of African American and African diaspora studies, has worked with Rosa for 27 years. Grim recalls a collaborative project in which Rosa interpreted her research on blacks in the rural South through choreographic storytelling.
"Her impact has been phenomenal," Grim said. "She is a very gifted choreographer who is very clear in the ways she wants to use black dance and the bodies of the students performing those dances to communicate a message about black people and black life. I think that no one does it any better. She has taken black dance and the message of black culture and expression to the international arena. For that she deserves to be commended."
Travel and international collaboration have been a key part of Rosa's research and choreography since her first trip to Nigeria in 1978. She has studied, taught and collaborated with dance artists in West Africa, the Caribbean, Latin America and most recently Asia.
Rosa and 15 students in the African American Dance Company traveled to Beijing, China, in the winter of 2016 for a weeklong dance and culture exchange with the China University of Mining and Technology Beijing. Through master classes and performances, IU students collaborated with Chinese students learning traditional Chinese dance and sharing dance of the African American and African diaspora.
Rosa said the dance company students were profoundly affected by their experiences in China, and she thought the annual spring concert was the perfect opportunity to express that to an audience.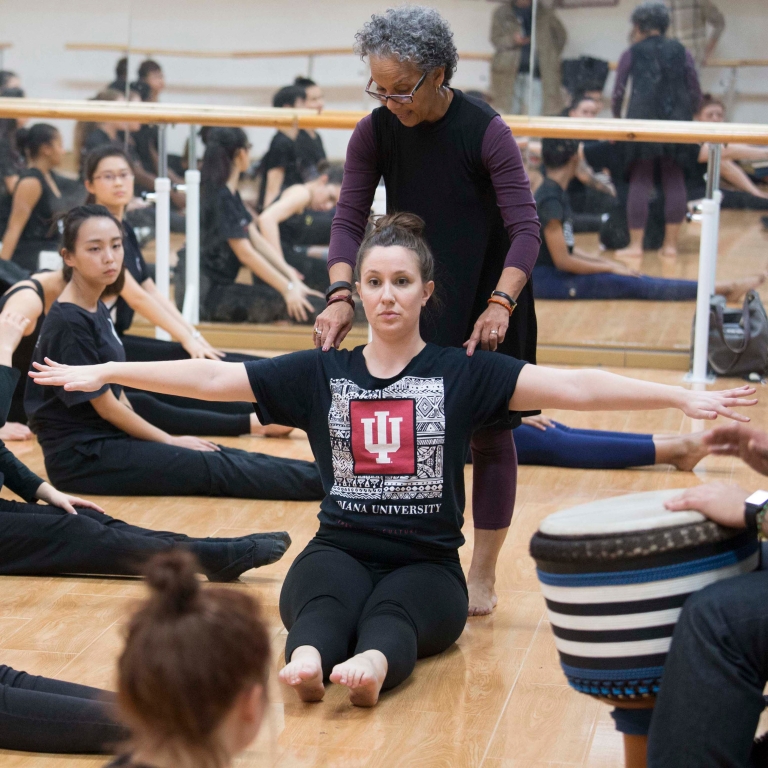 Her students premiered "Cherish the Memories," Rosa's work that draws connections between Chinese and African dance and culture, at the African American Dance Company Spring Concert. The piece featured guest artist Qianqian Dong, former dance company student and China native, who played a major role in planning the company's trip to Beijing.
"I hope that (the dance company) can continue to do the work that it's been doing and grow globally," Rosa said. "We've started now, but it needs to continue to search for that global space."
Rosa is proud to see the African American Dance Company's impact grow beyond the Bloomington campus. But if you talk to any of her current or former students, they will tell you what a great impact Rosa and the dance company had on their time at IU and in their lives.
For some students, Rosa helped shape their identity and personal growth. 
"Professor Rosa and the dance company definitely helped me find my blackness and helped me navigate through my own culture in ways I hadn't been able to do before," said IU alumna and former dance company member Alex Long. "I am so grateful to her and what she taught me because it has changed the course of my adult life." 
For others, Rosa transformed their worldview.
"She's not just one of those teachers that you have in college that's fun and memorable," said Kirstin Corbett, IU alumna and former dance company member. "But if you've spent any time in her class, you know that she changes you. She actually becomes a part of your life, and she opens up the world to her students in ways they didn't even know were possible."
However her impact has manifested in each individual, African American Arts Institute executive director Charles Sykes said Rosa's legacy lives on through her students and alumni.
"Iris Rosa is so important to the African American Arts Institute and Indiana University because she's built a legacy and an incredible community with her students," he said. "If you look at the people she's taught over the years, the people who return to every spring concert, the people whose lives were changed by her, who have said that without Iris Rosa they wouldn't have graduated from Indiana University – that's really powerful, and that's her legacy."
Hannah Crane is the events and communications specialist for the African American Arts Institute.