Indiana University freshman Sierra Wiese was sitting in class when she received an email from Indiana State Rep. Steve Stemler. Even though she has interned for Stemler in the past, Wiese was surprised to learn that, after hearing about her research on gerrymandering, he wanted her to testify at the Statehouse in regard to a bill addressing the topic.
"I had no idea how it worked," said Wiese, a political science and international studies major. "I had my research with me and there were hundreds to people there wanting to testify. It was so scary. When he called my name, it took me a second to get up. But I did it, and it was an amazing experience."
Political aspirations were planted early in Wiese, a Jeffersonville native. Her father was president of the local teacher's union, taking a young Wiese to school board and union meetings and teaching her to always "fight for the little guy." Her mother ran for school board, allowing her daughter to be part of her campaign. 
By her freshman year in high school, Wiese became involved in the legislative page program, going from supporting her parents' work to engaging in her own political activities. 
"That year was a real turning point for me," she said. "I've always loved politics, but that year I expanded my wings and really began making my own path."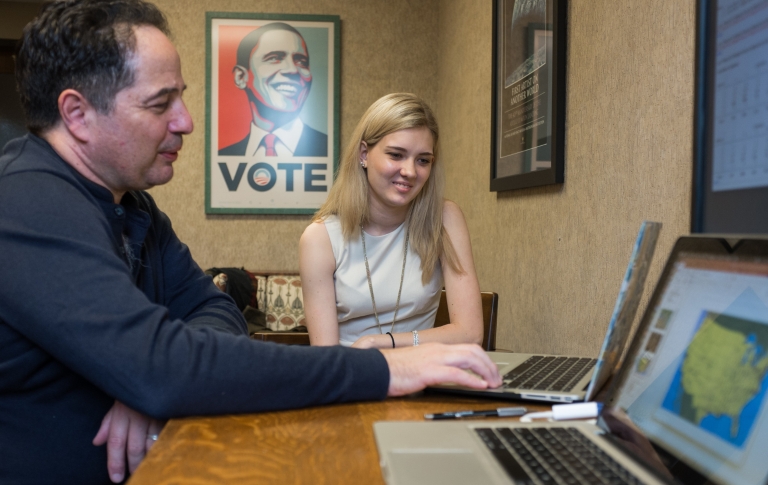 In high school, Wiese set her sights on IU Bloomington and began looking for ways to pay for college. She became a Cox Research Scholar and eventually connected with William Bianco, a professor in political science who works with undergraduate researchers.
"I met with Professor Bianco, and he told me about the work he does and what he's interested in," Wiese recalled. "He almost word for word said what I was interested in doing. We just clicked."
Wiese, who also participates in IU's Political and Civic Engagement program, soon set her focus on gerrymandering, in which majority political parties draw district boundaries that give themselves an advantage over the opposing party.
Wiese's research focuses on identifying the circumstances under which legislators opt for nonpartisan methods when establishing legislative district lines and the consequences of making such a choice. Although she has focused on all states, the creation of Indiana House Bill 1014, which would establish a redistricting commission to recommend plans to redraw General Assembly and congressional districts, has encouraged her to turn some of her focus on Indiana.
While passionate about her work, Wiese admits the topic is a difficult one to approach.
"It takes some walking on eggshells," she said, "especially when talking with politicians about it. They either claim they are the victims of it or they deny it's there because they are benefiting from it. "It's not a popular topic to work on. But it's important because we have a system in place that should prevent this but it doesn't. I think everyone should have a fair shot in running for a seat and in being equally represented. Gerrymandering tears apart communities."
Wiese and about 300 other people turned out to support the bill at a Statehouse on Feb. 15, but the chairman of the House Elections and Reapportionment Committee did not call it for a vote.
Bianco, who has spent the past two semesters working with Wiese, said he is impressed so far with what the young student has been able to accomplish, particularly speaking to the legislature.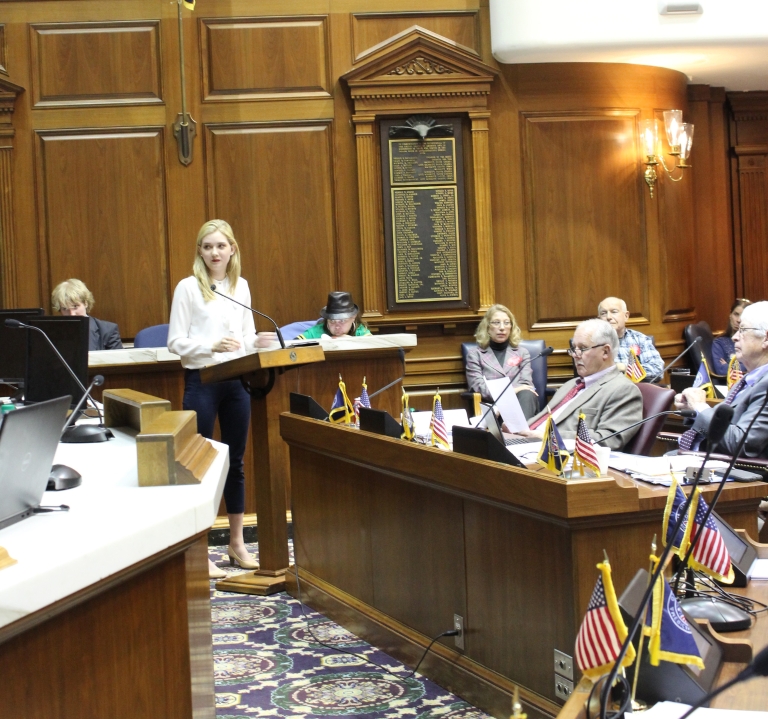 "At a very early stage in her career, Sierra has convinced people in the Indiana State Legislature that she has something to say," he said. "That's a really major accomplishment.  "Many undergraduates have worked in state and national government. For most of them, the experience is about learning rather than participating. Sierra is speaking truth to people who are making one of the most important decisions in a representative democracy, drawing district lines."
Bianco has spent his 10 years at IU working with undergraduate research assistants, a collaboration he finds important to both students and the university as a whole.
"Having undergraduates learn about and participate in the research process is a fundamental part of the teaching mission at IU," he said. "It gives students a unique window into how science works – how we ask questions and then answer them. It sharpens their critical thinking skills, adds to their experience in research design and statistical analysis, and helps them to understand how to work as part of a team."
Wiese said her time with Bianco has been invaluable, and she is thankful for the time he and other professors in the political science department take to mentor her. Wiese is also thankful to IU for the countless opportunities to pursue her passions.
As she continues to carve her path at the university, she hopes to eventually attend law school; Wiese is determined to take advantage of all of the opportunities IU has to offer.
"My parents always told me nothing will be handed to you; you've got to go get it yourself," she said. "Nothing is free in life, even opportunities. You have to seek them, create them, so that has always been very important to me. I know I need to go out and seek my own opportunities, not just wait for them to come to me."