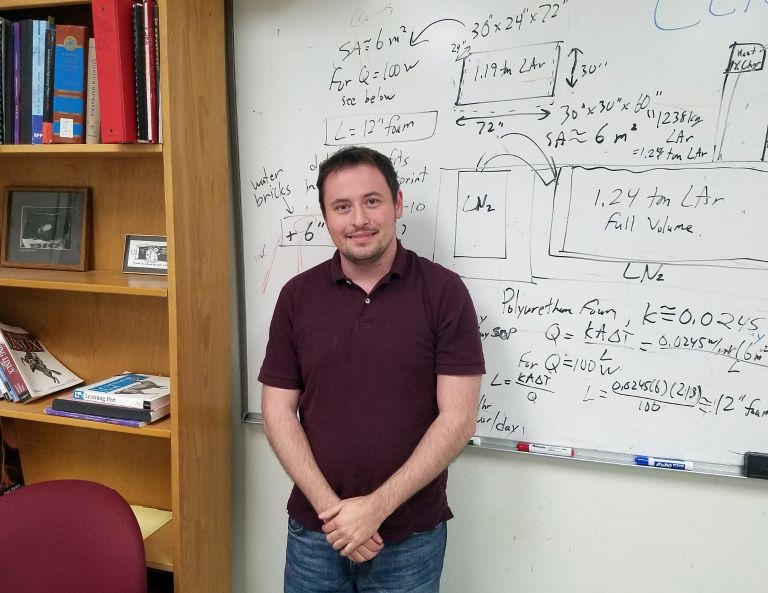 A graduate student at Indiana University has received a highly selective research award from the U.S. Department of Energy.
Jacob Christopher Zettlemoyer of the IU Bloomington College of Arts and Sciences' Department of Physics will pursue experimental research on high-energy physics with support from the grant at the Oak Ridge National Laboratory in Oak Ridge, Tennessee.
Zettlemoyer is one of 53 recipients nationwide selected for the research award provided by the Office of Science Graduate Student Research Program at the U.S. Department of Energy.
"This program prepares graduate students for science, technology, engineering or mathematics careers critically important to the DOE Office of Science mission," said Steve Binkley, acting director of the Office of Science. "We are proud of the accomplishments these outstanding students have already have made and look forward to following their achievements in years to come."
Under the grant, Zettlemoyer will help oversee upgrades to a device designed to detect the scattering process of neutrinos – extremely small subatomic particles with very little mass or charge almost completely unaffected by subatomic forces or gravity.
Currently, Oak Ridge National Laboratory uses a 35-kilogram liquid argon detector that lacks the sensitivity required to pick up the extremely low-energy signals needed to observe neutrino scattering. Zettlemoyer's efforts will advance research and development efforts to replace the detector with a one-ton version – as well as advance other updates to the device's hardware and software systems – to provide the machine enough light sensitivity to detect a phenomenon currently only predicted through mathematical theory.
Grants from the Office of Science Graduate Student Research Program provide recipients access to the expertise, resources and capabilities at laboratories under the U.S. Department of Energy, including mentorship from government scientists. All research projects under the program support the recipients' work toward their doctorate while simultaneously advancing research topics in areas of high priority to the federal government.
Support from the award includes travel costs and a monthly stipend of up to $3,000 per month for general living expenses during the the award period, which ranges from 3 to 12 months.
Zettlemoyer will spend one year studying at Oak Ridge National Laboratory starting in June.