Description of the following video:
[MUSIC]
[Words appear: Jackie Youngs, Freshman, Intelligent Systems Engineering]
Jackie speaks: I see engineering as a two-part major. The first part would be actually learning like how to just build in a team with the design process. And then I see part two of the major as a new way of thinking, assess the situation critically and then think of an efficient solution.
[Words appear: Sohile Ali, Freshman, Intelligent Systems Engineering]
Sohile speaks: And the way our classes are set up, our professors and our AIs, they're really engaged in our conversations. Like we'll just bounce ideas off them in the middle of class. Our AIs, we see them as our mentor, but also as almost as our friends also in the classroom.
Jackie speaks: The small class is exactly what I wanted; the professors are able to gauge where we as an engineering class are. They also make sure that you understand what you're doing and why you're doing it.
[Words appear: Martin Swany, Professor & Associate Chair, Intelligent Systems Engineering]
Martin speaks: The enthusiasm of our first group of freshmen has been amazing. They know that the program is evolving around them, and they are in some sense helping to shape it, by telling us what works and what doesn't.
Jackie speaks: It's kind of exciting because you have this ability to take the major where you want to go.
Sohile speaks: Last semester, our first engineering class, E101, we had a final project to complete. We decided to make a interactive skee-ball machine, like the ones you see in the arcades. Through that, we were able to program it so whenever the ball would go through any one of the holes, we had a light sensor there that would detect when the ball went through. And it would change the animation on the screen based on which hole it went through. So that was probably my favorite project, it was definitely a lot of work, but it was still a lot of fun.
Jackie speaks: So my team attempted to make a laser maze, and then we ended up making a whole wall, interactive, like the Tap Tap game.
Martin speaks: Working with this group of students has been fantastic, because they are in constant communication, and I'm learning from them as they're learning from me.
Sohile speaks: Right now we're working on building a visual mechanical logic device to place in the new building, Luddy Hall. So it'll be something that the first cohort of engineers gets to put their little touch on the new building. So we're all really excited about that.
Martin speaks: Traditionally engineers are valued in the workforce. But often just because of the rigor of their education, rather than the specifics of what they've been taught. We are trying to bring a very particular, very marketable, very directly applicable set of skills to the educational program, to provide those to the students so that they are ready to enter the workforce fully prepared to face modern challenges.
[MUSIC]
[Video: The Indiana University trident appears.]
[Words appear: Indiana University]
[Words appear: Fulfilling the Promise]
[End of transcript]
The inaugural class of 18 intelligent systems engineering students are wrapping up their first year of classes at IU.
Whether they were cramming for a computer architecture exam, sitting in a physics lecture, designing an interactive mystery story book or programming a microcomputer, the students were constantly learning during their first year in the program.
But unlike most introductory courses, their work is more hands-on.
For a final project in the Innovation and Design course last semester, Sohile Ali and his group members designed a 7-foot-long skee-ball machine. They programmed the game to produce a different animation depending on which hole the ball went through.
"It wasn't easy," Ali said. "But it was a lot of fun working, collaborating and sharing ideas with my classmates. To create this huge project and see it come to life was awesome."
This hands-on, project-oriented environment is exactly what the School of Informatics and Computing envisioned when the program was created.
"We focus on beginning to build things from day one," said Martin Swany, a professor and associate chair of the program. "We introduce a concept, and the students get to apply and contextualize that concept immediately in a hands-on way. Then, we circle back to the concept again. This approach gives our students a very marketable set of skills, so that when they enter the workforce they are ready to solve modern challenges."
The intelligent systems engineering degree is IU's first engineering program, which was developed in response to a critical need in Indiana. A task force determined that the state could benefit from more STEM-trained individuals joining the workforce to fill the growing roles in science, technology, engineering and math.
"Intelligent systems engineering is a melding of two sub-disciplines within the engineering realm in which the focus is on building a system designed to perform a certain task and involves an element of a computer system to take in the data and turn it into action or information," Swany said.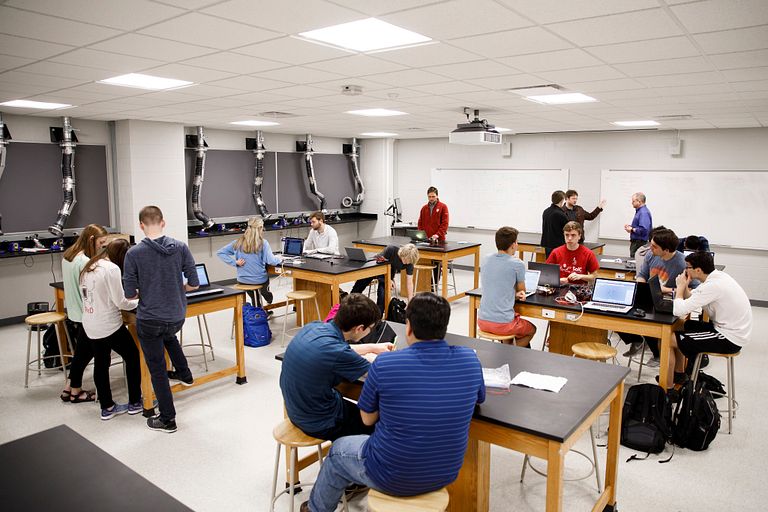 The IU program focuses specifically on small-scale, networked and mobile technology.
"It's all about small-scale technology making a big impact on society," Ali said. "You can apply small microcomputers to bigger projects, and the use can be seen around the world."
While the impact they will be making is large, the inaugural class is a small but mighty group.
Ali, a Bloomington-native, is also a student ambassador for the program, helping recruit new students and telling them about the opportunities available. He applied to IU with the intent to study computer science, but when he heard about the engineering degree, he knew he wanted to be a part of history.
Jackie Youngs, who comes to IU from South Bend, Indiana, is pre-med with an interest in bioengineering. As a freshmen, she said she was excited to have the opportunity to be a part of the inaugural class of engineering at such a prestigious university.
As two of just 18 students enrolled in the program, Ali and Youngs see the small class size as an added benefit. Ali said it creates an open, collaborative environment in which everyone – from undergraduates to associate instructors – can bounce ideas off each other. Youngs said it's also great for making sure students aren't getting left behind.
"The small class size allows our instructors to gauge where we are as a class and make sure we are understanding not only what we are doing but why we are doing it," Youngs said. "If we are grasping a subject quickly, they can fly through it, but if we are struggling, they can slow it down."
Another benefit of the program is the resources available to the students through the School of Informatics and Computing and the Center for Research in Extreme Scale Technologies, such as 3-D printers and laser cutters.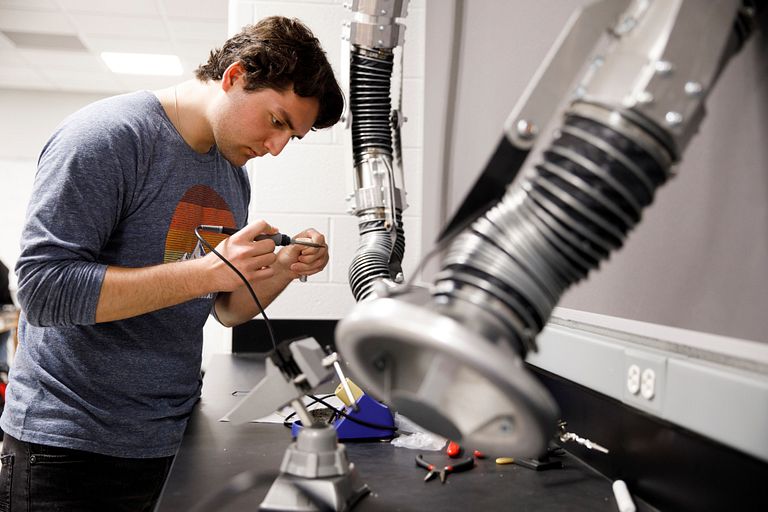 "As a student, it's awesome to have these tools available to us," Ali said. "We have access to industrial-level tools here that we wouldn't otherwise have gotten to use until we began our careers. If we have an idea, we can go to the makerspace and have it come to life."
But perhaps the best part of being a member of the inaugural class is the student's' ability to shape the program for future students. They are doing this by giving feedback on what is working and what isn't, but also with their creativity on certain projects.
"We were able to design our own project completely from scratch, with hardly any stipulations," Youngs said. "We could take the project wherever we wanted to go with it."
Youngs and her group ended up creating an interactive laser maze. Other students in the class turned in projects such as an eco-claw that awarded points for trash pick-up and an LED cube that created light patterns in sync with the beat of a song.
"Their enthusiasm is amazing, and they know the program is evolving around them," Swany said.
And in a world where almost everything is computer-centered, from our smartphones to our security systems, a background in computing is important in any field.
"There's so much to learn about what computers can do and what you can do with computers," Youngs said. "If you learn that in college, you're more prepared and relevant in the workforce."