BLOOMINGTON, Ind. – Indiana University Bloomington will celebrate Arbor Day on April 28 with student volunteers planting trees on campus.
The event will take place in the IU tailgate fields across from Memorial Stadium, with participants arriving at 9 a.m. at the shelter house near the corner of 15th Street and Woodlawn Avenue. Tools, equipment and food for volunteers will be provided.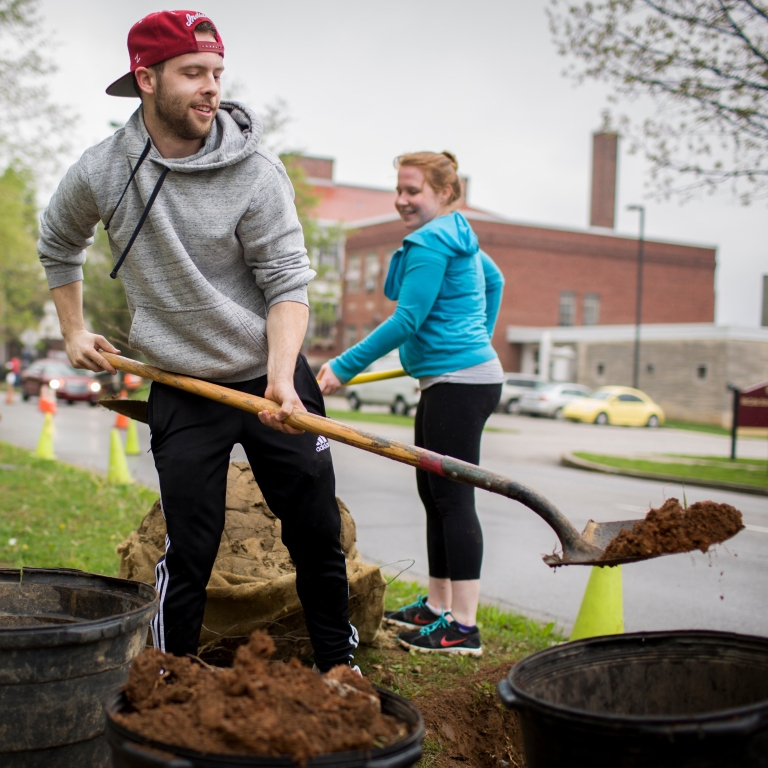 "IU's commitment to growing its woodland campus continues with this tree planting in a location where young trees – our future canopy – are much needed," said Sarah Mincey, associate director of IU's Integrated Program in the Environment and an organizer of the event.
"The fields between Woodlawn and Fess are a beautiful park-like setting filled with mature trees, and we want to ensure a sustainable population of trees are there so that future generations will enjoy it as much as we do today."
The tree planting is informed by IU Bloomington's ongoing tree inventory, an effort undertaken by the IU Office of Sustainability, Landscape Services in the Facility Operations department and the Campus Tree Board. In the past two years, students have inventoried over 10,000 campus trees, allowing better choices on tree species that are planted to maintain a healthy, diverse campus forest.
The event will include a tree-planting demonstration to teach participants the proper way to plant trees. It is also an opportunity to contribute to the beauty and well-being of the campus. It will take place regardless of the weather as long as there is no lightning in the area.
IU Bloomington is designated by the National Arbor Day Foundation to be a Tree Campus USA for meeting five standards for developing and maintaining a campus tree plan. The campus first achieved the designation in 2009.
Arbor Day is an annual observance that celebrates the importance of trees in people's lives and promotes the planning and care of trees. First celebrated in Nebraska in 1872, it takes place on the last Friday in April. All 50 states, Puerto Rico and some U.S. territories have passed legislation adopting Arbor Day, which is celebrated locally on a date appropriate for tree planting in their region.