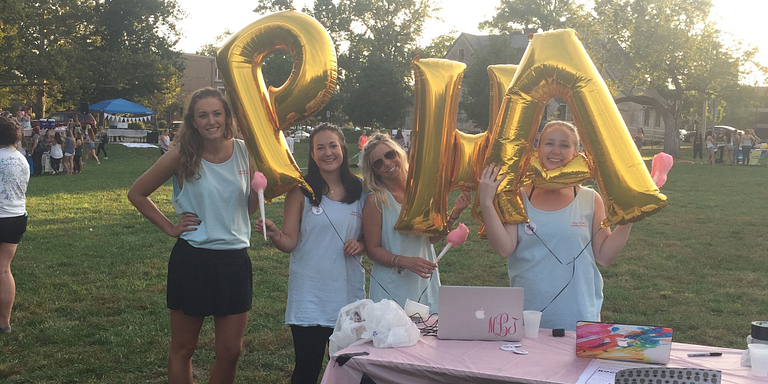 As a member of Phi Mu, junior Maddi Lasson is used to working with a tight-knit group of women to raise money for the Children's Miracle Network, the sorority's philanthropy of choice.
But over the past year, Lasson has been part of a "Circle of Sisterhood" with the 22 sororities that make up the IU Panhellenic Association, helping provide women with access to education throughout the world.
"Never before in this council have we had a way for all organizations to rally around a cause," said Lasson, a junior majoring in elementary and special education who serves as vice president of community involvement in the association. "The members of each organization have gone above beyond because at the end of the day, everyone cares about eliminating the obstacles women face when it comes to education, and this project allows us to do something about it in a real way."
Since 2014, sororities in the IU Panhellenic Association have been involved with the Circle of Sisterhood Foundation, an organization that brings together 160 U.S. sororities to help provide women in both the U.S. and developing countries with access to quality education. But the IU association decided last year that it wanted to do more.
One of the biggest initiatives groups can engage in with Circle of Sisterhood is building a school in another country. So, IU's group raised $40,000 to help build a school in Nicaragua. One half was raised individually by each chapter, and the second half was raised through a Sorority Involvement Fair that brought all of the chapters together to raise funds and educate others about the cause.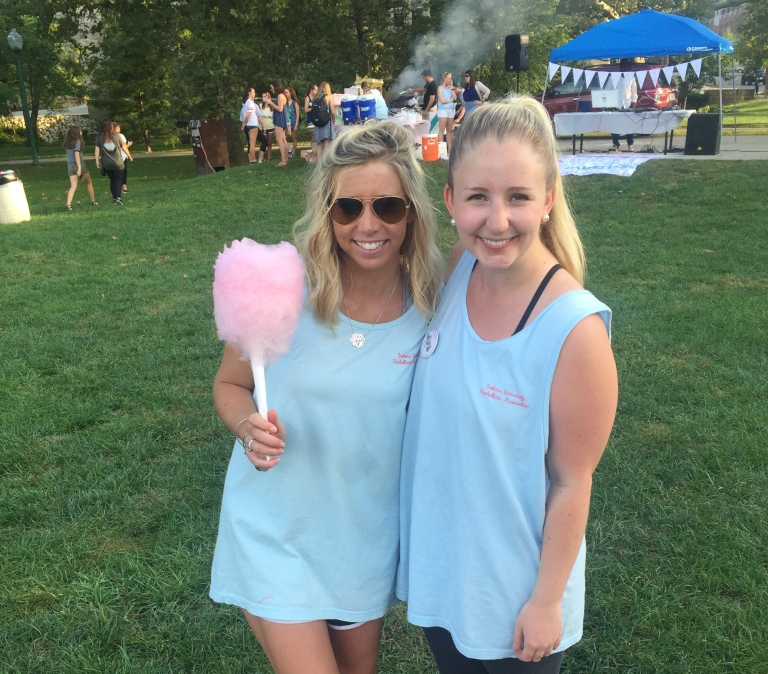 "One of the things I love about IU is the support and encouragement you receive when trying to do something big and trying to make an impact both in our community and throughout the world," said Sydney Twiggs, senior and former vice president for community involvement for the IU Panhellenic Association. "What a great way to end my undergraduate time at IU by being a part of something so big that will have such a significant impact on the world." 
From May 15 to 21, 10 IU students and two advisors will travel to Nicaragua to physically help build the school. There, the group will partner with buildOn, an international nonprofit organization that connects groups with the community to both physically build the school and to provide teachers, school supplies and other necessities to maintain the school.
One of buildOn's requirements is that at least 50 percent of the school's enrollment be female.
"For me, that is one of the coolest aspects of the project," Lasson said. "We are not just building something that these communities cannot maintain, but we are helping to build something the community can sustain and that will fulfill our promise of providing access to education to young girls."
Lasson hopes to continue expanding IU's involvement with Circle of Sisterhood by partnering with another college to raise money and build a school together. As she prepares to leave for Nicaragua, Lasson said she is excited to see all of the group's hard work come to fruition and to represent IU on a global scale. She is also thankful to Circle of Sisterhood for helping the group make this trip a reality. 
"This will be my first time traveling abroad for a service project, and I am so excited and honored to represent this group," she said. "To know that we, as college-educated women, have the power to help remove barriers for other women to receive an education is empowering. We have mobilized so many people who believe in the cause. It is really exciting."