Beginning May 15, the IU Eskenazi Museum of Art will temporarily close to allow for major renovations to the I.M. Pei-designed building.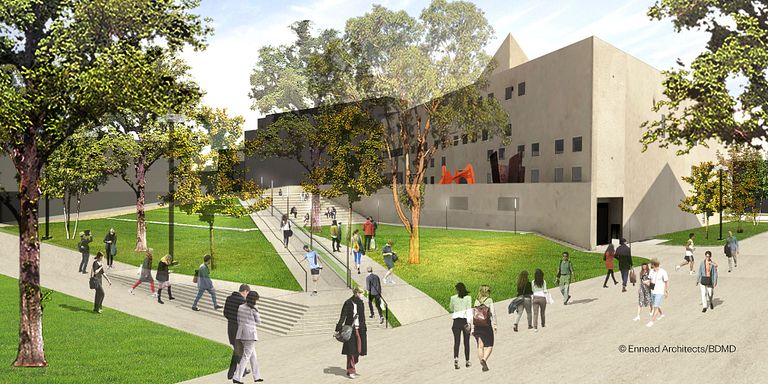 In an effort to make the facility the "ultimate teaching museum," gallery areas will be renovated and expanded. Four new museum centers will be created in curatorial studies, conservation, education and works on paper. The renovations will also include a new lecture hall, a new café and shop, new teaching and study spaces, and areas to get behind-the-scenes views of museum activities.
The museum will also receive hardscape improvements to create direct access from the Arboretum to the existing sculpture terrace and a new second-floor entrance, as well as an outdoor gathering space.
The modernization of the facility, along with the expanded gallery and event spaces, will enable the museum to strengthen its educational programming and provide better resources both for students and professors, as well as for pre-school through high school students throughout Indiana.
Renovations are expected to be complete in the fall of 2019.
"After renovations are completed, this museum will be epicenter of art at IU," said museum director David Brenneman. "We're excited for all that we will be able to do after we retool."
There's still time to enjoy all the museum has to offer before its temporary closure. Spring exhibits will run through May 7. Inside IU has rounded up the events you can't miss this semester.
Special exhibits:
A Step in Time Across the Line: Recent Work by Chee Wang Ng: A contemporary Chinese artist's first solo museum exhibit features large-scale photography, video and installation work. The exhibit will explore the modern immigration experience and the Chinese culture.
Abstract Painting in Europe 1949-1968: Abstract painting in Europe in the post-war period is far less known than its American counterpart. This exhibition shines a light on what was happening in Europe, as well as an interesting area of the museum's collection, as the pieces were some of the museum's earliest acquisitions.
Master of Fine Arts Thesis Exhibitions: This annual partnership with the IU School of Art and Design spotlights thesis exhibitions of graduating Masters of Fine Arts candidates. There will be three rounds of thesis exhibitions, with three artists featured in each round. Exhibits include photography, textiles, graphic design, painting, jewelry and metalsmithing and ceramics.
Activities:
Saturday tours: The art museum offers a weekly, free docent-led tour of the museum every week at 2 p.m. No prior reservation is necessary, and tours begin at the information desk on the first floor of the museum's atrium.
First Thursdays Festival: (5 to 8 p.m. May 4): The last major event at the museum will include a celebration in honor of building architect I.M. Pei's 100th birthday, with the museum giving away 1,000 triangular brownies to guests, information on the upcoming renovations, an open sketch knight, food, drink, music and more.
Noon concert series: Stop by the museum at noon on Fridays and catch a free musical performance and a light lunch.
Visit the museum's website for a full list of activities and events happening over the next two weeks.