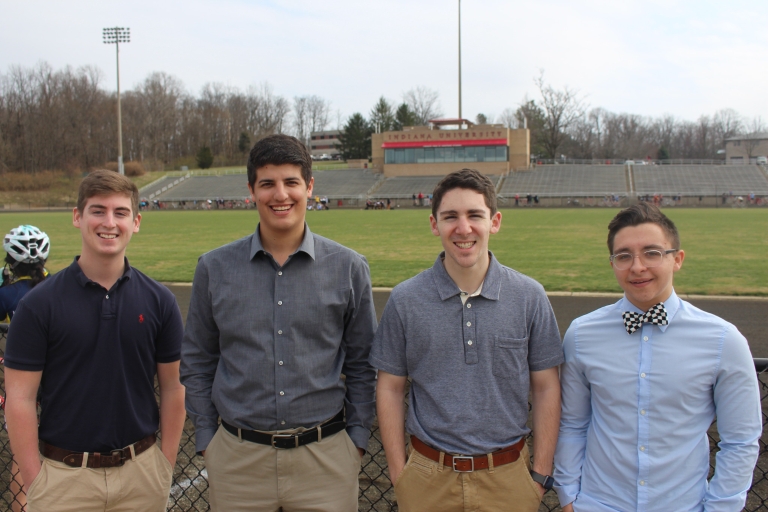 BLOOMINGTON, Ind. – Students in The Media School at Indiana University will have an opportunity to practice their broadcasting skills as well as participate in one of IU's most revered traditions when they provide live coverage of the 2017 men's and women's Little 500 races.
Media School student teams will broadcast the April 21 women's race and April 22 men's race on broadcast.iu.edu via official live video stream, which will be produced by IU Radio-TV Services and hosted by the IU Student Foundation. Broadcasts also will be archived for later viewing.
They also are producing video packages throughout the spring, featuring stories that focus on the riders, teams and personnel who make the Little 500 a cultural touchstone for IU Bloomington and its alumni.
"This project expands the support Radio-TV Services provides for Media School students in producing a live webcast," said Perry Metz, executive director of IU Radio-TV Services. "It's a great opportunity."
Associate professor Galen Clavio, director of the Media School's National Sports Journalism Center, said he has long wanted to get students directly involved in broadcasting the Little 500.
"It's great that the sports media program will be able to provide broadcasters for both the television and radio calls of this race," said Clavio, who broadcast the race on student radio as an IU student. "That type of hands-on experience is incredibly valuable for aspiring broadcasters, and it's the sort of experience that students regularly receive when they come to Indiana to study sports media."
The partnership will enhance longstanding coverage of the Little 500 provided by IU student media, including regular coverage in the Indiana Daily Student and race-day broadcast coverage by WIUX student radio.
Little 500 race director Andrea Balzano, an IU journalism alumna, said she's excited to see how much the program has grown and how much additional experience the students will gain through producing broadcast coverage of the teams and the race.
"The goal of the IU Student Foundation is always that this race is put on by students, for students," she said. "With this partnership, we're getting more students involved with the event, which is really great."
IU Student Foundation director Tara Vickers agreed the partnership fits perfectly with the foundation's student-centric mission.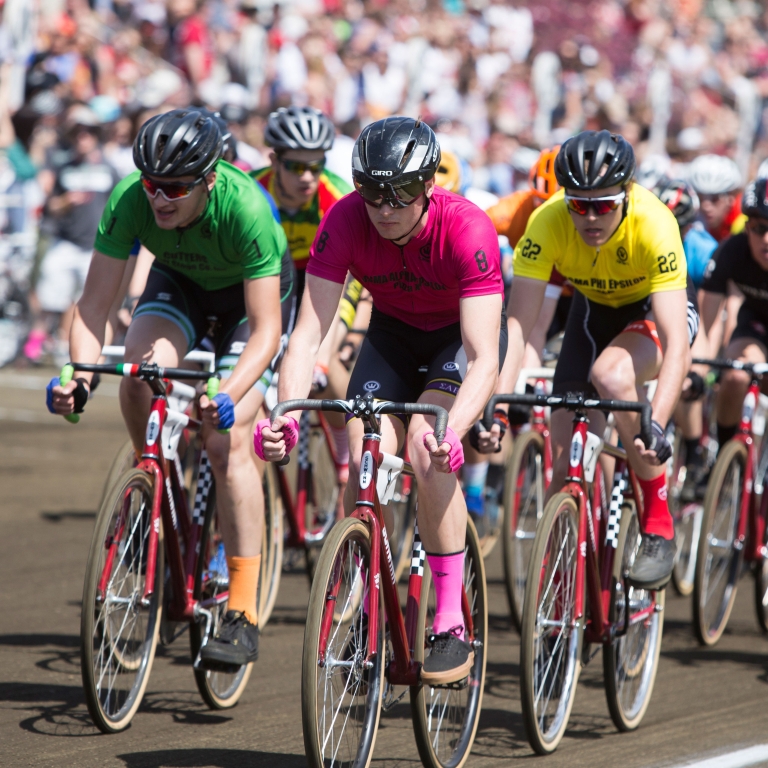 "This just reinforces the model with the race being student-planned, student-organized, student-executed, student-raced and student-coached," she said. "It only makes sense for the production to be brought to us by students and for the video vignettes to be student-produced, too."
The Little 500 women's race is in its 30th year, and the men's is in its 67th year.
"The riders are so impressive because they put as much time and effort into this as a Division I athlete," Vickers said. "They train all year round, and for what? It's not the same kind of glory and recognition that another athlete may get.
"It's true amateur sport at its purest. It's so competitive every year, and that's what's cool. You pay your entry fee, you get the same bike, and the playing field is so level. It really is anybody's race every year."
Calling the race-day action
David Sugarman, a junior, will handle play-by-play duties for the women's race. A native of Bridgewater, New Jersey, Sugarman has called games for both Big Ten Student U and WIUX. He was a sports anchor for Hoosier Sports Nite on IUSTV during the fall 2016 semester.
Patrick White, a sophomore, will serve as sideline/pit reporter for the women's race. The Fort Wayne, Indiana, native was a play-by-play broadcaster for Big Ten Student U and a reporter and anchor for IUSTV Sports.
Caitlin van Kooten will serve as the color commentator on the broadcast for the women's race. A native of Bloomington, she rode for Teter in 2008 to 2011. She was part of the team that won the race in 2010 and 2011 and held the women's qualifying record until 2017.
Sophomore Josh Eastern will handle play-by-play duties for the men's race. The Seattle native has been active at several sports media outlets, including handling play-by-play duties for Big Ten Student U and WIUX. He serves as the women's basketball beat reporter for the Indiana Daily Student, where he hosts a weekly basketball podcast.
Eddie Cotton, also a sophomore, will be sideline/pit reporter for the men's race. A double major in marketing and broadcast journalism, the Bellmore, New York, native is co-sports director at WIUX. He has broadcast several games on Big Ten Student U and serves as a commentator for IUSTV Sports. 
Alumnus Jordan Bailey, who recently concluded a five-year stint as Little 500 race director, will serve as analyst for the men's race. He works as an account manager for MyLaps Sports Timing in Atlanta and graduated from IU with a degree in history in 2012.
Announcers on the WIUX radio broadcast will be Jacob Vinson and Jack Grossman for the women's race and Mike McMahon, Andrew Vailliencourt and Sam Beishuizen for the men's race. Ben Epstein and Joe Canter will blog about the races for the station.