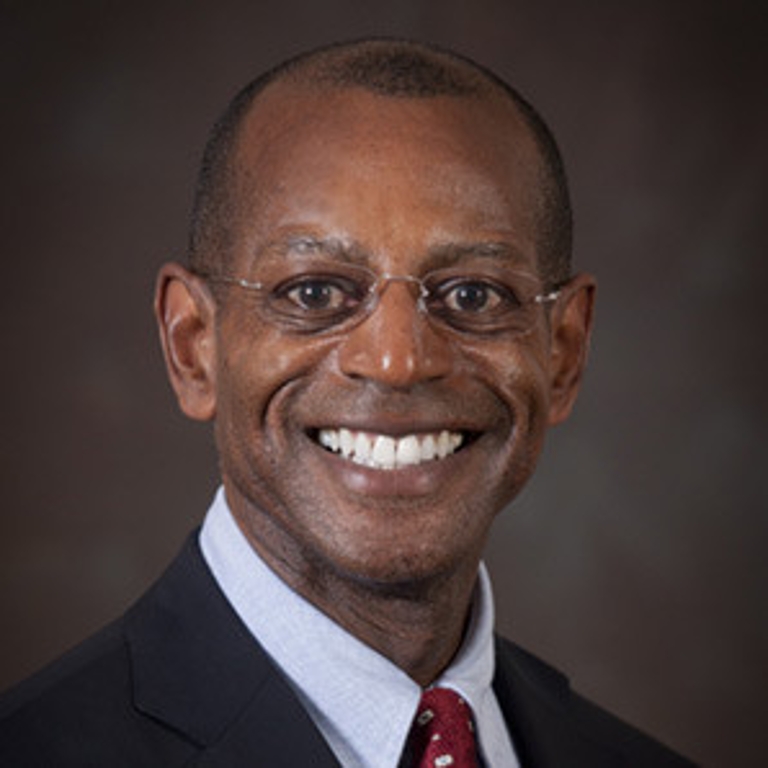 BLOOMINGTON, Ind. – Thanks to the generosity of Lacy M. Johnson, a prominent attorney at Ice Miller LLP and alumnus of the Indiana University Robert H. McKinney School of Law, IU is establishing the Johnson Professorship for Diversity and Leadership, which will support senior leaders at the university who work on issues in diversity and leadership.
IU President Michael A. McRobbie has appointed James C. Wimbush – IU vice president for diversity, equity and multicultural affairs, dean of the University Graduate School and professor of business administration at the IU Kelley School of Business – to this position.
Johnson's gift of $525,000 for the new professorship will help foster greater cultural understanding and appreciation among faculty and staff; underrepresented, first-generation and LGBTQ students; and students of color. It will also ensure the continued development of academic, leadership and training programs within IU's Office of the Vice President for Diversity, Equity and Multicultural Affairs focused on enhancing diversity and inclusion at the university.
"I am pleased that this professorship will assist Dr. Wimbush, and his successors, in continuing efforts to develop leaders from all backgrounds through IU," Johnson said.
The gift is matched by For All: The Indiana University Bicentennial Campaign under its guidelines for establishing endowed faculty positions. The campaign is led by the IU Foundation; Johnson, a partner at the Indianapolis law firm Ice Miller in Indianapolis, serves as a member of the foundation's board of directors.
"The enduring success of a great university, especially a great public institution such as IU, depends greatly on its commitment to embracing and enhancing diversity and ensuring an inclusive environment for all students, faculty and staff," McRobbie said. "Under James' strong leadership, IU has experienced record minority enrollment reaching nearly 20,000 students last fall, worked to ensure cultural diversity is well represented in our curriculum and strengthened services that have fostered greater inclusion on our campuses across the state, such as those provided to LGBTQ students.
"James and his team work tirelessly to deliver services that ensure students of all backgrounds are able to find a sense of community on campus," McRobbie added. "We are also deeply grateful to Lacy Johnson, whose remarkable generosity and support will help ensure IU continues to work to promote equal access, participation and representation, and cultural appreciation across our university."
The Johnson Professorship for Diversity and Leadership ensures the continued support of the work of the Office of the Vice President for Diversity, Equity and Multicultural Affairs and future diversity leaders at IU. Upon the end of Wimbush's tenure as vice president, the professorship will be renamed to the Lacy M. Johnson and Dr. James C. Wimbush Professorship for Diversity and Leadership.
"I am humbled and honored at my appointment to this unprecedented professorship, especially as the result of Lacy Johnson's altruism, foresight and commitment to developing the talents of individuals who can serve as advocates for diversity," Wimbush said. "Lacy is a first-generation college student who has gone on to be tremendously successful in his profession. He realizes that building diverse campuses is essential to IU providing a better education to all of its students. I'm enormously grateful for his extraordinary gift, which helps to create a leadership pipeline that advances this cause and positions diversity and inclusion front and center on all IU campuses, both now and in the future."
At Ice Miller, Johnson serves as the co-chair of the Public Affairs and Gaming Group.
A renowned philanthropist, he has given more than $1 million to IU in addition to many other charitable interests. Additionally, he established scholarships at Vincennes University and several historically black colleges and universities, including Tougaloo College and Southern University.
Johnson also serves on a number of boards, including the Kemper Corp., the Old National Bank Advisory Board, the IUPUI Advisory Board and the Skyline Club. A native and lifelong resident of Indianapolis, he is a member of the United States Democratic Black Caucus, the Lawyers Council of the Indianapolis Civil Liberties Union, the Dean's Advisory Council of the Krannert School of Management at Purdue University, Omega Psi Phi Fraternity and Sigma Pi Phi Fraternity.
"Lacy has a long, demonstrated history of giving and helping others, and I've always admired his commitment to giving back to the community, so it was a great honor to help him identify this opportunity to support future generations of IU students," said Joyce Rogers, vice president for development and external relations for diversity, equity and multicultural affairs.