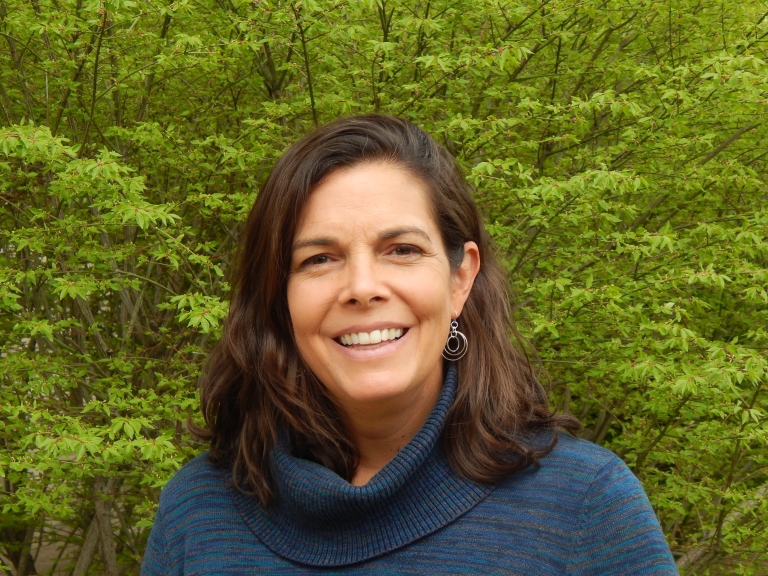 BLOOMINGTON, Ind. – An Indiana University Bloomington College of Arts and Sciences professor has been selected for the 2017 Andrew Carnegie Fellows Program.
Lauren M. MacLean, the Arthur F. Bentley Chair in the Department of Political Science, was chosen as one of just 35 fellows from nearly 200 nominees in the fields of science, law, technology, business and public policy.
This is the third year of the program, which launched in 2015 to support the country's "most creative thinkers" with grants of up to $200,000 each for research on challenges to democracy and international order.
While MacLean's current research highlights some of the challenges involved with the promotion of renewable energy in Africa, her work has been shaped more by the positive developments she has seen than the negative.
"I'm trying to think about what we can learn from some of the success stories in Africa," MacLean said. "The average person immediately thinks of conflict or the refugee crisis when they think of Africa. But the conditions in Ghana in recent years have been more democratic and more conducive to thinking about environmental sustainability."
"Professor MacLean's research stands out not only for its rigor and insight, but also its far-reaching impact on policy in Africa and beyond," said Lauren Robel, IU Bloomington provost and executive vice president. "Her work exemplifies our mission as a public university to produce research with positive real-world consequences. We are delighted that the Carnegie fellowship will allow her to continue and expand her outstanding and vitally important research."
"Lauren is an exceptionally talented and incisive scholar," said Larry Singell, executive dean of the College of Arts and Sciences. "From the fate of young democracies, to issues of representation of American Indians in U.S. health policymaking, to the politics of new renewable energy technologies in Africa, her research reflects a passionate interest in the welfare of people and our planet. The College is thrilled for Lauren, knowing that a Carnegie fellowship represents the greatest gift a scholar can receive: time to work."
One major energy issue in many parts of the world, MacLean said, is that the large hydroelectric dams that people have relied upon for electricity are no longer generating as much power, as climate change has reduced water levels to below what the generators require. Citizens struggle with access to electricity as well as with reliability – blackouts and power interruptions are frequent in Ghana – which greatly affects development and the quality of life in these communities.
MacLean is looking at big-picture questions about infrastructure and the role of the state in providing a sustainable path forward for human development and democracy. She is investigating how the history of state-building and energy infrastructure development in each nation shape the construction of citizenship and democratic responsiveness.
She is working on a related collaborative project with several researchers – including Jennifer Brass, associate professor in the School of Public and Environmental Affairs – on the politics of electricity provision, collaborative governance and citizenship in Africa. MacLean and her co-authors have conducted preliminary fieldwork in Kenya (2012), Uganda (2013) and Ghana (2014). This work has been published in several journals, including Africa Today, an IU Press journal; the Annual Review of Environment and Resources; the Journal of Development Studies; and the Journal of Modern African Studies.
With the support of the Carnegie fellowship, she hopes to produce a book for a broad audience – including policy makers, donors, business leaders and NGO leaders – on how to effectively handle energy issues on the ground.
"A lot of countries around the world are struggling with similar issues," she said.
MacLean, who received her Ph.D. from the University of California-Berkeley in 2002, is an affiliate faculty member of IU's Ostrom Workshop, the African Studies Program, the Committee on Native American and Indigenous Studies, and the Lilly Family School of Philanthropy.
"IU has supported me to do this kind of research that is a bit outside of the mainstream – that bridges subfields and disciplines," she said. "What's special about IU and something we do very well here is that these multidisciplinary groups attack problems from multiple perspectives. And it's not just across disciplines but across schools.
"In political science, we have a joint Ph.D. program in public policy where we work together with the School of Public and Environmental Affairs on policy. This cooperation has allowed me to look at policy problems, whereas in some political science programs, that's just off the table as too applied. Not all campuses have this same dynamic."
MacLean regularly teaches courses on African politics, governance and corruption, comparative politics, political economy of development, politics of inequality and identity, indigenous politics, and research methods at the undergraduate and graduate level.
She has authored award-winning books, chapters and articles. Most recently she co-authored "Field Research in Political Science: Practices and Principles" (Cambridge, 2015), which examines the epistemological benefits of field research, as well as the organizational and practical aspects of translating research design into on-site data collection.
In recognition of her distinction in methodology publications, innovative applications of qualitative and multimethod approaches in research, and contributions to institution-building in methodology, particularly with Africa-based scholars at higher education institutions in Africa, she was awarded the 2016 APSA David Collier Mid-Career Achievement Award. She has also been recognized with the IU Trustee Teaching Award four times since joining the faculty in 2005.