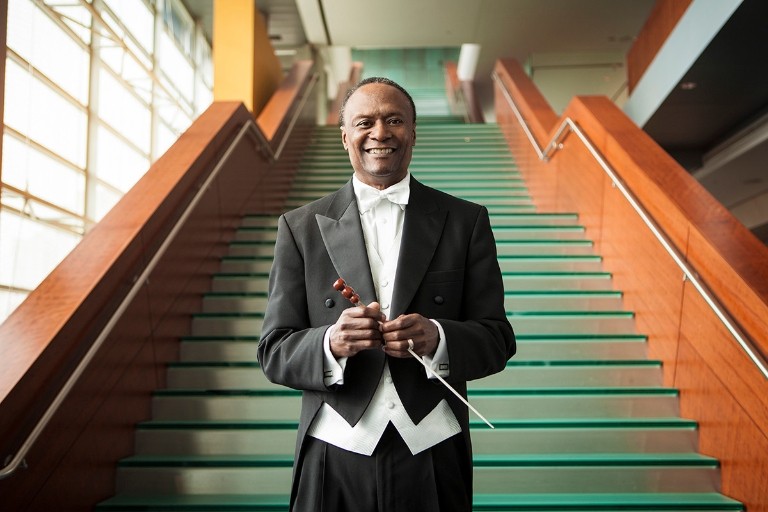 BLOOMINGTON, Ind. – A gifted conductor who is celebrated for his ability to communicate with orchestras as well as audiences, and who wants to see the ranks of classical musicians grow more culturally diverse, has been appointed professor of music in orchestral conducting at the Indiana University Jacobs School of Music, pending approval of the Trustees of Indiana University. 
Thomas Wilkins will assume the Henry A. Upper Chair of Orchestral Conducting, which was established by the late Barbara and David Jacobs as a part of Indiana University's "Matching the Promise Campaign." Wilkins' appointment will begin Aug. 1.
"Each time Maestro Wilkins returned as a guest to the Jacobs School, student and faculty excitement grew, to the point of our imagining that one day he might join the faculty in Bloomington. That day is today," IU Jacobs Dean Gwyn Richards said. "He is one of this nation's musical and pedagogical leaders, who reaches multiple generations through the most diverse repertoire imaginable. He is a role model for young musicians, a standard-bearer for the profession and a transporting storyteller for the public."
When asked about his appointment, Wilkins said, "The Jacobs School of Music has a rich history and a global reach, and I am honored to be a part of this tradition. What excites me most, however, is to witness the genuine love this faculty has for their students. They are not just in the business of training future artists and teachers, but they are also in the business of nurturing."
Wilkins is currently the music director of the Omaha Symphony, a position he will retain through the 2020-21 season, whereupon he will become music director emeritus. In addition, he is principal conductor of the Hollywood Bowl Orchestra and holds the Germeshausen Family and Youth Concert Conductor Chair with the Boston Symphony.
Devoted to promoting a lifelong enthusiasm for music, Wilkins is hailed as a master at communicating and connecting with audiences of all ages. Following his highly successful first season with the Boston Symphony, The Boston Globe named him among the "Best People and Ideas of 2011." He received the prestigious Outstanding Artist award at the 2014 Nebraska Governor's Arts Awards for his significant contribution to music in the state.
Wilkins has often told the story of recognizing what he wanted to do with his life when he was a small boy and attended a concert in his hometown of Norfolk, Virginia. The orchestra struck up "The Star-Spangled Banner," and as he watched the conductor shape the sound, Wilkins said, he fell in love with the music. "I knew right then and there that's what I wanted to do. Classical music always spoke to me. There's something deep in it that knows me, that calls me by name."
It is that commitment to the music that makes Wilkins a welcome colleague at Indiana University. "It is a pleasure to welcome Thomas Wilkins to the orchestral conducting faculty of the Jacobs School of Music," said Arthur Fagen, chair of the Department of Orchestral Conducting. "Thomas is a most versatile conductor, whose impressive background in both symphonic conducting and education will make him an invaluable addition to our school. Personally, I feel very fortunate having such an esteemed colleague join the orchestral conducting faculty at the IU Jacobs School of Music."
Wilkins' past positions include resident conductor of the Detroit Symphony and the Florida Orchestra in Tampa Bay, and associate conductor of the Richmond Symphony in Virginia. He also has served on the music faculties of North Park University in Chicago, the University of Tennessee in Chattanooga and Virginia Commonwealth University in Richmond. 
During his conducting career, he has led orchestras throughout the United States, including The Philadelphia Orchestra and The Cleveland Orchestra, both of which he returned to to guest conduct in the 2016-17 season. He has conducted the New York Philharmonic, Atlanta Symphony, Rochester Philharmonic, Cincinnati Symphony, Dallas Symphony, Houston Symphony, Buffalo Philharmonic, Baltimore Symphony, San Diego Symphony, Utah Symphony and National Symphony in Washington, D.C., and at the Grant Park Music Festival in Chicago, where he will return in summer 2017.
His commitment to community has been demonstrated by his participation on several boards of directors, including the Greater Omaha Chamber of Commerce, Charles Drew Health Center in Omaha and Center Against Spouse Abuse in Tampa Bay, as well as the Museum of Fine Arts and the Academy Preparatory Center, both in St. Petersburg, Florida. He serves as chairman of the board for the Raymond James Charitable Endowment Fund and as national ambassador for the nonprofit World Pediatric Project, headquartered in Richmond, Virginia, which provides children throughout Central America and the Caribbean with critical surgical and diagnostic care.
Wilkins is a graduate of the Shenandoah Conservatory of Music and the New England Conservatory of Music in Boston. He and his wife, Sheri-Lee, live in Omaha and are the parents of twin daughters, Erica and Nicole.