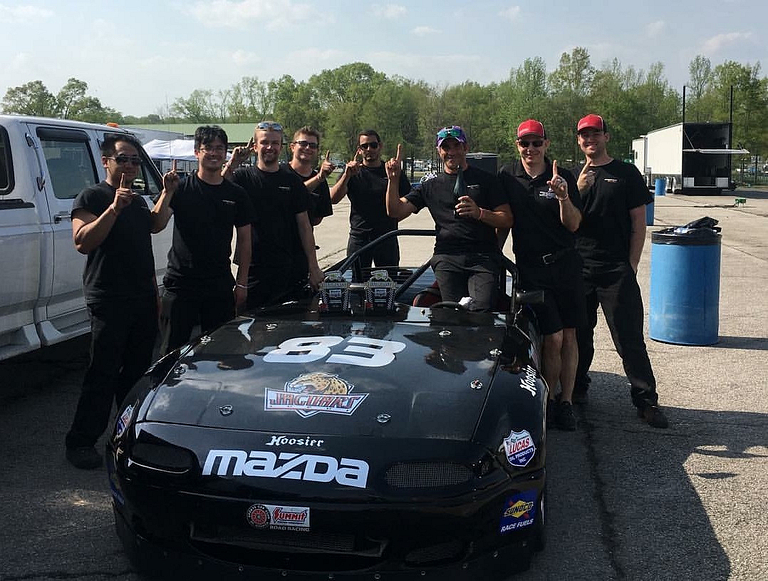 Hands-on experience outside the classroom is great. But getting your hands on a couple of trophies in the process? That's even better.
Students in the motorsports engineering program in the School of Engineering and Technology at Indiana University-Purdue University Indianapolis are getting invaluable experience while competing in a Mazda Miata in Sports Car Club of America racing. Last weekend, the students took the car to Virginia International Raceway and came out with a pair of wins in the F Production class.
"It's fantastic – fantastic for them, fantastic for the program," said Chris Finch, a lecturer in motorsports engineering who manages the SCCA program. "The satisfaction is seeing all of the students' hard work pay off."
The team includes seniors Andrew Bai, Bobby Chan, Andrew Jefferson, Joe Legan and Juan Mendez and freshman Matthew Hunt.
Success in motorsports rarely comes easily, and the IUPUI team has overcome plenty already this season. At the team's first event in March in New Orleans, engine failure in practice ended the weekend prematurely. Then, last Friday in practice, a minor off-track incident forced the team to stay late in the garage to make repairs.
But you'd never know any of that from the race results in Alton, Virginia. On Saturday, the No. 83 car started from the pole and won, also turning the fastest lap in the process. That meant another pole-position start on Sunday, and driver Bob Perona again steered the Miata to a win.
"They did an awesome job," Perona said post-race Sunday. "It's an absolute rocket ship. I couldn't be prouder of these guys."
The team will race again next month at Blackhawk Farms Raceway in Wisconsin. With a few more solid outings, the IUPUI team will be in line to participate at the Indianapolis Motor Speedway in late September for the SCCA Runoffs, the organization's championship event.