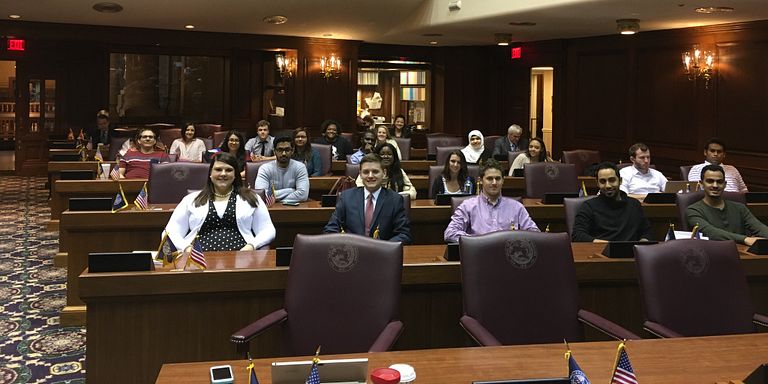 Amber Comer, an assistant professor of health sciences in the School of Health and Rehabilitation Sciences at Indiana University-Purdue University Indianapolis, stood at a lectern, talking about ethical dilemmas that occur under Indiana's health care consent law.
Thirty of her students listened as she noted that a study indicated that nearly all of Indiana's physicians would allow adult grandchildren to make health care decisions for their grandparents, even though that violates the consent law. 
But this was no ordinary lecture. 
Comer was testifying before the Indiana House Committee on Public Health regarding a bill that would expand Indiana's health care consent law to include adult grandchildren and grandparents. She had brought the students to the Statehouse to experience legislative deliberations on a public health issue.
She testified, not on behalf of IU, but on behalf of the research she has done on the issue, beginning when she was a Ph.D. student completing a medical ethics fellowship.
"While working with physicians and patients during their most vulnerable times, I noticed that time and time again, physicians and patients were experiencing ethical dilemmas that were created as a direct result of Indiana's current health care consent law," she said.
The health care consent law is triggered when a patient is unable to make medical decisions and a surrogate must be designated to make decisions on the patient's behalf.
A surrogate can be named in advance, but studies show that doesn't happen often. About 80 percent of patients have not completed the forms required to legally designate a surrogate. Without a prior designation, state law determines surrogates.
Comer told the legislative panel that in Indiana, the only people under state law who qualify to serve as a surrogate are the patient's spouse, parents, adult siblings and adult children.
While that captures some members of a patient's family, Comer said, it does not take into account changes that have occurred in the makeup of families today.
She cited U.S. Census figures that show there are over seven million pairs of grandparents and grandchildren who act as each other's primary caregiver.
But under Indiana law, Comer said, grandparents and grandchildren have no legal ability to serve as each other's health care surrogate. In these cases, the grandchild or grandparent was forced to go to court to procure a legal guardianship in order to make medical decisions, resulting in a cost to the family and a delay in patient care, which results in further medical costs.
In addition to difficult end-of-life situations, the law precluded making simple decisions such as a grandparent consenting for treatment of a grandchild's broken leg. Even simple medical decisions made by a grandparent or grandchild weren't legal under Indiana's health care consent law. 
In many states, including Indiana, the statute that determines who can be a surrogate is premised on outdated presumptions regarding who qualifies as a family member. Comer said this creates an ethical quandary for physicians: Should physicians allow the ethically appropriate or the legally appropriate surrogate to make decisions for the incapacitated patient?
Given the importance of these statutes, they should be amended to best represent the modern American family in order to serve the best interests of the patient, Comer said.
As it turned out, legislators and Indiana's governor agreed with her. On April 13, Gov. Eric Holcomb signed into law legislation expanding Indiana's health care consent law to include grandparents and grandchildren.
"As for my students, they expressed to me that they really enjoyed being able to experience the legislative process in a hands-on way," Comer said. "Most of the students who attended the hearing had never been to the Statehouse and had never listened to testimony before the legislature."
"I believe this was a very eye-opening experience for the students because they were able to sit in the chairs on the Statehouse floor, which allowed them to see the legislators, lobbyists, citizens and staff who work to pass laws and effect change in Indiana," she said.